5 Anti Itch Shampoos For Dogs With Skin Allergies
The grooming needs of our furry friends differs depending on their health conditions and skin type.
If you have found your dog scratching more than normal and there are no parasites like fleas biting them, then they could be suffering from dry skin or a rash.
Using a good quality anti itch shampoo for dogs can help resolve various problems related to their skin sensitivity, like dandruff in their coat.
There are different types of dog shampoos to cater for the needs of each dog, so we'll take a look at a few types, including medicated shampoos, non-medicated shampoos, and shampoos with conditioners.
Using human shampoo on your dog is not recommended, as it contains harsh chemicals that may exacerbate itching, hot spots, and other irritation in dogs.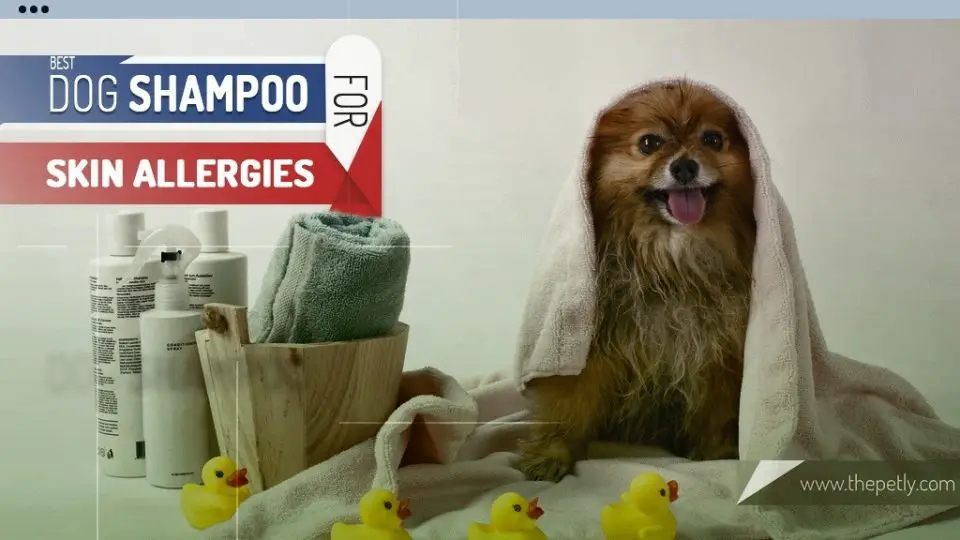 Our website is reader-supported through affiliate programs. If you purchase via links on our site we may earn a small commission.
Our Quick Picks
Different Types of Dog Shampoos
The various types of dog shampoos available on the market can be categorized into three broad categories:
Medicated Dog Shampoos
Medicated dog shampoo is the type of shampoo that your vet will prescribe for your dog.
These shampoos assist in fighting health problems like skin irritation, dry skin, greasiness, and bacterial infections.
What differentiates this dog shampoo from other types is the ingredients that the manufacturer uses in their product, and the skin problems they want to solve for you dog.
6 Types Of Medicated Dog Shampoo
1. Anti-Microbial Shampoos
​Just like the name suggests, this shampoo helps in dealing with microbes like bacteria and other micro-organisms.
These organisms often stick to the dog's skin and coat causing all sort of skin allergies.
Since microbes can cause serious health conditions, using anti-microbial shampoo neutralizes and helps to deter their growth before they cause a bigger health concern.
2. Anti-Fungal Dog Shampoo
For some dog breeds like the Bulldog, Dachshund, and Beagle with flabby skin and long ears – some of their body parts encourage the growth of fungus by harboring moisture and warmth.
With the use of an anti-fungal shampoo you will help to proactively eliminate fungus.
3. Anti-Pruritic (Itching) Shampoo
Have you ever noticed a dog that walks a little, sits and scratches its neck, carries on walking and after a little while sits again and scratches another part of the body,  and goes on and on like this?
Such a dog is likely suffering from skin irritation caused by an allergy, parasites like ticks and fleas, or foreign environmental elements like grasses.
Washing your dog with anti-pruritic shampoo helps to eliminate the urge to scratch.
4. Anti-Parasitic Dog Shampoo
Severe mite infestations without treatment can lead to mange, and fleas waste material causes extremely itchy skin reactions.
Other than the actual bite of these parasites, the severe scratching can lead to damage of the skin and fur.
A quality anti-parasitic shampoo assists in repelling and killing the parasites on the dog's skin.
However, it's also important to introduce flea and tick medication as prescribed by your vet if your dog is suffering from a parasitic infestation.
5. Anti-Seborrheic Dog Shampoo
This type of shampoo helps in combating the discomforts and skin disorders as a result of greasy skin, dandruff, and dry skin.
These conditions are most prevalent in dogs with health-related problems and mostly shedding dogs.
There are a few different active ingredients which feature in different varieties of this shampoo, and you should consult your vet to determine the right one for your dog's skin condition.
With the use of Anti-seborrheic shampoo you can help reduce these types of skin conditions.
6. Hypoallergenic Shampoos
Most hypoallergenic dog shampoos have ingredients like aloe, oatmeal, and vitamins.
These ingredients help to reduce the frequent production of dander and reduction of itching.
When using this shampoo you'll notice the improvement of your pup's health and cleanliness, and will help your dog develop a beautiful, shiny coat.
Non-Medicated Dog Shampoo
A non-medicated shampoo is a type of dog shampoo that does not provide specific treatment, and is mainly for normal skin and coat cleansing and conditioning.
Non-medicated shampoo contains detergent to clean away dirt, offers pleasant scents and conditioning agents such as shea butter, and aloe vera for a shiny coat.
However they can also contain prevention ingredients that deter parasites like ticks and fleas.
5 Types Of Non-Medicated Dog Shampoo
Natural Shampoo.
Whitening shampoo.
Flea & Tick Shampoo.
Allergy relief shampoo.
Waterless shampoo.
Conditioners Or Shampoos With Conditioners
Like human shampoos that allow hair to soften and de-tangle, dog shampoos with conditioner work in the same manner.
They help with grooming your dog, helping to maintain a clean healthy coat, and also combat skunky smells while keep your dog healthier.
If you own a dog like a Maltese or Poodle, you'll love this type of shampoo.
For dogs with short coats like a Pointer or Chinese Crested Hairless, although it will help maintain their fur and repel fleas, it will not provide as much benefit compared to use on long-haired breeds.
With short haired dogs you are generally better off using non-medicated shampoos.
Just like non-medicated shampoos, this type of shampoo is great for puppies because it does not contain harsh ingredients that can harm your puppy's tender skin.
Two Types of Shampoos with Conditioners
Deodorizers.
Puppy Shampoo.
Best Anti Itch Shampoo For Dogs – Reviews
1. Pro-Pet Works Natural Oatmeal Dog Shampoo
Pro Pet Works oatmeal shampoo is specially formulated to meet the varying needs of your dog's food allergy, flea bites, and grass.
Aptly named the 'Natural Shampoo', Pro Pet Works Oatmeal is designed from 100% natural and bio-degradable material, so it`s non-toxic and won`t cause any harm to your dog.
Specifically, the Aloe Vera and almond oil is therapeutic and is ideal for dry, itchy and sensitive skin.
The smooth texture of this formula allows soft and gentle brushing, as well as efficient de-tangling of your dog's fur, saving your regular trips to the groomer.
A soap-less and detergent free shampoo and conditioner, Pro Pet Oatmeal is tough on dirt but gentle on your dog, making their bath time a relaxing experience.
Like many of the premium shampoos, Pro Pet Oatmeal also doubles up as pet deodorizer and will keep your pet smelling fresh.
Vet approved, this natural oatmeal shampoo is rich in organic components and is devoid of artificial additives such as alcohol, added colors, and fragrance.
Often, additives in shampoo are a leading cause of skin irritation for dogs, and so this particular shampoo avoids causing your otherwise healthy dog any skin issues.
Again, it`s pH-balanced, and what we love most about Pro Pet Works Oatmeal shampoo is its effectiveness in combating odor and dirt, repelling of fleas, and minimizing itching.
Brief Look
100% natural ingredients.
Biodegradable. 
Alcohol-free.
Covers allergies from flea bites and grass, to food.
Strong cherry smell.
2. Paws Hypoallergenic Dog Shampoo
Paws Hypoallergenic shampoo, ideal for both cats and dogs, will provide them with soothing relief from their itching.
Paws Hypoallergenic is an all-natural shampoo devoid of toxins or allergen-causing ingredients.
Safe for daily use, Paws Hypoallergenic contains a blend of powerful and effective ingredients that will cater to the needs of your dogs` sensitive skin.
Ingredients in this dog shampoo include:
Aloe Vera, which helps with moisturizing and soothing skin.
Chamomile extract, which is essential in improving the skin texture.
Rosemary and honey extract, which contains healing properties as well as providing a natural and appealing aroma that lasts.
With regular use, the best of mother nature's ingredients help in eliminating common allergy issues ranging from hives, redness, soreness, and inflammation – to rashes on your dog's skin.
This shampoo is epi-sensitive, meaning that the shampoo transfers allergy blockers to the dog`s skin every time you bath them.
Brief Look
All-natural
Epi-sensitive
Leaves a refreshing and appealing smell
Doesn`t create suds but cleans well
3. Vet's Best Hypo-Allergenic Dog Shampoo
An ultra-gentle shampoo, the Vet`s Best Hypoallergenic is made for dogs with sensitive skin.
Vet`s Best will not only clean your dog`s fur, but it nourishes the skin and repairs brittle and worn out coats, helping to restore their natural lustre.
Using a blend of natural ingredients such as Aloe Vera and Vitamin E formulated by veterinarian's, Vet`s Best offers a natural remedy for your dog`s skin irritation.
Designed from a soap-free formula, Vet`s Best is gentle, with a "no-tears" wash experience.
What we love most about VB Hypoallergenic shampoo is that it can be used individually or as a complement to other products.
This dog shampoo does not cause any reaction or irritation when used in conjunction other topical flea or tick products.
Besides skin revitalization and smoothing, Vet`s Best does not need the use of a conditioner, meaning that this shampoo naturally improves the feel, appearance, and manageability of your dog's coat.
In essence, Vet`s Best Hypoallergenic dog shampoo reduces friction between strands of your dogs' hair, which more easily allows you to detangle and comb them.
Brief Look
Safe for frequent use.
Does not cause "tears" in dogs eyes.
Doesn`t affect other topical treatments.
Requires less setting time compared to other shampoos.
Thin consistency.
4. Fieldwork Natural Dog Shampoo (Non-Medicated)
Fieldwork Natural Dog Shampoo is 100% natural, devoid of preservatives, sulfates, and chemicals.
A major highlight of this product is the interplay of plant-based oils and Bentonite Clay, a pre-historic curing agent.
Bentonite clay which is infamous for its healing abilities, naturally binds with bacteria, toxins, fungus, and other heavy metals – then draws them away from the skin.
When combined with plant-based oils, the Bentonite Clay blend will leave your dog`s skin looking squeaky clean, calm and soothed, free of hives, hot spots, or itchy spots.
For a more refined skin texture, the Shea Butter plus Aloe Vera combo does the trick; it will leave your dog`s skin soft and moisturized, leaving their coat looking soft and silky.
Containing Neem and Argan oil, this anti-bacterial, anti-fungal shampoo is great for treating dandruff, flaking, and dermatitis.
Fieldwork Natural Dog Shampoo also contains essential oils, giving it superior performance that leaves your pet smelling naturally great without having to use perfumes or deodorants.
Brief Look
All-natural.
Healing properties.
Leaves soft skin and silky coat.
5. Dvm Pharmaceuticals Hylyt Shampoo
Dvm Hylyt is a superb hypoallergenic shampoo for dogs with sensitive skin.
Gentle on the skin, and soap-free, DVM is designed using the optimal pH balance for the perfect skin treatment.
The inclusion of emollients in DVM Hylyt's constituents is crucial for controlling flaking and scaling caused by seborrhea and other skin-related issues.
Besides flaking and scaling problems, the emollients are essential for moisturizing your dog`s hair and preventing dehydration of the skin.
What we love most about the DVM Pharmaceutical is that the formula is non-stripping and non-drying, and may even be of benefit to topical tick and flea treatments.
Pros
Non-stripping
Controls flaking
Helps in hair hydration
What Is The Best Shampoo For Dog Allergies?
The best shampoo for your dog will depend on an array of factors, however the general rule is to use non-toxic shampoos and steer away from human shampoos.
If you want to go with homemade solutions, make sure the ingredients come from your vet or someone you trust and has already used it successfully – especially a breeder.
But when it comes to the ingredients of the best anti itch shampoo for dogs, consider the following ingredients:
Aloe Vera
Oatmeal
Peppermint
Honey
Antiseptic agents
Vitamin E
A Guide To Using Anti Itch Shampoo For Dogs
Correct Use Of Dog Shampoo
Not every shampoo is good for your dog. Apart from human shampoos, DIY Shampoos (homemade solutions) often do not meet health standards guidelines.
Let's look at some of the reasons for using a dog shampoo:
General Cleaning
If all you need is to remove dirt from your dog`s skin and coat, then choose a gentle shampoo that contains moisturizing ingredients to stop your pet`s skin from drying out.
Most dog shampoos fall under the category of non-medicated shampoo, and shampoo's with conditioners.
Body Odor
Pet odor is yet another menace that dog owners have to bear with.
If your dog has a bad odor emanating from their skin and coat, you should consider using shampoo with natural deodorants such as Aloe Vera extracts, oatmeal, and omega 3 fatty acids.
Environmental Allergies
Is your dog sensitive to dust, pollen, grass, flea bites, spores, and other potential triggers?
If so, you need to bathe them regularly with hypoallergenic shampoos like Paws Hypoallergenic and Vet's Best Hypo-Allergenic Dog Shampoo.
Skin Diseases
If your pet is plagued by flakiness, dandruff, or greasiness, they might be suffering from a bacterial or fungal infestation.
Again, like the environmental allergies, you need to bath them using hypoallergenic shampoos.
Frequency Of Bathing A Dog With Skin Allergies
Generally, a healthy dog should take fewer baths – once a week is enough, and some dog breeds should not be washed at all.
This is because regular dog bathing strips out the natural oil from their skin and fur, leaving dry skin.
However, if your furry friend has a severe skin problem then they may require a regular bath.
Depending on the level of infection, the frequency you'll bath your dog will vary.
For a more severe dog skin problem, you may start with daily baths using a medicated dog shampoo.
Then, after two weeks or to a point where you see visible improvements, you switch to three to four times a week.
When your dog is stable and healthy, you should reduce baths to once a week at most.
Remember to always consult your vet for clinical advice and use prescribed dog shampoo. 
How To Bath A Dog With Skin Allergy Problems
There are four "Must Observe" steps for successful bath time for a dog with skin allergy: 
1. Wash Thoroughly
What this essentially means, is to first have a 50:50 shampoo water ratio.
Then, by using a good amount of warm water, soak and rinse your dog's coat until it is full of water and drenched with shampoo.
To make it even more enjoyable for your furry friend, use a hose on low pressure – especially on a warm summers' day.
2. Be Gentle
A dog with a skin problem is likely to have mood swings, so taking a shower or bath might not be one of those activities on their to-do list.
If you cause pain when washing your dog, then they will associate baths with pain, and that is exactly what you don't want.
Another thing, detergents in soaps might be painful to sensitive areas like eyes, ears, and other hot spots.
In such areas, use a soft cloth or sponge to gently clean them.
3. Rinse The Coat Thoroughly
Ensure not to leave soap foam on their body as it can cause inflammation and skin irritation.
Soap can be an irritant when left for longer periods, so make sure to use a good soft brush or cloth to rinse your pup.
Don't forget to take good care of ears, under-pits,  and other vital areas.
4. Drying And Trimming
Ensure you wring out your dog's coat before towel drying or blow-drying.
If you must use a hairdryer, make sure it's at a distance from the dog and you are not using a hot air setting to avoid burning their skin. Most dog's coats dry well without the need of a dryer.
Lastly, for infected areas on your dog skin, you'll have to trim the hair to expose the skin, which will encourage faster drying.
The only downside to this, your dog will not be able to thermo-regulate as efficiently.
However, with care you'll be able to help your dog recover quickly and grow back a healthy coat.
Sources
https://vcahospitals.com/know-your-pet/seborrhea-in-dogs