What Crate Size for Golden Retriever? [Recommended Size] 2020 Review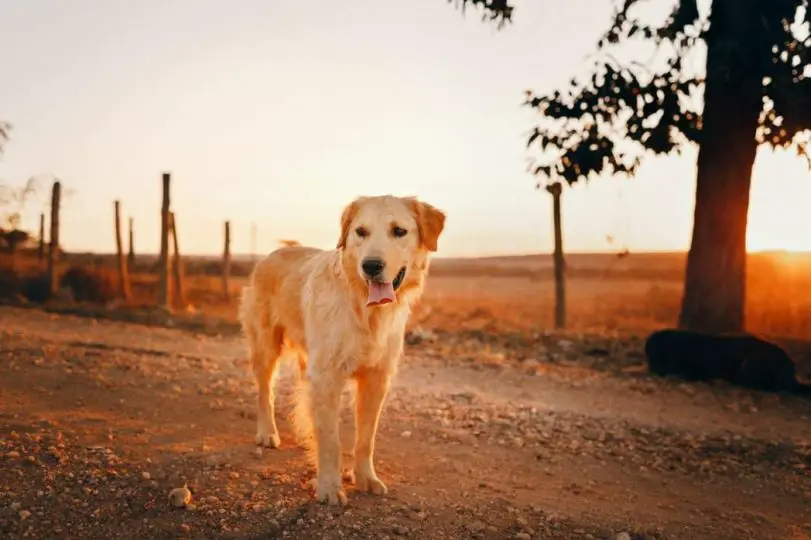 Most Retrievers' owners will attest how affectionate and loyal a Golden retriever is. Long before their domestication, golden retrievers were known for hunting and they still exhibit hunting instincts.
You are likely to find a retriever hiding beneath furniture and other places that they shouldn't be. So it is important to crate train your Golden Retriever. 
So, what size crate for Golden Retriever? How about the best dog crate for Golden Retriever?
Let's find out.
What size crate for Golden Retrievers?
Generally, a fully grown Golden retriever requires large to extra-large dog crates. So what about the small puppies? Do i need to buy a dog crate as my pooch grows through every stage?
Well, most dog crates feature divider panels that you can use to section the crate to fit your pooch well, based on her size. As she grows, you can go on adjusting the divider position until she can perfectly fit the whole dog crate.
The best crate size for your furry friend should provide enough room for her to move around and sit comfortably. It should leave a few inches at the top and side wards.
However, the crate should not be too large as it will affect your dog's house training. For instance, she is likely to use it for many purposes including as a bathroom.
According to biologists researching the wolf habits, wolf dens typically measure 40" L* 50" W* 20" H. Therefore, based on the adult size of a Golden Retriever, look out for approximately 42-inch dog crate.
Specifically, a dog crate whose dimensions are 42" L *24" W *30" H will do justice for your Golden retriever.
Remember, crates designed for large-sized dogs are heavy-duty thus sturdy and durable.  
Our website is reader-supported. We research all reviewed products carefully to give you the best choices possible, and if you buy via links on our site we may earn a small commission.
Other features to look out for in a dog crate for Golden Retriever
1. Safety
Just like ancient wolves who were known to retreating to safe and enclosed dens to hide from predators, look after their young ones, sleep or rest, modern dogs too treasure small havens.
It is in this havens that they find peace, feel safe, and relax. Therefore, it is important to ensure that your dog's crate employs safety measures that will keep your pooch secure while there.
2. Environment
Before settling on a dog crate, it is important to reminisce about the type of environment that you and your dog live in, as well as your mode of living.
For instance, if you are a frequent traveler, you may want to consider a lightweight plastic cage that will be easy to move around as well as serve your pooch's needs perfectly.
On the other hand, if you are living in a hot climate, it is advisable to consider a wire dog crate as it provides proper ventilation for your dog while in her 'den', unlike a plastic crate.
Conversely, if you live in a rather humid climate, a wooden or plastic dog crate will be a suitable option for your furry friend.
3. Ventilation
Look out for a dog crate whose sides are not solid but rather enhances proper ventilation. A well-ventilated dog crate ensures that your pooch enjoys a safe and cozy environment with lots of fresh air.
4. Aesthetic appeal
If you love elegance as I do, then you wouldn't want to settle on anything less than the best style and design for a dog crate. This is most especially if you intend to have an indoor dog crate to complement your living room furniture well.
There are lots of stylish dog crates made from diverse materials such as metal, wood, and wicker that will definitely leave you at awe.
5. Removable tray
I bet you know how crates can be difficult to clean at times. Therefore, choose a dog crate that comes along with a removable tray to make your cleaning easier and fun. Alternatively, you can shop for a removable tray separately.
6. Durability
As a dog owner, you would want a dog crate that will last long. As such, it is important to consider the material of the crate.
Also, remember some dogs can be notorious and tend to chew anything that comes their way. To ensure their safety, it is also significant to ensure that the crates' material won't cause any adverse effects on your dog's health.
Different Types of Dog Crates
Generally, there are five different types of dog crates to choose from. The choice of one over the other depends on your circumstances, your needs as well as that of your dog.
1. Soft 
Soft dog crates are small in size, cozy and easily portable. However, owing to its size, such a crate is suitable for use in small dog breeds only, thus not befitting a golden retriever.
Also, soft crates are not secure since a Retriever can easily escape from it by simply chewing her way out. They are also easily destructible. What's more, you will find that cleaning a soft crate is quite difficult.
Owing to its features, a soft crate is not a suitable option for a Golden Retriever.
2. Sturdy
Sturdy dog crates are heavy-built crates that are not only durable but also suitable for large dogs such as golden retrievers.
Sturdy crates are quite similar to plastic crates in many aspects.  For instance, it is nearly impossible for your dog to escape from this crate. As a result, it is suitable for travel, especially on a plane.
You will also love how easy it is to clean this dog crate.
On the downside, sturdy dog crates are quite expensive but it is worth every penny.
3. Aesthetic/wooden crates
These are the luxurious dog crates that mostly double up as end tables in homes. They fit seamlessly into your home décor. Most wooden crates consist of wood and wire parts.
Despite their appealing nature, aesthetic crates are difficult to move around unlike the wire crates, don't fare well outdoors due to weather. Also, some wooden crates are highly destructible especially if your retriever loves to chew up stuff and can be difficult to clean especially if the bottom floor isn't waterproof.
4. Plastic
If you often travel along with your dog, then a plastic dog crate is the perfect crate for you. Plastic dog crates are light allowing for easy transportation whether on a plane or a car.
In addition, this type of crate offer added security for your pooch as she is less likely to escape from a plastic dog crate.
What's more, a plastic crate is crafted to be cozy such that your dog can comfortably take a nap in there. Plastic crates also offer a warm environment for your pet thus suitable in cold climates.
However, your pooch may have a limited view of the outside world in a plastic crate compared to a wire crate. Also, the plastic crate may be too warm for your furry friend especially in humid environments.
5. Wire 
Wire dog crates also known as dog kennels are the most popular type of dog crates. This dog crate features metal bars or thick wires that allow for easy ventilation of air. As such, it is suitable for use in hot climates.
Wire dog crates also feature a divider thus ensuring that the crate grows with your dog right from the puppy stage until fully grown adult size.
What I love most about this crate is the fact that it features removable floor trays that allows for easy cleaning and dispose of shedding fur from your Retriever. Therefore, a perfect crate for shedding dogs.
What's more, wire crates are portable since most of them can be easily folded hence great for travel.
However, there a few demerits attributed to this crate. For instance, some intelligent dogs can easily escape from the crate but with proper crate training, they would feel comfortable in their crates.
Also, some dogs may feel irritated by the noise from the crate. However, you can counter this by placing cardboard at the bottom floor of the crate. 
Tips on Crate Training your Golden Retriever. 
There are many benefits attributed to crate training your retriever. For instance, the crate serves as a safe haven where they can retreat to relax and nap and reduces anxiety among your pup.
Also, you can comfortably leave your pup in the crate and go on with your day's activities knowing that she is in a safe and cozy place. The crate is also vital during travel as it keeps her in a quiet place.
Crate training your retriever may not be an easy task. However, with the following tips, you will be a step closer to having your pup fully crate trained.
Purchase a dog crate that is large and spacious enough for your crate to turn around, sit and stand.
Golden retrievers are social animals and love to interact with people. Therefore, place the crate preferably in the living room during the day and in the bedroom at night.
Make the crate as inviting as possible by placing her favorite toys in there and also offering her meals inside the crate. It will help her associate the crate to positive and fun activities.
Consistently use particular voice commands such as 'crate time' whenever you want her to enter the crate. This will help her get used to when it's time to get in her den.
Entice her with treats and shower her with praises once she gets into the crate. Remember, Retrievers love appreciations.
Don't crate your Retriever for too long at a time. Utmost 4 to 5 hours during day time and 8 hours at night will do. Retrievers love companionship and require lots of physical exercises as well.
The 5 Best Dog Crates for Golden Retrievers
1. ProSelect Empire Dog Crate 
ProSelect Empire Dog crate is arguably the best dog crate for powerful and aggressive dogs. Having constructed using 20-gauge steel and ½" diameter of steel tubes, Pro-Select Empire dog crate is this crate is sturdy and lasts long.
Crate cleaning has never been easier with the ProSelect Empire Crate. It features a removable dog floor grate and steel tray that holds any dirt and shedding fur for simple clean-up.
It can be quite hectic moving your pooch's kennel from one room to the other, but not anymore! With this crate, you will enjoy its mobility nature thanks to the four removable clocking casters.
What's more, if your pup is the type that can easily chew or chow her way out of the kennel, then this is the crate for you. Your pup won't be able to escape from this dog kennel thanks to the stout dual door latches, strong steel tubing and indestructible solid welds at stress points.
You will also love the great finishing of this crate that features durable, high-grade hammertone that is non-resistant. 
Many users of this ProSelect Empire Crate love how straightforward it is to assemble this crate.  You only need to have hex head screwdriver and hex headscrews (12), both of which are included in the package.
ProSelect Empire crate is available in two sizes, that is, 37 inches and 42 inches measurements. For a full-grown Golden Retriever, a 42-inch crate would be the ideal size.
---
2. Luckup Heavy Duty Dog Cage
If you are looking for an indestructible, rust-free dog crate that is conducive for outdoor as well as indoor use, then you need to consider the Luckup heavy duty dog cage.
The Luckup heavy-duty cage is made to last and comes along with a three-year warranty. The crate is made of corrosion and rust-resistant steel that is not only strong but also durable.
The crate does not pose any harm to your pooch as it features a non-toxic finish.
Designers of this dog crate took into consideration the safety and security of your dog. It features two locks with safety buckles thus even the most intelligent dogs can't escape from this crate.
You will enjoy the versatility that comes with this crate. It features double doors; one at the front that serves the entry and exit purposes and the top door that works perfectly whenever you need to interact with your pup while inside her den.
In addition, you will enjoy the crate's mobility thanks to its locking caster design. It features 360-degree rotating casters that not only enhances ease of movement but also keeps the crate steady when its wheels are securely locked.
What's more, the Luckup dog crate features a removable plastic tray that holds dirt and fallen dog food thus simplifying the cleaning process. You only need to wipe the tray to keep it clean.
You might wonder how long it will take to assemble this sturdy dog crate. Well, it's quite easy to assemble it and may take less than five minutes. The only accessories that you need are the screw bolts and four locking wheels. 
The Luckup dog crate is suitable for use indoors, outdoors as well as in the yard.
Available in different dimensions, that is, 36, 38, 42 and 48 inches.
The overall dimension for the 42-inch crate is 41.5 L * 30.5 W * 37" H.
---
3. Crown Pet Crate Hardwood Table
Crown Pet Crate Table is a decorative yet functional dog crate that doubles up as a high-end table.  It is all your Golden Retriever needs as her safe den.
The crate is crafted using durable hardwood and eco-friendly rubberwood that not only makes the crate long-lasting but also solid with an even appearance. What's more, you will love its beautiful lacquered finish crafted using high-quality mortise and tenon construction.
Significantly, the crate features a security panel that prevents your pup from chewing the wood door, especially during crate training. Note that, once your pooch has been fully trained, you can remove the panel.  
Whether you place it in the bedroom as a decorative nightstand or at the living room as an end table, the Crown pet Crate table will compliment your home décor with its awesome two finishing options, that is, mahogany or espresso.
The crate features melamine covered MDF floor that simplifies your cleaning process. What's more, the floor is waterproof thus won't absorb any water or pet odor hence effective for use in homes and perfect for pets too.
Also, the crate features multiple vents ensuring that your pooch enjoys excellent ventilation coupled with a 360-degree view of the surroundings. These features enhance your pooch's comfort while inside the den.
Another awesome feature of this dog crate is the versatile swing-through door that opens in both ways (outwards and inwards) for a comfortable entry and exit of your pooch.
To enhance its safety, the crate features a stainless latch that is not only attractive but also strong enough and easy to operate.  
The crate is available in two sizes, that is, medium (29.7" L * 21" W * 24.2" H) and large (39.6" L * 27.2" W * 27.3" H).
---
4. Petmate Ultra Vari Dog Kennel
Petmate Ultra Vari Kennel is another awesome dog crate ideal for travel; it offers your dog a safe and comfortable travel experience. The crate allows you to travel along with your pooch even on-air as it meets most of the airline cargo specifications.
This kennel is made of heavy-duty plastic material that makes it sturdy enough for even the large-sized dogs (up to 90lbs). The plastic shell along with the metal screws enhances the safety of your pet as well as the crate's durability.
What's more, the bars found at the crate's door and windows are made of steel wire thus strong enough to prevent your dog from escaping from the cage. The crate is further secured by the tie-down holes and the door latch that securely locks the door, but also simple to open using just one hand.
The Petmate Kennel offers your dog utmost comfort thanks to the minimal sharp edges, spacious space and raised interior. What's more, the kennel features multiple vents for proper ventilation and 360-degree visibility.  
The crate is easy to assemble as it does not require any tool apart from the metal screws and fasteners.
Another significant feature of this crate is its simple cleaning process owing to the crate's eco-friendly materials; you can just wipe it down.
Also, the crate is designed in such a way that the outer edge of the floor is slightly lowered to allow urine to pass out easily in case of 'accidents'.  Thus ensuring that your pup does not have to lie on own urine.
Available in diverse sizes, that is, 28-inch, 32-inch, 36-inch, and 40-inch ( 40 L * 27 W* 30 H).
---
If you are looking for a traveling crate for your retriever, then this is the dog crate to go for.
The AmazonBasics kennel is foldable for ease of storage and portability. When folded, it takes a briefcase-like shape and comes along with a handle that you can use to move it easily from one place to the other.
The AmazonBasics is constructed using sturdy metal wire enhancing its durability. In addition, the metal wire coupled with two slide-bolt latches keeps your pet safe and secure as well as prevents her from escaping from the safe haven.
The metal wire also allows you to keep an eye on your pup on what she is up to, and also allows her to have a clear view of her surroundings. The metal wire crate is also designed to allow for easy ventilation.
What's more, this crate features dividing panels made of metal. They are not only durable but also efficient in ensuring that you micromanage this large dog crate to fit your pooch in each of her life stages.
In addition, it is designed with mini-dividers at the bottom surface to prevent even the tiniest paws from slipping through.
It is also easy to clean this crate thanks to the removable composite plastic pan.
You can choose the AmazonBasics Crate either with a single door entry or double door entry (front and side). The latter is convenient and allows you to easily clean your dog's mess in case of an accident.
You can choose from diverse sizes. The 42-inch crate dimensions are 42 L* 28 W* 30 H.
---
Final Thoughts
We hope that this article has helped you to determine the best dog crate for Golden Retriever as well as the recommended crate size for this breed. Look out for a large dog crate, preferably a 42-inch cage with a divider panel that grows with your pup right from puppy stage up to adulthood.  
Also, consider its durability, ventilation, safety and security, environment, and portability, etc.