5 Indestructible Dog Crates For Pitbulls (Buyer's Guide)
Just like other dogs, pitbulls find comfort in small spaces – a haven where they can retreat, relax and call their own.
Hence the need to provide them with the best dog crate for pitbull training and contentment.
Besides acting as a home for your pitbull, a dog crate serves as a house training tool, a place to instill good discipline to your puppy, and to help prevent destructive behavior.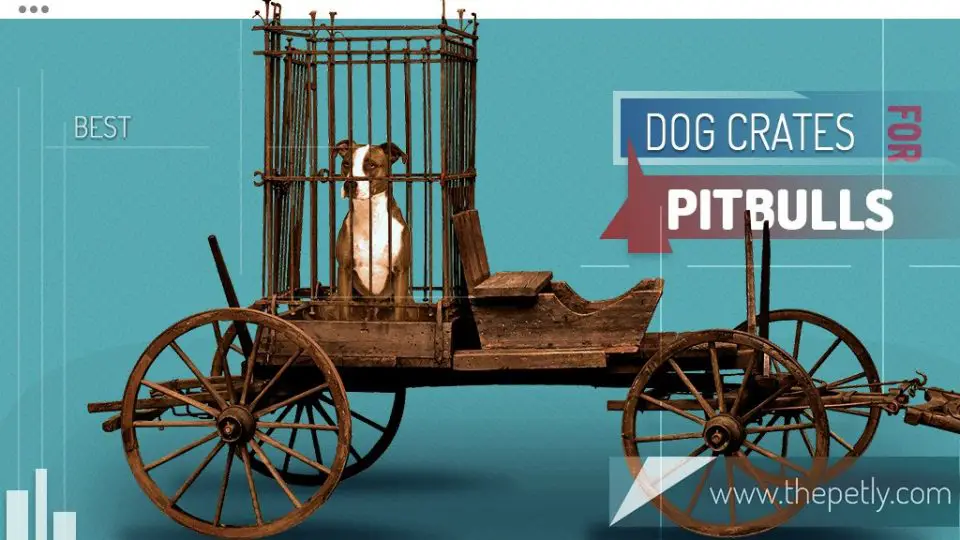 Weak Crates are Easily Destroyed
Pit bulls dogs are considered as among the strongest dog breeds and a weak crate can soon be destroyed when they decide it's time to escape.
When choosing a dog crate consider the more heavy-duty and indestructible crates available on the market.
The Real Price of a Dog Crate
Shopping for a dog crate based purely on a low price is likely to end up costing you more in the long run.
You will probably end up throwing out the cheap cage when it gets used as a chew toy by your furry pal and then just buying a stronger one anyway.
A cheap crate could end up looking like this!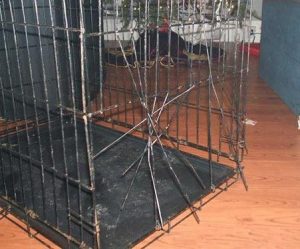 After spending some time reviewing many different types of dog crates available on the market, we finally narrowed it down to what we believe to be 5 great dog crate choices for pitbulls.
Our website is reader-supported through affiliate programs. If you purchase via links on our site we may earn a small commission.
Our Top Picks
Why Do You Need a Dog Crate for a Pitbull?
Having a dog crate comes along with a wide range of benefits for you and your puppy.
1. Offers Your Pitbull their Own Little Den
Long before the domestication of dogs, canines lived in caves. Fast forward to today and your little buddy has moved on from caves to live with you in your house.
Dogs are expected to behave more like humans, and as a result they've become more intelligent than their ancestors.
However deep within, dogs still exhibit their canine instincts and they find pleasure in small havens. Therefore the need to find them a sturdy dog crate for pitbulls.
2. Trains Them To Respect Boundaries and Privacy
Train your companion on boundaries and privacy by getting them a dog crate.
So when your pitbull is lazing at home you probably don't want them lounging on your living room couch, but rather somewhere quiet and in a place they feel is their home. Even at night you want them to sleep in their little den.
3. Minimize Your Pitbull's Destructive Behavior
Picture this… you've gone to work and you have left your innocent-looking companion locked in your home (after all, they did have a smile on their face when you left!).
Of course you are a generous, caring, and loving pet parent. So you've left everything they need: water, food, and toys to play with. But, what happens in the evening when you come back? Chaos… Disaster… Destruction – and still that innocent smiling face!
Yes, your luxurious couch has been adjusted to suit your dog better with some nice torn cushions, littered foam around your previously clean house, and carnage everywhere you look.
Top 5 Best Dog Crates for Pitbulls: Heavy Duty, Escape Proof & Indestructible
1. Pro-Select Guardian Gear Empire Dog Cage – Large
With the Pro Select Guardian Large even the most intelligent escape-artist will not stand a chance.
Touted as the toughest and strongest dog cages available on the market, the Pro Select Guardian tops our list of the best dog crate for pitbulls.
Pro-Select is a genuinely heavy-duty cage that is designed to contain even the most voracious and aggressive canines from escaping.
The Guardian sports 20-gauge steel reinforced with 0.5-inch diameter steel tubes for maximum robustness. This makes it virtually indestructible, and no canine, even your Pitbull can chew its way through or dent the structure.
This is not to mention that every stress-point on the cage has undergone intense and heavy-duty welding and the corners rounded for safety. The cage features a double stout latch system that prevents the opening of the door by sheer force.
Besides the solid construction, the Pro-Select Guardian comes with a floor grate with tray, meaning that you will have an easy time cleaning up.
With dimensions of 42.25 x 30.75 x 41.25 this dog crate offers a generous space for your PitBull and makes the cage ideal even for your larger muscular Pitbull.
For convenience, many pet parents love the removable casters, which allow easy rolling to other locations or leave the casters to boost stability.
The crate features an awesome design suitable for use outdoors as well as indoors, as it does not rust even when left for prolonged periods outside.
What We Liked About Pro-Select Large
Durable
Safe
Convenient to use
Large
Can support even the largest PitBull. 
What We Did Not Like About Pro-Select Large
2. ProSelect Guardian Gear Empire Dog Cage-Medium
The Guardian Dog Cage medium provides a 100% escape-proof cage for your PitBull.
The Guardian Dog Cage medium is yet another strong dog cage offering from Pro-Select.
Just like the larger version of this dog cage reviewed above, Guardian medium has similar specifications. The only distinct difference between the two lies in their size and pricing.
Like the Guardian Large, the Empire Dog Cage medium comes with 20-inch gauge steel. The steel is further bolstered by a 0.5-inch diameter 20-gauge steel tube. As such, it provides a 100% escape-proof cage for your Pitbull.
Besides the durable steel construction, the cage is craftily designed to stand up to even the toughest of dogs. The double latch system makes it extremely hard for cunning Pitbulls to find their way out.
When it comes to the cage dimension the Guardian Medium offers a modest space measuring 37 x 25.34 x 33.75 in.
While it`s smaller than the Guardian large cage, it is by no means too small as it can support a wide range of dogs including some large breeds.
Caged Pitbulls are messy, but with this cage you will have an easier time cleaning the mess thanks to the floor grate with tray. The tray will not only facilitate easy cleaning, but will equally keep the resting space clean.
This cage also sports removable casters, allowing you to move the crate easily from one place to another – hence portable.
What We Liked About Proselect Medium
Robust
Secure
Aesthetic appeal
Does not rust
What We Did Not Like About Proselect Medium
3. LUCKUP Heavy Duty Dog Cage
Besides Luckup's appealing silver looks, it is strong and withstands even strong pitbulls.
Unlike most dog cages the Luckup Heavy Duty Dog Cage fits in perfectly whether inside your house or in the yard.
The Silver color of the Luckup Dog cage is gives it an appealing look and can even be used to complement your patio. Aesthetics aside, this 39-inch heavy-duty cage features strong and durable frames for robustness as well as longevity.
The cage frame adopts precise spray-painting technology that prevents rust. Being corrosion-free makes it a multi-purpose cage perfect for both outdoor and indoor use.
Additionally, the spray that covers the outer surface of the frames is non-toxic, and will not compromise the health and safety of your lovable chewing canine.
A major highlight of this cage lies in its doors. The cage features two doors; a front door and top door. The front door is suitable for letting your pet in and out while the top door allows you to interact with your pet.
Like the Pro Select Guardian cages, the Luckup features a dual-latch system that prevents even the most intelligent canines from opening the door.
The Luckup features a slide-out plastic tray that holds the dog food that spills over and the dog mess, thus simplifying the cleaning process.
Finally, the cage comes with 360 degrees rotating locking casters that allow you to move this Pitbull crate anywhere, and lock the wheels for added stability.
What We Liked About Luckup
Aesthetic appeal
Sturdy
Easy to assemble
Generous space
What We Did Not Like About Luckup
Some users had issues with the positioning of the latches. 
4. Extreme Consumer Products Collapsible Dog Crate
The ECP Collapsible Dog Crate is portable and makes the perfect choice for traveling dog owners.
The major highlight of this crate lies within its name – the crate is collapsible.
Being extremely portable this crate makes the perfect choice for dog owners who love traveling.
Featuring aluminum construction, the ECP Collapsible has welded "no-rust" rivets, crush-proof corners, plus marine-grade stainless steel latches. This cage is durable, robust, and virtually indestructible.
For maximum airflow, the crate features 4-sided ventilation. Hence the crate has superior airflow and helps keep your PitBull comfortable and relaxed.
The uniquely designed "Slam Latch" renders the crate safe and secure, with the latch securely and automatically locking the door.
Besides the locking systems, safety is further enhanced by the dog-friendly materials that are free from harmful toxins, chemicals or paints.
Other auxiliary features on the crate include:
Airline storage slots
Full-length piano hinge
Spring-loaded handles
What We Liked About The ECP Collapsible
Portable
Simple and fast assembly
Superior ventilation
IATA compliant
Secure
What We Did Not Like About The ECP Collapsible
Quite enclosed – not good for regular long term home use
5. KELIXU Heavy Duty Dog Cage
The KELIXU heavy duty cage caters for your PitBulls needs. Heavy duty, spacious, easy to clean
The KELIXU is yet another feature-filled crate that caters for all the needs of your PitBull.
Sporting heavy-duty steel wire for the cage edifice and metal square frame, the KELIXU Heavy Duty Dog Crate is solidly constructed and will not let your Pitbull escape.
Besides the solid construction, this crate comes with a front door that is well built to allow easy movement of your pit, in and out.
In addition, you will appreciate the double stainless latches. These two nuggets provide a fool-proof mechanism to avoid accidental escape.
The outer surface of the crate is finished with high-quality hammertone that is rust & corrosion resistant as well as environmentally non-toxic paint.
It also features four wheels for portability and ease of movement.
What We Liked About KELIXU
Heavy-duty
Steel tray for easy clean-up
Safe and non-toxic
What We Did Not Like About KELIXU
Does not feature a top door (however the 48 Inch version does).
---
Don't Confine Your Pitbull For Extended Periods!
Confining a Pitbull in a crate may not always be the best way to treat this type of breed.
Ensure you compensate time spent in the crate with other energy-draining activities such as morning walks or runs.
Your pitbull, like most other energetic dogs loves to run and burn energy.
Whatever you do – don't leave your energetic best mate continually locked in a cage, but rather use it appropriately at the right times.
Final Thoughts
Dog parents make use of dog crates for different purpose. For instance, transporting your pit bull, to keep them safe in a comfy and convenient place, or for behavior training.
Before settling on one, however,  there are a number of factors to consider that include its durability, portability, ease of cleaning, and dog-friendly materials.