Best Dog Food for Congestive Heart Failure (5 Top Picks)
It can be overwhelming to learn that your dog is suffering or is at risk of congestive heart failure.
This is a heart condition, in which, your dog's heart cannot effectively pump blood to all body organs, and it progresses slowly getting worse over time.
If your beloved pooch is unfortunately diagnosed with this condition, it is important to learn how you can manage and take care of your dog.
Together with the help of your veterinarian, you can ensure your furry friend leads an active and happy life through nutrition, exercise, or medication where necessary.
Most importantly, a special balanced diet will help in their overall well-being and health.
When choosing food to help with congestive heart failure, consider a low sodium diet, added amino acid supplements like taurine to help the heart muscles, and high quality ingredients.
In addition, look out for added vitamins and minerals to replace those lost during the treatment.
This article will shed light on the symptoms to look out for and how to choose the best dog food for congestive heart failure.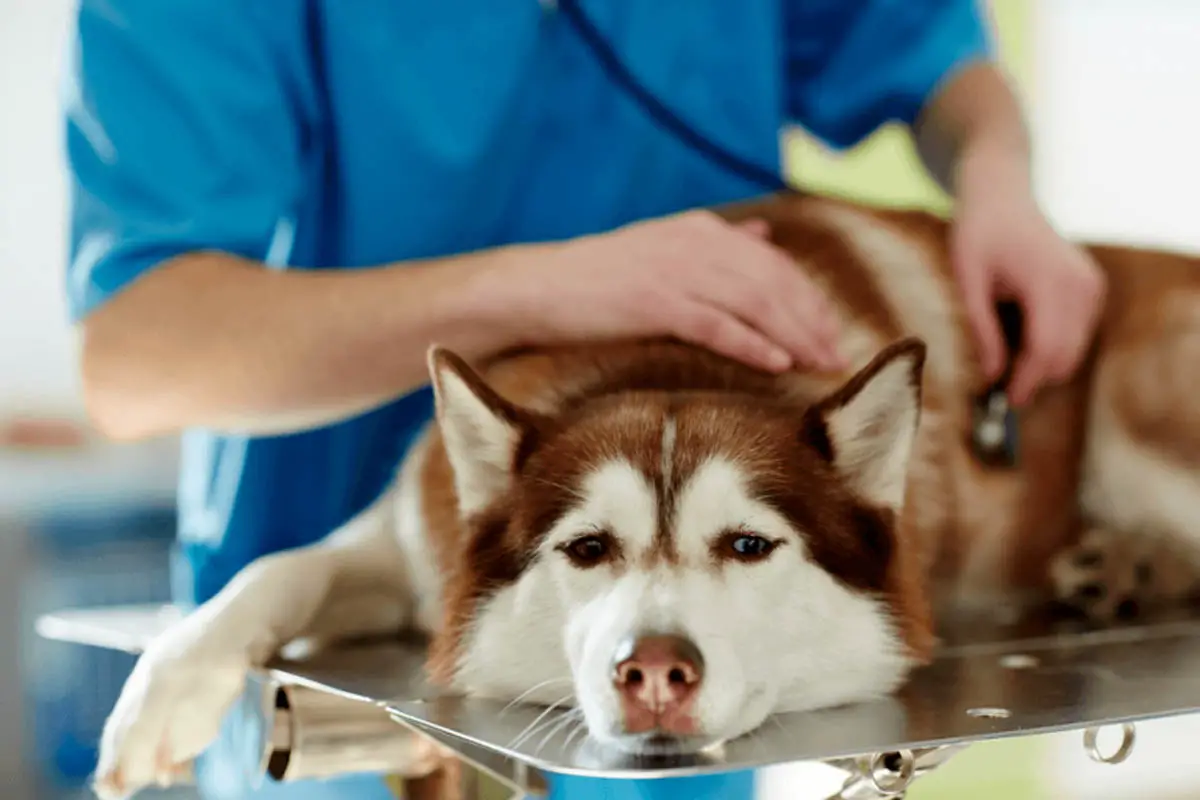 Our website is reader-supported through affiliate programs. If you purchase via links on our site we may earn a small commission.
Our Top Picks
| | |
| --- | --- |
| Hill's Prescription Diet h/d Heart Care | Best Prescription |
| Royal Canin Vet Diet Early Cardiac | Best Preventative |
| Honest Kitchen Whole Grain Dehydrated | Best Natural |
What Is Congestive Heart Failure? 
Congestive heart failure is an end stage condition which occurs as a result of heart disease which has progressed over time until part of the heart does not operate effectively. At this point your dog's heart fails to supply enough blood around its body.
Meaning, other parts of the heart have to overwork, in order to compensate for the inadequacy.
This puts your dog at risk of heart failure, which occurs when the heart cannot pump adequate blood around their body, resulting in a buildup of blood in other major organs like the liver and lungs.
The blood vessels in these organs constrict leading to a rise in blood pressure.
In turn, fluid leaks out of the vessels and cause congestion in the lungs, and this fluid can also accumulate in the tissues or abdomen.
This is the condition that is referred to as congestive heart failure in dogs.
Has your dog had a recent change of appetite, started shedding excessive hair, or has signs of scaly skin? These are signs of hypothyroidism – a condition more commonly found in dogs than other pets.

Read about food for hypothryroidism in dogs to discover more.
Symptoms Of Congestive Heart Failure
It can be difficult to notice any signs of congestive heart condition especially in the initial stages.
In addition, the signs will vary depending on the underlying heart condition or disease.
Let's have a look at the most common signs as the disease progresses.
Frequent Coughing
You will notice that your pet coughs persistently especially at night when sleeping or resting, and early morning, as a result of the accumulation of fluids in the lungs.
The heart is enlarged and rubs against the trachea, which causes irritation hence inducing a cough.
Struggling To Breathe
Your faithful pooch will experience difficulty breathing even when at rest. This is caused by fluid accumulation in their lungs.
Therefore, whenever they try to inhale they will be panting and puffing.
Lack Of Energy
Due to inadequate blood flow to body organs, your dog will find it difficult to exercise, avoid taking walks, and tend to sleep more.
Persistent Loss Of Appetite
This is likely to happen because accumulation of fluid in the abdomen bloats the stomach and makes them feel full.
Some medication for treating CHF also causes loss in appetite.
Swollen Belly
As the muscles on the heart reduce and begins to pump blood ineffectively, fluid will start accumulating in the stomach. The swollen belly is especially seen in the early stages.
Pale Or Bluish Gums
The normal color of canine gums ranges from pale pink to pink.
If you notice they have turned blue, it could mean the blood is not well oxygenated due to the heart not functioning properly.
How to Choose the Right Dog Food for Congestive Heart Failure
Low Sodium
It is recommended that dogs with cardiovascular problems feed on low sodium diets as their hearts cannot get rid of excess levels.
High salt levels overload the heart and increase blood pressure worsening their condition.
Added Taurine and L -Carnitine
Supplementing their diet with these two amino acids will help in proper functioning of the heart muscle.
High levels of these nutrients support production of energy in the heart muscle.
B Vitamins
Vitamin B, which is soluble, is likely to be lost in urine due to the use of certain heart medications, so consider a diet which supplements this in their food.
Potassium and Magnesium
Your veterinary doctor will need to test and determine the levels of these two minerals in your pet's blood.
Depending on the findings they might advise on supplementing them.
Reduced levels of magnesium increases the risk of side effects of heart medications and weakening of heart muscles.
Dog Food for Congestive Heart Failure
1. Hill's Prescription Diet h/d Heart Care Dry Dog Food
Hills Prescription Diet dog food is specifically formulated for dogs with congestive heart failure, and meets all the special nutritional requirements for your pooch.
Most importantly, it contains low sodium levels to limit fluid retention. This is because your pet will have reduced ability to get rid of the excess amounts.
If excess sodium is retained it makes their heart condition worse by increasing their blood pressure and the workload on their hearts.
This low sodium meal is of benefit to your pet's quality of life and longevity.
It also contains high levels of l-carnitine and taurine, which are amino acids (supplemental nutrients) that support heart function.
Hill's Prescription diet contains appropriate levels of phosphorus and protein which will support lean mass muscle for a healthy heart, as dogs with CHF tend to lose weight, depleting their fat stores and muscle.
This diet also features clinically proven antioxidants which improves the immune system of your pet for better food absorption.
In addition, it contains added B vitamins supplement to replace the nutrients lost in urine, which occurs due to the use of heart medications such as diuretics.
Hill Prescription diet dog food is available in an appropriate kibble size for all breed sizes.
Top Ingredients
Whole Grain Corn.
Pork Fat.
Soy Protein Isolate.
Chicken Byproduct Meal.
Chicken Liver Flavor.
Guaranteed Analysis
Crude Protein 14.5% minimum
Crude Fat 16.5% minimum
Crude Fiber 2.5% maximum
Phosphorous 0.35% minimum
2. Royal Canin Veterinary Diet Early Cardiac Dry Dog Food
Royal Canin Veterinary diet is specifically formulated dog food for adult dogs who are at risk of or suffering from cardiac disease.
It is a highly digestible food, which is a key feature because dogs with heart issues have a problem with food absorption.
This diet ensures nutrients have a high chance of getting into the bloodstream, providing the extra energy needed for their heart to pump blood around the body.
Royal Canin Veterinary diet is also highly palatable, helping dogs that experience reduced appetite levels due to lethargy and side effects of heart medication.
It also features Eicosapentaenoic acid and Docosahexaenoic acid, which are long Omega- 3 fatty acids to aid in stabilizing heart muscle cells.
That leads to proper functioning of the cardiovascular system of your furry companion.
Other beneficial ingredients include arginine, carnitine and taurine that help support heart functions.
This dog food also contains moderate levels of sodium which are within the restricted levels for dry food.
This Royal Canin Veterinary diet is naturally preserved and fortified with tocopherols to improve the immune system of your dog.
Top Ingredients
Brewer's Rice.
Chicken Fat.
Chicken Meal.
Fish Meal.
Soy Meal Isolate.
Guaranteed Analysis
Crude Protein 22.2% minimum
Crude Fat 14.0% minimum
Crude Fibre 5.3% maximum
Moisture 10.0% maximum
L- Arginine 1.76% minimum
3. Natural Balance L.I.D. Grain-Free Dry Dog Food
Natural Balance Limited Ingredient Diet is formulated with only a few ingredients, helping prevent the occurrence of food sensitivities and upsets.
This diet contains salmon as the single source of protein, a high quality protein that helps maintain strong muscles.
This makes it a perfect choice for your pet that has digestive concerns with beef, chicken, lamb and other animal based proteins.
A high protein diet is also important in the management of congestive heart failure especially at later stages of the illness.
In addition, Natural Balance LID features sweet potato, which provides natural fiber that promotes healthy digestion.
This limited ingredient diet is also grain free with no artificial flavors, additives and colors.
Top Ingredients
Sweet Potatoes.
Salmon.
Menhaden Fish Meal.
Potato Protein.
Canola Oil.
Guaranteed Analysis
Crude protein 21% minimum
Crude fat 10% minimum
Crude fiber 5% maximum
Moisture 10% maximum
4. Wellness Complete Health Adult Lamb & Barley Recipe Dry Dog Food
If you are looking for a complete all natural balanced nutritional diet for your pet then consider Wellness Complete Health Adult Lamb and Barley Dry Dog Food.
It is manufactured by Wellness Company who are pioneers in holistic nutrition.
It contains high quality lamb as the single protein source, which is also ideal for dogs with food allergies or intolerance.
It is supplemented with fresh whole food carbohydrates that are easily digested including ground barley and sweet potatoes, and importantly it does not contain any meat by-products.
Wellness Complete Health also features ground flax seeds rich in Omega- 3 fatty acids for a shiny coat, and high fiber for ease of movement of food through the gut.
It also contains taurine that helps in proper functioning of the heart.
In addition, it contains carrot and tomatoes that provide minerals and vitamins for a thriving immune system.
Lastly, this dog food contains chondroitin sulfate which is important for adult dogs, specifically for your pet's joints.
Top Ingredients
Lamb.
Oatmeal.
Lamb Meal.
Menhaden Fish Meal.
Ground Barley.
Guaranteed Analysis
Crude Protein 24.0% minimum
Crude Fat 12.0% minimum
Crude Fiber 4.0% maximum
Moisture 10.0% maximum
Omega-6 fatty amino acids 2.5% minimum
Omega-3 fatty acids 1.5% minimum
5. Honest Kitchen Whole Grain Beef Recipe Dehydrated Dog Food
If you are shopping for organic all-natural food for your pup, consider this whole grain beef recipe. It is made from high quality, safe, non – GMO ingredients and nutritious grains.
It features ranch raised beef, which provides the single source protein. In addition, it contains fresh produce such as apples and carrots from organic farms.
Honest Kitchen Whole Grain diet is lower in calories and fats, so it is ideal if your adult or senior dog need help with weight management.
It is also suitable for all dog sizes and breeds.
Additionally, the food is dehydrated in a timely technique to retain more vitamins and minerals in the whole grains, and it is compact and dense with nutrients.
The recipe does not contain any by products or preservatives.
The preparation process is quick and easy. You need to mix the food with warm water and let it rest for a few minutes (approx. 3 minutes) before serving your pup.
Top Ingredients
Beef.
Apples.
Rolled Oats.
Carrots.
Potatoes.
Guaranteed Analysis
Protein 22.5% minimum
Fat 8.5% minimum
Fiber 5.8% maximum
Moisture 9.5% maximum
Taurine 0.15% minimum
Frequently Asked Questions
What is the best food for a dog with heart disease?
The best diet will depend on the severity of the condition, their nutritional needs and medical requirements. You will need to consult with your veterinarian for a suitable diet.
However, the most important considerations include the following:
High protein diet to maintain lean mass muscle and ideal body weight.
Low sodium diet depending on the stage of heart disease.
Contain supplemental nutrients to aid in heart function such as omega 3 fatty acids.
Compliment any nutritional deficiencies with high carnitine and taurine levels. They support production of energy in the heart and increase its' metabolism
Is it ok to walk a dog with congestive heart failure?
Dogs with heart disease tend to tire easily and have a limited tolerance to activity.
Unfortunately, congestive heart failure cannot be treated, only managed, so the aim is to allow them to exercise for their enjoyment.
Avoid excessive exercise or activity.
If they normally walk in front of you while on the leash, and you see them slowing down to walking alongside you, it means the exercise was too much for them.
If they fall behind, then they need to rest. Also consider taking shorter walks.
Conclusion 
No pet parent ever wants to hear such a disheartening diagnosis like congestive heart failure.
However, getting the diagnosis early enough will enable you and your veterinarian to take good care of your dog.
Observing proper special nutrition can help better your dog's quality of life and also prolong their life, giving you time to create more memories with your buddy.
Importantly, choosing the best dog food for congestive heart failure will boost your pooch's immunity to manage the condition thus improving their overall well-being.
Sources
https://vcahospitals.com/know-your-pet/congestive-heart-failure-in-dogs
https://www.healthline.com/nutrition/dha-docosahexaenoic-acid