Escape Proof Cat Harness & Leash: Top Choices (Keep Kitty Safe)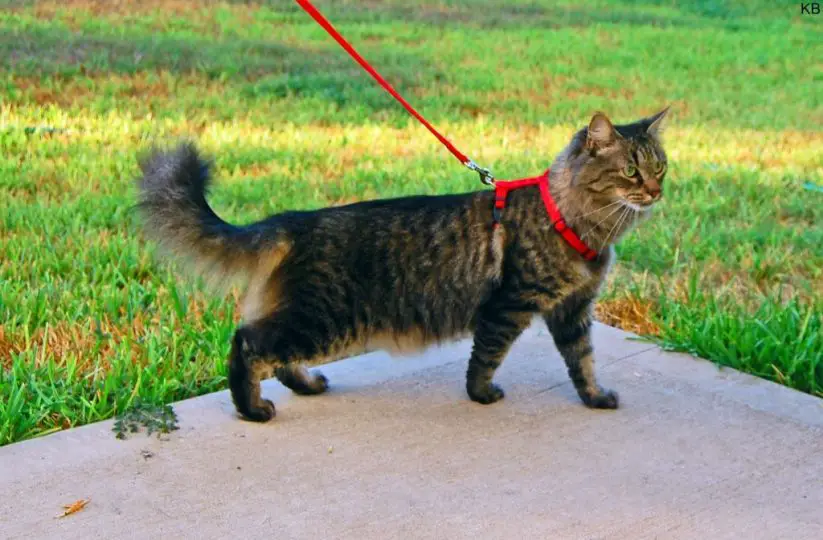 Cats can be mischievous sometimes. At one point you are with her, and the next minute she has disappeared.
Unless you are well-versed with the bush and flexible enough to run after your little baby, you will definitely need the best cat harness no escape to keep your cat restrained.
An escape proof cat harness not only restrains your cat from escaping to the thickets, but also protects your little kitty from predators and other unforeseen danger.
Our website is reader-supported. We research all reviewed products carefully to give you the best choices possible, and if you buy via links on our site we may earn a small commission.
| | | | |
| --- | --- | --- | --- |
| Petsafe come with me kitty harness and bungee leash | | | |
| Kitty Holster cat harness | | | |
| | | | |
5 Best Cat Harness No Escape Reviews
1. Petsafe come with me kitty harness and bungee leash
This patented leash allows you to enjoy those long walks, exercise, and playtime with your kitty.
The pressure on the leash can gently tighten the shoulder straps which restrain any forward motion without putting pressure on the delicate areas of your cat's throat. It is very safe and secure for the cat.
The leash is made of 3/8" colored nylon so you can easily know which strap goes over the shoulders and which on goes under the belly. It also comes with a detailed fitting guide.
It has a 1-year non-transferable limited warranty.
The bungee leash comes in three sizes.
2. Kitty holster harness
This holster is comfortable and easy to put on since it has two Velcro closures which secure promptly but your cat is going to have a hard time getting out of it on its own.
It is soft, comfortable and lightweight. The kittie holster is suitable for cats with allergies because the material used to make it are 100% breathable cotton with undyed cotton lining.
This harness is available in four sizes so you can get the proper fit for your feline friend.
3. Dexil luxury harness padded and water resistant
This padded and waterproof vest designed harness not only offers the primary benefits of a cat harness, but it is also ideal for colder and wet climates.
With this harness, you won't have to worry much about your kitty getting rained on. It has an extra front D ring to restrict pulling. The Dexil is a high-quality and attractive harness.
4. Adjustable cat harness nylon strap collar with leash
This harness consists of nylon straps which are strapped around a cat's neck and back. It also has snap-lock buckles which secure the harness and prevent the cat from removing it.
The harness has an evenly distributed pressure, and the size can be adjusted to keep your cat comfortable.
5. Purtech Escape proof cat harness with leash
This harness is suitable for cats who pull a lot during walks. The holster provides an equally distributed pressure and covers most parts of the cat's body.
For maximum comfort, add 2 to 3 inches to the cat's girth measurement snug against the fur. This cat harness is ideal for walking so if you like to have those long walks with your cat, you can get this harness.
It is available in 3 sizes. Small, medium and large.