Escape-Proof Cat Harnesses & Leashes (Top Picks in 2022)
Cats can be mischievous sometimes, one moment you are with them, and the next minute they have disappeared.
Unless you are fast and flexible enough to run after your cat, you will need a no-escape cat harness to keep your cat safely restrained.
An escape proof cat harness not only restrains your cat from escaping, but also protects your little kitty from predators and other unforeseen danger.
Whether you like taking your cat for walks or you need to travel, a cat harness ensures your cat stays safely with you, and away from dangers like being hit by a vehicle.
Cats love the outdoors, and sometimes it's just not practical to let your cat outside on their own when you live in an apartment or near a main road, and a harness with a leash is a great solution to get them outside for some exercise.
We decided to review some good quality choices to help you discover the different types that are available.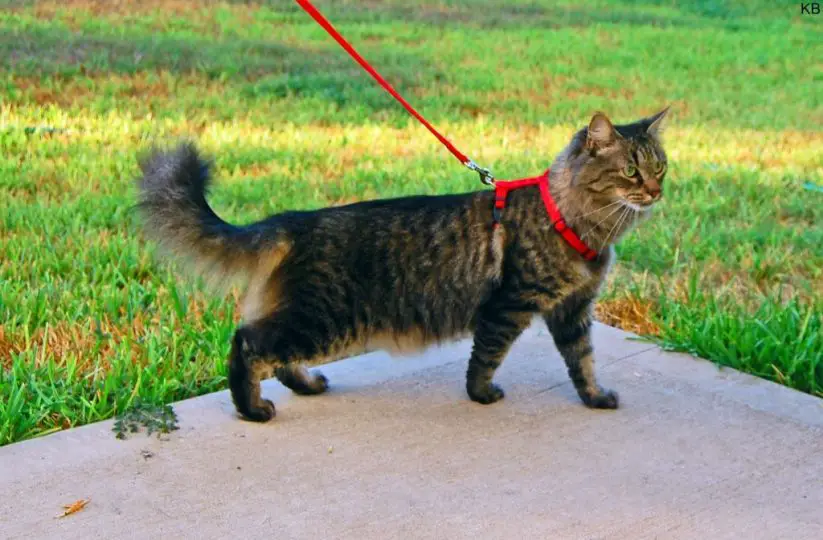 Top Choices
Our website is reader-supported through affiliate programs. If you purchase via links on our site we may earn a small commission.
5 Best Cat Harness No Escape Reviews
1. Petsafe Come With Me Kitty Harness And Bungee Leash
This patented leash allows you to enjoy those long walks, exercise, and playtime with your kitty.
The pressure on the leash can gently tighten the shoulder straps which restrain any forward motion without putting pressure on the delicate areas of your cat's throat.
It is very safe and secure for your cat.
The leash is made of 3/8" colored nylon so you can easily know which strap goes over the shoulders and which on goes under the belly.
It comes with a detailed fitting guide, and has a 1-year limited warranty.
The bungee leash comes in three sizes.
| Size | Chest Girth | Cat Size |
| --- | --- | --- |
| Small | 9-11 | Kittens and small cats |
| Medium | 10-15 | Small and medium cats  |
| Large | 13-15 | Medium & large cats |
Features
This unique leash provides "give" when your cat comes close to the end of the leash.
The adjustable harness makes a custom fit for your cat.
Dual adjustment points provide a snug and safe fit.
It is available in 6 colors (royal blue/navy, lilac/deep purple, Dusty Rose/Burgundy, red/black, black/silver/ electric lime/green).
It is made using nylon.
2. Kitty Holster Harness
This holster is comfortable and easy to put on since it has two Velcro closures, which secure promptly and your cat is going to have a hard time getting out of it on its own.
It is soft, comfortable and lightweight.
The kitty holster is suitable for cats with allergies because the material used to make it are 100% breathable cotton with undyed cotton lining.
This harness is available in four sizes so you can get the proper fit for your feline friend.
| Size | Chest Girth (") | Neck (") |
| --- | --- | --- |
| Small | 10-14 | 5-9 |
| Small/Medium | 13-17 | 9-12 |
| Medium/large | 16-20 | 10-13 |
| X-large | 19-23 | 11-15 |
Features
Machine-washable.
Multiple colors available (7+ colors).
It is difficult to escape since it is a vest and it covers most body parts. 
The Velcro straps are also strong and designed to hold even large cats.
The Velcro straps provide extra security.
3. Dexil Luxury Padded And Water Resistant Harness
This padded and waterproof vest designed harness not only offers the primary benefits of a cat harness, but it is also ideal for colder and wet climates.
The Dexil is a high-quality and attractive harness with an extra front D ring to restrict pulling.
Features
It is available in five colors- liquorice black, candy pink, flash red, royal blue and sunburst yellow.
Available in two sizes: Small/medium with a chest size of 13-18 inches and large- X-large with a chest size of 15-24 inches.
Strength-tested and certified for retail use.
It is water resistant.
Great for cold and rainy seasons.
Brightly colored for visibility.
4. Pupteck Adjustable Cat Harness Nylon Collar & Leash
This harness consists of nylon straps which are strapped around the cat's neck and back.
It also has snap-lock buckles which secure the harness and prevent the cat from removing it.
The harness has an evenly distributed pressure, and the size can be adjusted to keep your cat comfortable.
Features
It is an adjustable "H" style cat harness.
It has snap-locks which are easy to put on and take off.
It comes in multiple colors- black, blue, rose, red, pink and purple.
The neck size is adjustable from 7-10 inches while the chest size is adjustable from 10-17 inches.
Recommended for smaller cats, but it comes with 47.2-inch lead length.
5. Purtech Escape-Proof Cat Harness With Leash
This harness is suitable for cats who pull a lot during walks.
The holster provides an equally distributed pressure and covers most parts of the cat's body.
For maximum comfort, add 2 to 3 inches to the cat's girth measurement snug against the fur.
This cat harness is ideal for walking so if you like to have those long walks with your cat, this harness is a great choice.
It is available in 3 sizes – small, medium and large.
| Size | Girth Size (") | Neck Girth (") | Leash Size (") |
| --- | --- | --- | --- |
| Small | 10.5-12.4 | 7.4-9.3 | 59 |
| Medium | 11.1-14.8 | 8.6-9.9 | 59 |
| Large | 14.1-16.1 | 10.1-13.1 | 59 |
Features
It has a soft vectro in the neck and chest to keep the cat secure.
A plastic enclosure is added at the neck to keep the cat in place after getting rid of the velcro.
It has two heavy D rings which connect you and your cat.
The package comes with one vest harness and one nylon leash.
It is available in 4 colors. Red, black, pink and plaid.
Related Posts: