Air Purifiers To Filter Dust & Pet Hair (Buying Guide)
​Allergies can be ​annoying at best, and can give you symptoms like a sinus headache that just won't go away.
Pet owners are more likely to suffer from allergies caused by pet hair and dander​, especially when there's an overload of other allergens like mold or dry grass around.
​One of the effective ways of managing ​allergy symptoms is using a good quality air purifier.
While there are two types of air purifiers: Traditional and HEPA purifiers, HEPA air purifiers are more efficient, and remove more contaminants from the air you breathe.
So what are HEPA air purifiers, how do they work, and what are some of their benefits?.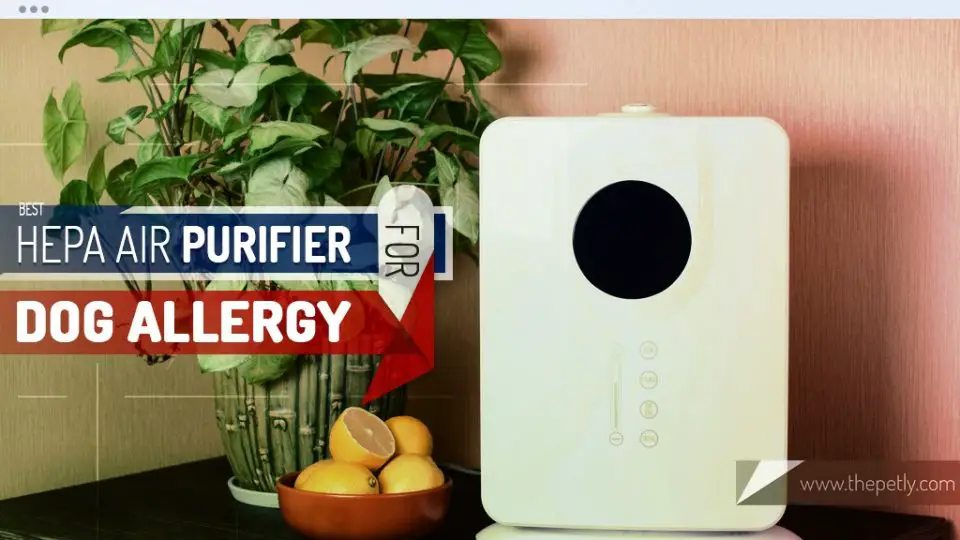 Our website is reader-supported through affiliate programs. If you purchase via links on our site we may earn a small commission.
What Is A HEPA Air Purifier?
HEPA is an acronym for "High-Efficiency Particulate Air (filter)".
For the ultimate indoor air quality, you need to use a HEPA air purifier.
You can greatly improve indoor air quality by filtering air pollutants such as dust, pollen, fur, and smoke with a HEPA certified air purifier.
A HEPA certified filter must pass the test of capturing 99.97% of 0.3-micron particles that pass through it.
So, it must filter a particle of  0.000012-inches in diameter and 300 times smaller than a human hair – this is 25 to 50 times smaller than your eye can see!
An air purifier with HEPA filters is superior to one with traditional filters, with HEPA air purifiers being highly efficient at capturing microscopic particles, including  pet dander and mold.
Unlike electronically-charged and other air filter types whose efficiency reduces over time, HEPA filters, even when dirty, still maintain their effectiveness.
Factors To Consider When Buying A HEPA Air Purifier
The Floor Area of your Room or House
When it comes to floor area, the size of the purifier matters, and the larger your space, the larger the air purifier unit you will need.
Purifiers are rated for the amount of space they can effectively filter, and will have a square footage rating that lets you determine the correct size for the room you want to use it in.
Roughly speaking, air purifiers come in small (up to 200 sq. feet) , medium (400), large (1200), and whole house sizes.
Just measure 2 walls that join in your room, and multiply the numbers to get the square footage.
Then look at the rating on some air purifiers, and select a shortlist of the models that can handle the size of your room – if they can handle a slightly larger room that is ok.
If you have a large room, a purifier such as the Alen BreatheSmart Classic would be a good match.
For medium and small rooms, the Honeywell True HEPA Allergen Remover and Germ Guardian AC4825 would make ideal options respectively.
The Noise Level of the Air Purifier
Moving air around always makes noise, especially when there is a motor and fan involved.
While the noise may not be a deterrent, the constant whirring can be irritating for some people, and it can depend on the environment you use it in.
A loungeroom with the TV turned on will make the noise of an air purifier les noticeable compared to in your bedroom at night.
Again, the best option before purchasing is to read some reviews to get some real live opinions on different models, and let this guide you buying decision.
Sometimes the simplest way to reduce any noise is simply to locate the air purifier further away from you in the room, and also to turn the fan speed down.
You can use two small air purifiers in a larger room, but obviously here the noise factor becomes more of a problem, so normally it is best to use a singe purifier rated at the correct size.
The Cost of the Air Purifier
The cost of Air Purifiers generally ranges from about $50 to above $500, and much more for whole house units.
If you have a tight budget it's worth spending some time making a list of suitable air purifiers, and read some customer reviews to narrow down the best performing models at the cheapest prices.
You may be surprised to find some cheaper models that perform well compared to other expensive name brands.
Best Air Purifiers for Pet Hair, Dander and Allergies
1. Alen BreatheSmart Classic
Standing at 10 x 17.8 x 26.8 inches, Alen is a pragmatic and appealing purifier that cleans your indoor air to your satisfaction.
Designed with the NASA airflow engineers in mind, the BreatheSmart Classic is ideal for tackling the largest spaces in your home with ease.
Designed for large rooms or open concept unit, the Alen Classic can efficiently clean a modest space of 1100 SqFt every 30 minutes.
The WhisperMax technology renders the purifier super quiet, twice as quiet as key competitors on Turbo Speed.
What we like most about the Alen Classic is the proprietary HEPA-OdorCell, an eliminating compound, that helps in destroying unwanted household odors at molecular levels.
When it comes to smarts, the Alen Classic has intuitive intelligence that detects airborne particles with the aid of a highly efficient Laser Smart Sensor.
Similarly, the auto-mode function allows the purifier to self-adjust depending on the ever-changing indoor temperament so that you don't have to do it manually.
Sporting a sleek and subtle appearance, the Alen Classic is available in a range of colors.
Pros
HEPA certified.
Eliminates bad odors.
Has an auto-mode function.
Covers large cleaning area.
Aesthetic appeal.
Super quiet.
Cons
2. Rabbit Air BioGS 2.0 (Editor's Pick)
If you`re looking for a super quiet air filter for a small room, the Rabbit Ultra Quiet SPA is the ideal choice.
Rather than using the traditional brushed motors, the secret to the quiet operation lies in the Brushless Direct Current Motor Blade which is more efficient and quieter.
What`s more, the blades can operate at five varying speeds, with the lowest speed having virtually no sound.
A major highlight which is vital for individuals with a dog dander allergy is the BioGS HEPA filter.
The Rabbit Air is economical, with the charcoal-based filters lasting up to 3 years based on 12 hour daily use, while the pre-filter, which traps the large particles, lint, and hair, is permanent and washable.
Like the Alen Classic air purifier, the Rabbit SPA-550A has odor correction function.
But rather than using proprietary technology, it makes use of the time-tested activated charcoal carbon filters to reduce odors and VOCs.
Alongside the odor-function is a negative ion generator, which causes airborne particles to fall downward.
Pros
It cleans spaces of up to 550 square feet.
Long filter life.
Remote control.
Has an auto mode.
Uses HEPA filters.
Cons
The power button stays lit even at night.
Not suitable for large spaces.
3. Honeywell True HEPA Allergen Remover
Ideal for medium rooms (155 sq ft), the Honeywell filter continuously captures and traps particulate matter, as small as 0.3 microns.
The filter traps all the allergy-causing matter ranging from dander, dust, smoke, and any airborne materials.
Though the pre-filter is not permanent or washable as in the case of the Rabbit Air, it has a modest lifeline of 3 months.
The HEPA filter on the other hand, which traps the microscopic details has a generous life of 1 year before replacement.
The carbon filters fitted on the Rabbit Air eliminate VOCs/Gases/Odors.
What users of this product like most is that it sucks pollutants from the front, and releases pure air from the top, making it convenient to place beside a wall to save floor space.
Pros
Saves on space
Removes allergen causing matter and odors
Easy to change filters
Fitted with HEPA filters
Cons
Filters are not permanent
Only ideal for small to medium rooms
4. GermGuardian AC4825 (Budget Friendly)
Small and portable, the Germ Guardian is a budget-friendly option that performs well.
A major highlight of this air filter is the optional UV-C light technology that works alongside Titanium Dioxide.
The above combo is calibrated to provide a sterile environment in your indoors.
It works by killing airborne germs, bacteria, fungi, and viruses such as influenza, staph, and rhinovirus that pose health risks.
Besides killing germs, the HEPA filter removes 99.9% of the microscopic pet dander, dust, and smoke molecules.
There is a pre-filter that traps larger particles, and extends the life of the HEPA filter.
For an odorless experience, the Germ Guardian features activated Carbon filter, which removes all types of odors from your home
Pros
Kills germs.
Portable.
Performance is greater than most CADR units.
Economical.
Filter requires replacement after 6-8 months.
Cons
5. LEVOIT LV-H132 Air Purifier
If you`re looking for an air purifier that is sleek and minimalist, then consider the Levoit Air Purifier.
This air purifier features 3-stage filtration for the ultimate air quality, with a pre-filter to remove the large and tangible particles.
A true-HEPA filter for removing the microscopic allergy-causing molecules such as dog dander and smoke particles.
Also includes an activated carbon filter for removing pet odor, and a sensor to detect the level of airborne particles and adjust the fan speed accordingly.
With 3 speed settings, the LV offers customization for the different indoor air conditions.
The LED display can be turned off, making it great for bedroom use when sleeping.
What we love most about the LV is that it`s 100% ozone-free as it does not use UV or ions for air fortification.
Pros
Chic design.
100% ozone-free.
Non-intrusive and adjustable lights that can be turned off.
Compact.
Fitted with HEPA filters.
Cons
Air Purifier FAQs
Where Should I Place My HEPA Purifier?
If you only have a single purifier, you should place it in a room where you probably spend most of your time.
Place it in a room that you deem to have the worst air quality.
Position it at least two or three feet from the wall for maximum airflow.
Purifiers are most efficient with the doors and windows closed.
For more clearer information regarding safety and placement, consult the manufacturer's manual before using it.
How Often Should I Run My Purifier?
Ideally, it`s recommended that you keep it running constantly, particularly if you have an allergy.
However, you can keep it running for 12 hours a day, it works just fine!
If you find a HEPA purifier with multiple speeds, you can activate the lowest speed when you`re away.
What Is CADR?
CADR is an abbreviation of Clean Air Delivery Rate, and it denotes the rate at which a purifier delivers air, and it`s effectiveness at filtering the airborne molecules.
The higher the CADR number, the better the air purifier.