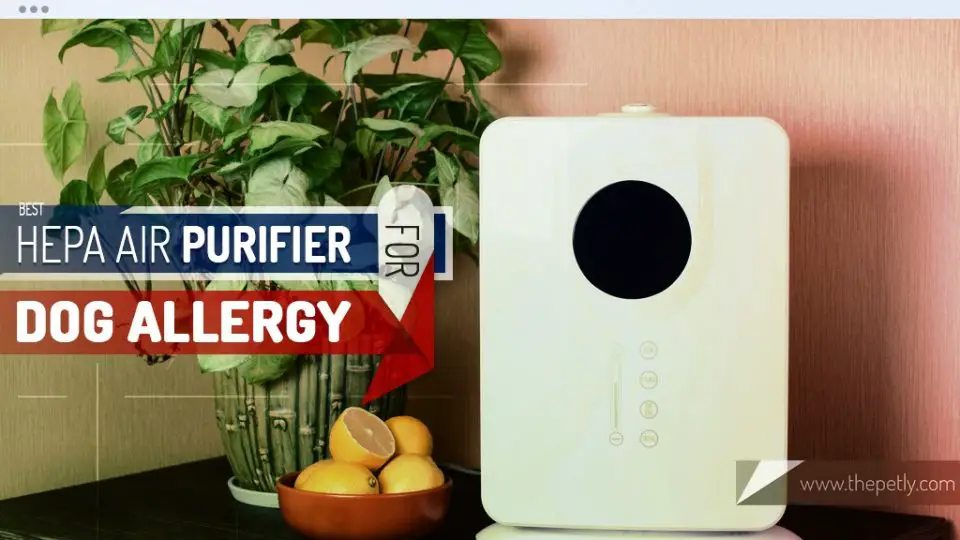 You Need One Of These 5 Best HEPA Air Purifiers For Dog Allergy
We have seen in the article on the dog dander allergy that dog allergies (caused by the dander) can be devastating to the health of some people more than others. And as we learned, the source may be our lovely dogs, other pets, and environmental elements like pollen grains, weeds, and dust among others. It is, therefore, important to safeguard ourselves and those we love by continuously improving our environment despite the love for our furry friends.
More...
Just like other methods of handling dog allergies we've discussed in this blog (to either protect ourselves or even our dogs), in this article, we will add another way of managing dog allergy through using HEPA air purifiers.
But, before we even chew the meat of this topic, we'll first look at the meaning of an air purifier.
Shall we?
What Is (HEPA) Air Purifier?
An Air purifier system is a device that assists in the removal of contaminated air from our residences. It helps in improving the indoor air quality by cleaning air pollutants such as dust, pollen, fur, and smoke.
Technicalities aside, think of it in this way.
The God-given air is not always clean. It sometimes has particles harmful to our breathing system and interfere with our ability to fight diseases. So, to manage these harmful teeny-tiny debris from air, we need an air filter to generate quality air by filtering the impurities. As a result, the rewards outweigh the cost and additional of yet another robot in our households.
Some of the benefits may include reduction of fatigue by boosting your energy level by breathing fresh air, an increase of blood circulation, and making your immune guards stronger and fierce towards external invasion.
For the ultimate indoor air quality, therefore, you need to use a HEPA air purifier.
HEPA is an acronym of for "High-Efficiency Particulate Air" or "High-Efficiency Particulate Arrestance." Meanwhile, we won't go for an in-depth explanation of HEPA technology in this section. Save that for later. If curious, though, we suggest that you read this article here for an in-depth understanding of the technology.
For now, all you should know is that an air purifier with HEPA filters is better than one with tradition filters. This is because it improves air quality without running up your electricity bill.
Furthermore, unlike the traditional purifiers, the Best HEPA Air Purifier for Dog Allergy is highly efficient at capturing microscopic particle, including dust, pet dander, mold and other common allergens that collects in our homes.
With this information at a grasp, let`s explore the top 5 HEPA air purifiers for dog allergy.
A guide to HEPA Air Purifiers
---
We discussed earlier in this article what is an air purifier and introduced HEPA filters technology.
In this section, we will continue with the discussion for further understanding of air purifiers so that you can not only feel confident when buying one, but also when using it.
But before we dive into the details, you might be deliberating why this article is specifically about HEPA air purifiers.
To paint a clear image of what it means by having a HEPA air filter vs traditional air filter, imagine yourself taking a road trip driving a BMW 3/15. Although it was a classic car of its time, it's still a 1927 make. Meaning, it's old, sluggish, noisy, bumpy, and even worse, it lacks anything close to a modern ventilation system or even an excellent engine cooling system. Let's just conclude you won't make it across Texas during summertime, leave alone alive in Nevada desert.
On the flip of the coin, with an Air purifier fitted with HEPA, it is like taking a ride with latest BMW G15 8 Series. It's not only sleek, but it's also fast, it has an AI tech better than what BMW has ever built, and its suspensions are crazy awesome. But even better, it has an auto-ventilation system that checks on the temperature and adjusts the fun to provide with a cool or a warm relaxing air no matter the weather outside. In fact, it's everything to live for.
What this simply means, A HEPA fitted Air filter is super awesome.
And here is why.
A HEPA Certified filter must pass the test of capturing 99.97% of 0.3-micron particle in size. In direct language, it must filter a particle of the diameter of 0.000012-inches and 300 times smaller than the human hair. It also means the size is 25 to 50 times smaller than what your eye can see.
So, let's look at why HEPA filters.
Factors to consider when Buying A HEPA Air Purifier for A person with Dog Allergy
When buying the best HEPA Air purifier, there`re a few factors that you need to consider. Some of these factors include:
Your Personal Needs
There is a plethora of air filters in the market, and every filter serves a specific purpose.
Therefore, before purchasing a filter, you should first consider your specific needs.
For instance, if you have a pet, and you are looking to manage pet dander, you should purchase an air purifier with a HEPA filter.
Why?
HEPA filters offer an extra layer of capturing the microscopic and molecular particles, which would otherwise not get trapped in a regular filter.
The Floor Area Of Your House
Next in line is to consider the size of your house.
When it comes to floor area, the size of purifier matters a lot. For small sized area, the purifier will be small. As the size increases, the need to cover larger floor space increases.
As a result, air purifiers are available in a wide range of sizes.
Generally, the larger your room, the larger the air purifier unit you will need.
For instance, if you have a large room, a purifier such as the Alen BreatheSmart Classic would be a perfect match. Conversely, for the medium and small units, the Honeywell True HEPA Allergen Remover and Germ Guardian AC4825 would make ideal options respectively.
The Noise Level Of The Air Purifier
It's agreeable, while the noise may not be a deterrent especially when you've bought something cheap, over time, the constant whirring can be irritating. And still, remember, the cheaper it is, the poor quality is the parts and filtering system.
But the reality is that, although some people may think noise a trivial factor, it's distressing. Think of your little tot or even your level of tolerance to noise.
Fortunately, all the purifiers we have listed above are great at keeping the noise levels to a bare minimum.
Your Air Purifier Budget Versus The Cost Of The Air Purifier
When looking at your budget, you might be tempted to be conservative to save more. Unfortunately, that will land you to more problems. What you should do instead, is shift your focus from cost and consider the benefits the equipment will add to your livelihood.
In fact, the cost should be the last factor to consider after you've satisfied all your other requirement.
Here is why.
As we cited earlier, the cheaper the air filter, the more likely it will fail to satisfy all your needs. However, that doesn't always make it true.
Let me explain.
An air filter can be cheap considering other factors like the coverage floor area and its compactness among other factors.
So, our advice on this topic is that you have a flexible budget. But also, consider other factors such as wattage usage, the rate of filter replacement, and other hidden expenses that comes as maintenance cost to keep the purifier running.
However, what truly matters is whether the device meets its promise to you as the end user and you're comfortable when buying it.
HEPA Filters vs Traditional Filters
Do you still remember the BMW metaphor? The HEPA and the Traditional air purifier?
Here the discussion comes again.
With over 10% of USA residents suffering from Allergies, a HEPA filter seems to cut the edge over the traditional filters. This is because of the filtration efficiency it has. And because of this, HEPA air filters have gained popularity in the last few years.
But why?
Just to reiterate, the air filter must meet the HEPA filter standards.
The standard stipulates that, the filter should be efficient enough to remove at least 99.97% of the air particles, 0.3 microns in size.
As such, with a perfectly functional HEPA filter, you can be assured that the air you you breath would be free from 99.9% of the air pollutants compared to the tradition air filters.
However one downside to owning such a device is that, it will mean digging dipper into your pocket. As we said earlier, it should come last after satisfying your other needs.
How HEPA Filters Work
---
To maintain such high efficiency, the HEPA filters leverage on thousands of extremely fine fibers arranged in matt-form to intercept both miniature particles and large ones.
Think of the fibers as a mesh of tangled fibers that is further folded into pleats to boost the surface area and filter life.
Benefits of HEPA Filters
---
The HEPA filter is a tried and tested technology, which has been approved against a high air purification standard.
That means that, the certified filter efficiency is way beyond the satisfaction. Did we mention that It's only tested at 3-micron particle size? What that means, such a micro level of finesse traps everything from dangling molds and allergens like dust, dog dander, and cigarette particles of dust.
Another thing to note, unlike the electronically-charged and other air filters that overtime their efficiency reduces, the HEPA filters are robust such that even when dirtier, they become more efficient than ever.
Air Purifier FAQs
---
Where should I place my HEPA purifier?
If you only have a single purifier, you should place it in a room where you probably spend most of your time. Another consideration should be placing it in a room you deem to have the worst air quality.
As far as room placement is concerned, you should pay attention to safety and air flow.
For a better option, place it in a place with less foot traffic to avoid tripping of wires.
Also, place it at least two or three feet from the wall for maximum airflow.
One final tidbit, purifiers are most efficient with the doors and windows closed.
For more clearer information regarding safety and placement, we suggest (if it is your first time with purifiers), you consult with the manufacturer's manual (before using it).
How often should I run my purifier?
Ideally, it`s recommended that you keep it running throughout, particularly if you have an allergy.
If you find a HEPA purifier with multiple speeds, you can activate the lowest speed when you`re away or if you find it convenience 12 hours a day should do fine.
What is CADR?
CADR is an abbreviation of Clean Air Delivery Rate, and it denotes the rate at which a purifier delivers air, and it`s effectiveness at filtering the airborne molecules.
The higher the CADR number, the better the air purifier.
Are air purifiers dangerous?
One thing you should note, air filters are the solution rather than the problem. They help in filtering muddled air and increase the level of fresh air. With dogs and other pets around, you are sure that your environment is not only safe but also survivable for a person suffering from allergies.
What breed of Dog should i own that work well with air purifiers?
In the reality, with the best air purifier, you don't need to worry about the breed of dog you own. This is because, the purifier will work it's best to reduce all the impurities in the air. However, you still need to reduce the chances of dog dander in the house. Because of that, we will recommend you get yourself the best non-shedding dog for your family.
However, that doesn't mean you are off the hook. You need to do more to make sure your dog is safe and at most health. These calls for regularly grooming using dog shampoos, observing cleanness withing your house (e.g. use carpet cleaners), and making sure you feed your dog with the best nutrition food the market has to offer so that your dog does't suffer from allergies and its health is at its best - to prevent infection and release of dander.
So, Which is the best HEPA purifier for you?
We have provided you with a list of the crème de la crème of the best HEPA air purifiers for dog allergies.
We've also taken the battle to the field and educated ourselves with some (if not all) of the essential elements you need to know in order to get started.
So, you now have no reason to get started.
The only thing left is to take a closer look at the features of each air filter. Follow by matching your personal needs, house needs, noise level, and consider less of budget than the deliverable.
By the end of the exercise, you should have a perfect match. An air filter that will offer you the most satisfaction and fulfill your needs.
On our side, we believe our recommended best HEPA air purifiers and the guide is a de-facto tool to helping you say goodbye to allergies.
As always, we value your feedback. So, don't forget to tell us your experience with these air purifiers we've recommended. Also, share the love of this article with your friends.
In and out, give yourself a smile of the best pet care.
Cheers!