The Proselect Empire Dog Cage – Any Good? (Buyers Guide)
Does your dog suffer from anxiety separation? Is it an escape artist or is a heavy chewer?
​The ProSelect empire dog cage is a heavy-duty dog crate that will dissipate those pain points.
On first ​look at the ProSelect Empire Dog Cage you instantly get the impression that it's sturdy and super strong. These cages reflect attention to detail – the work of quality craftsmanship.
A strong dog can often destroy weaker dog crates, and this is where the ProSelect Empire Dog Cage excels, not to mention it's great for thwarting the efforts of the most determined escape artist!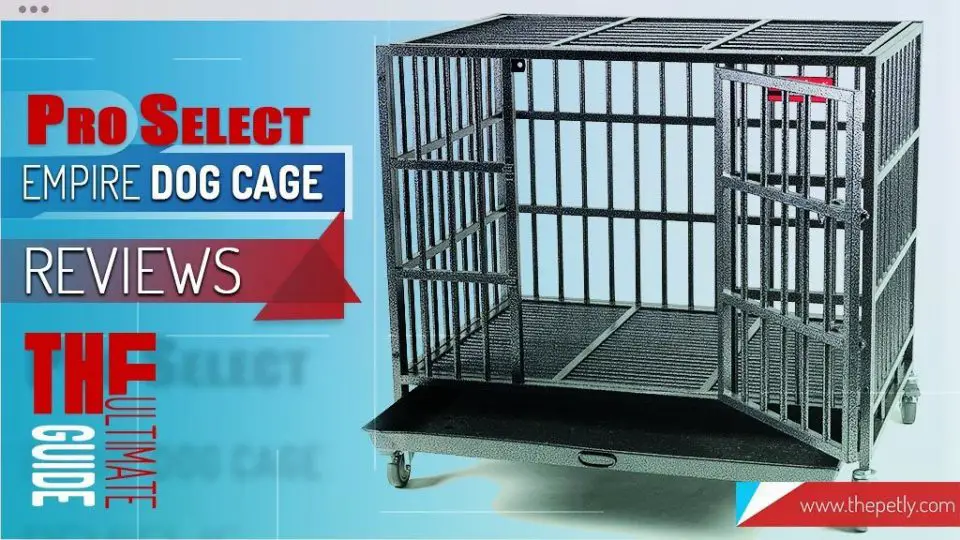 Our website is reader-supported through affiliate programs. If you purchase via links on our site we may earn a small commission.
​Why ​Consider The ProSelect Empire Dog Cage?
Let's check out a few pros and cons of this cage and see if it meets its reputation.
It Has Received Large Numbers Of Positive Ratings
​The ProSelect has satisfied hundreds of customers who mostly leave glowing reviews of this cage.
The ProSelect Guardian Empire Dog Crate is Genuinely Heavy-duty
Sure, there are many dogs crates out there constructed in a similar manner to the guardian empire dog crate, however not all of them will be gorilla tough.
The ProSelect Guardian is a genuinely heavy-duty cage that is designed to contain even the most voracious ​dogs from escaping.
Two main reasons:
The Guardian sports features 20-gauge steel reinforced with 0.5-inch diameter steel tubes for the maximum robustness.

As such, it`s virtually indestructible so your​ dog cannot chew its way through or dent the structure.​

This is not to mention that every stress-point on the cage, has undergone heavy-duty welding, and the corners are well rounded for safety.
One more thing, it's super durable, which is made possible by a hammertone finish.
It's Built For Escape Artist In Mind
If you have used a low grade dog cage before, then it's likely your fun-loving friend has chewed their way out looking for something more exiting to do!
And if I can guess right, the issue has to do with the latches and a hunger to chew anything that comes along.
​The ProSelect Guardian cage features a double stout latch system. Meaning, even the most intelligent escape artist does not stand a chance, and the latches will prevent opening of the door by sheer force.
​Built For Easy Cleaning
​The answer lies with a floor grate that has s a slot for the removable tray for easy cleaning.
Ease of Assembly
If you're like me, I am allergic to building things that ​aren't my specialty. ​For me, I like to ​get things that are a 'no brainer' to assemble, and the ProSelect is an easy cage to put together.
​Easy To Move
​With the ProSelect, the crate is pretty heavy. It's roughly 99.2 pounds when empty (large crate).
The cage comes with removable caster wheels to make shifting it an easy job, even with brutus inside.
The casters have a locking mechanism, however customers say the locking mechanism is a bit flimsy.
Being removable you have the option of not installing them at all if the are not needed.
Who Should Buy The Proselect Guardian Gear Empire Dog Cage
Here are key things to consider when buying this dog crate.
Consider The Size Of Your Dog
First, you ought to know the size of your dog.
Let's say, if you have a dog weighing around 75 – 120 lb you are good to go with the larger version. Otherwise, get the medium size version.
Proselect Guardian Gear Empire Dog Cage Large Size
With the Pro Select Guardian Large even the most intelligent escapist artist will not stand a chance.
This cage measures 42.25 x 30.75 x 41.25 inches. That means, if you own a large dog breed, this crate is for you.
Also, the likes of Rottweiler, Germany Shephard, Labs, Pitbulls, and similar dog sizes will find this crate useful.
Moreover, with the consideration of weight, the crate will do just fine with a dog weighing up to 120 lbs.
ProSelect Guardian Gear Empire Dog Cage-Medium Size
The ProSelect Empire Cage Medium Size is built to contain even the most ruthless and high anxiety dog.
​The ProSelect medium​ is comparable to the large cage.
​The size​ is 37 x 25.34 x 33.75 in
Who Should Not Buy This Crate
Here are key things to consider when buying this dog crate.
If you have a dog that is meek or quiet you won't need a cage this industrial.
If you travel a lot.
If this crate is too big for your dog. An oversize crate relative to your dog is not good.
Having looked at what matters with the ProSelect dog crate, here are two dog crates for this manufacturer based on the sizes.