Proselect Empire Dog Cage Review 2020 – Worth Buying?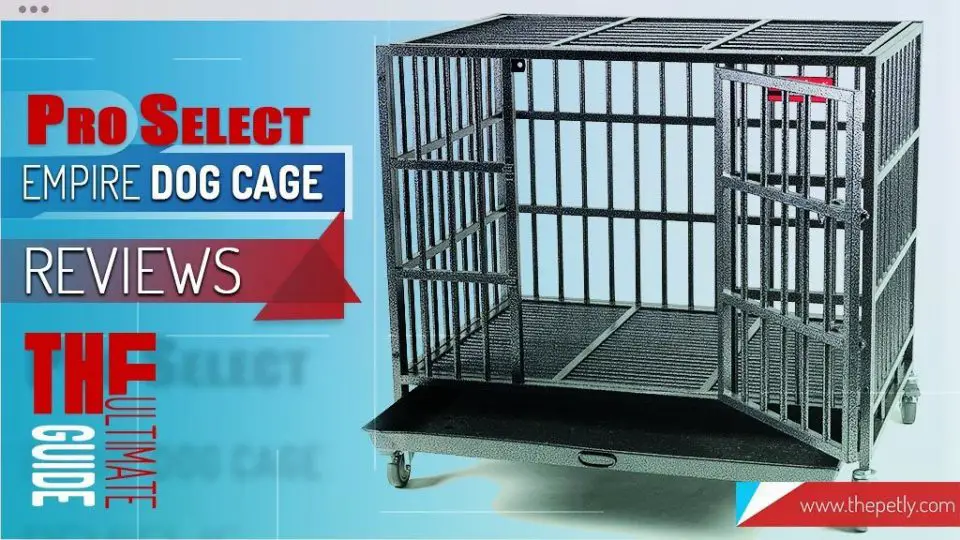 Does your dog suffer from anxiety separation? Is it an escape artist or is a heavy chewer? Do you also feel like It's destructive for the other types of crates? Then this article is for you. The ProSelect empire dog cage is a heavy-duty dog crate that will dissipate those pain points.
On first glimpse of the ProSelect Empire Dog Cage, you instantly get the impression that it's sturdy and super strong. These cages reflect attention to detail - the work of quality craftsmanship.
By comparing this cage to other available options on the market you will likely place this in your list of finalists, especially if your dog is a super-strong breed such as a Malamute, Boxer, or Pitbull.
A strong dog can often destroy weaker dog crates, and this is where the ProSelect Empire Dog Cage excels, not to mention it's great for thwarting the efforts of the most determined escape artist!
Our website is reader-supported. We research all reviewed products carefully to give you the best choices possible, and if you buy via links on our site we may earn a small commission.
ProSelect Cage, comes in two main sizes, Large and Medium.

The large crate measures 42.25 x 30.75 x 41.25 in

This offers a generous space for your large dog.

The medium size measures, 37 x 25.34 x 33.75 in

In this space, it's ideal for medium sized dogs.

It's built and reinforced with pure steel.

Makes it impossible to chew and break through.

It's has a double latch system.

Can't open the cage by mere pushing and twisting the latch or brute force.

It's has removable casters.

Makes it easy to move the crate. Also, when without casters, the cage has good stability.

It has a floor grate with tray.

Keeps the cage and dog clean.

Its welding is remarkable especially in all stress points.

Makes the cage safe, yet making sure not any dog can break through.

It's coated with hermmertone finish.

The coat makes the crate durable and keeps it free from rust.
6 Reasons to Buy The ProSelect Empire Dog Cage
It Has Received Massive Numbers Of Positive Ratings
Let's be honest.
Before you buy something, there are chances that you will base your decision on some known factors. Right?
Most likely, it will be influenced by how other people perceive the product.
In most cases, you'll base your buying decision on someone's recommendation. Per se, you trust this person, and there is a way you can relate and connect at some visceral level.
This is especially true if the product derived the desired satisfaction to the recommender. Meaning, it delivered what it promised.
Going by that, there is a high chance you'll also buy the product. Right?
The pro select dog crate is no different.
It has satisfied hundreds of customers. And because of that, it has also received massive praises with positive reviews from fellow dog owners.
In this case, I have a feeling that you'll also love it and appreciate the efforts of the manufacturer.
The ProSelect Guardian Empire Dog Crate is Genuinely Heavy-duty
Sure, there are many dogs crate out there constructed in a similar manner to the guardian empire dog crate. However, not all of them will be gorilla tough.
I also know you've heard some manufacturers claiming their crate is the strongest in terms of design and materials. However, when you buy it, you get this ugly face of disappointment. Your dog chews it, and brute-force its way out the first time you're not in for supervision.
Fortunately, that's not the case with the ProSelect Guardian. It is a genuinely heavy-duty cage that is designed to contain even the most voracious and aggressive canines from escaping.
Two main reasons:
The Guardian sports features 20-gauge steel reinforced with 0.5-inch diameter steel tubes for the maximum robustness. As such, it`s virtually indestructible, and no canine, even your aggressive dog can chew its way through or dent the structure.

This is not to mention that every stress-point on the cage, has undergone heavy-duty welding. Also, the corners are well rounded for safety.
One more thing, it's super durable, which is made possible by a hammertone finish.
So, if your goal is to buy a solid built indestructible dog cage, then look no further.
It's Built For Escape Artist In Mind
It's likely you are in this awkward position where your pooch keeps on escaping from the previously owned cages.
And if I can guess right, the issue has to do with the latches and hunger to chew anything that comes along.
In reality, dogs are remarkably smart than we think they are. Within a few days in the cage and it will figure out how to twist it open. Or rather, use its muscle power to brute force its way out.
The mess afterward? I guess you can only picture it yourself.
But the best part is that the ProSelect Guardian cage features a double stout latch system. Meaning, even the most intelligent escape artist does not stand a chance. Equally, the latches will prevent opening of the door by sheer force.
Another thing, it's a heavy-duty crate. Can't stress it more than I've already done.
The Crate Is Built To Keep You And Your Dog Clean
Stop for a second and ask yourself this question.
What will happen if you give your pooch food and leave it for work or attending the garden or you are not just there to supervise it?
Like always, grumpy and ignorant as some dogs can be, it will eventually find a way to topple the bowl and pour out the content.
Ouch, that isn't pleasant at all. Isn't it?
But the most disturbing thing is not even the dog. Such behaviors are rooted in its maternal instinct. However, the challenge lies with the poured food especially, if it mixes with something liquid. Even solid as it might be, it's still crazy messy.
So, how does the ProSelect empire manufacturer fixes this?
The answer lies with a floor grate. First, it has a slot for a removable tray. Meaning, you will have an easy time collecting and cleaning any mess.
The feature is almost trivial because sometimes you'll have a piece of cloth or a dog bed in one corner or covering the whole cage. But with my experiences, just make sure your crate includes the grate and make sure its tray is metallic, not plastic.
Ease of Assembling
If you're like me, I am allergic to building things that are out of my specialty. What is even worse, spending more than thirty minutes on something on my busy schedule, it's not worth the effort.
Here is the truth.
The complex something is, the more nightmares it will give you.
For me, I like to have things I prefer to call no brainer while assembling products.
Trust me, assembling the ProSelect guardian dog create is no brainer. It's pretty straight forward. You'll fall in love with the cage for eliminating most of the hustles that come with some crates.
Just you know it's damn simple, here is a preview of the assembling guide.
Here is a link to download the guide for your sneak preview (click to download).
When It Comes To Moving The Crate, They Had You In Mind
Flexibility should also come as one of those priorities you should put when buying the crate.
For the case of ProSelect, the crate is pretty heavy. It's roughly 99.2 pounds when empty (large crate).
What about when you add the weight of your dog?
It becomes almost impossible to move around.
However, you'll love the manufacturer because they thought about this forefront.
As a result, they added four removable casters.
That means you are at liberty of attaching them or not.
You will also not worry about the crate moving without your consent because of the in-built locking system. Unfortunately, the locking mechanism built in the casters is a bit flimsy. You'd rather not attach them if you are not moving the crate.
In the end, it boils down to having mobility whenever you want.
What else would you ask?
There you have it.
Having undergone top reasons to buy the guardian pro dog cage, let's guide you through the ownership.
Who Should Buy The Proselect Guardian Gear Empire Dog Cage
Here are key things to consider when buying this dog crate.
Consider The Size Of Your Dog
First, you ought to know the size of your dog. Let's say, if you have a dog weighing around 75 – 120 lb you are good to go with the larger version. Otherwise, get the medium size version.
What Is The Problem You Want To Solve Regarding Your Dog?
By now, you may have noticed, am referring to this crate as a cage rather than simply a crate. There is a reason to this. The idea is that, it's built to contain. So, if you have these challenges with your dog, feel the problem solved.
Do You Own An Animal Shelter?
If you own multiple dogs. Perhaps, an animal shelter. You need big and stout crates for dogs with different personalities.
Where Do You Want To Put This Crate?
If you have the idea of using it somewhere within your corridor or somewhere in the corner of your house or outside and you don't mind the looks and how it fits with the decor. Then, the crate will do just fine.
Who Should Not Buy This Crate
Here are key things to consider when buying this dog crate.
Now that you know who should buy the ProSelect crate, let's have a quick overview of the pros and cons of the crate
What We Liked About ProSelect Cage
What We Disliked About the ProSelect Cage
Having looked at what matters with the ProSelect dog crate, here are two dog crates for this manufacturer based on the sizes.
Best Collection Of ProSelect Empire Dog Crates
Top in this list is the large size ProSelect dog cage. This cage measures 42.25 x 30.75 x 41.25 inches. That means, if you own one of those large dog breeds, this crate is for you.
Also, the likes of Rottweiler, Germany Shephard, Labs, Pitbulls, and similar dog sizes will find this crate useful.
Moreover, with the consideration of weight, the crate will do just fine with a dog weighing up to 120 lbs.
However, you should consult with the manufacturer's guidelines before buying it for those large sizes and weighty dogs.
Let's put it clear.
The ProSelect medium has similar prospects like the ProSelect large. The only distinctive differences are:
And there you have it - the only two sizes of ProSelect dog cages.
When it comes to size, it's best to think this way.
If the cage is too big for your dog, don't buy it. If it's too small, also don't buy it.
So, what is the right size?
Buy a crate that is neither too big, nor too small than your dog.
Because of that, it's the main reason we have this medium size ProSelect dog cage for those feeling the larger version is too big for their dogs.
On pricing, it's obvious.
The real estate you get, the number of materials used in construction, and other minor details influence the pricing.
Stay Fresh
Get Early Access On The
Understanding Dog Crates Series
To follow along and get fresh updates of the next article, on the series on the Understanding dog crates and other articles, subscribe to our mailing list, we will deliver these articles to you as we publish them.