Do Invisible Cat Fences Actually Work? (6 Best Checked)
Cats have an innate curiosity, hunting instincts and are adventurous pets who like exploring new sights, scents, and sounds.
The thought of losing your feline friend whenever they get on their exploration mission is a nightmare for any cat parent.
Even for cats who are strictly kept indoors, there is no guarantee that they will not sneak outdoors. What's even worse is cats who are allowed to roam outdoors by their human parents at night.
To avoid disasters that your feline friend may run into whenever they escape your home (and you know they will), invest in an invisible fence for cats.
Cat fences help keep your cat safe and secure when they are outside in the yard, and indoors they can be great to prevent your curious cat going places where you don't want them to be.
My favorite cat fence is the PetSafe Basic In-ground. This fence is purrfect for cats weighing 8 lbs. and above. It has a surge protector and an adjustable receiver collar with 4 static correction levels.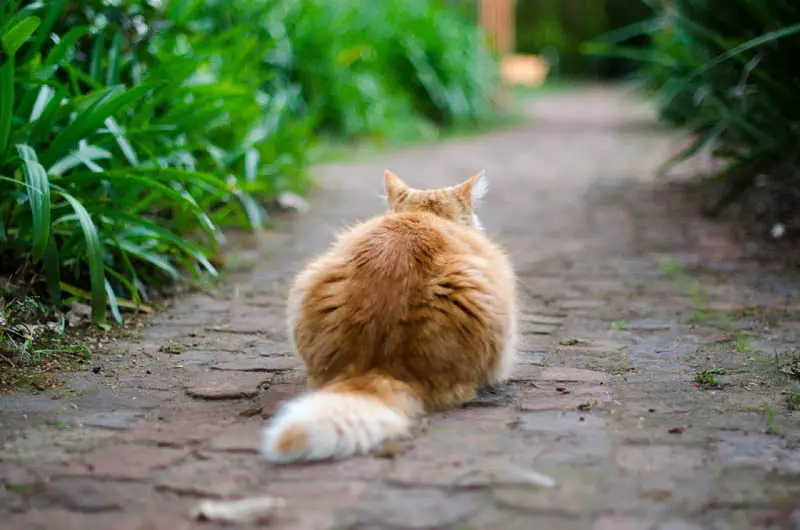 Our website is reader-supported through affiliate programs. If you purchase via links on our site we may earn a small commission.
Invisible Fence for Cats – Top Picks
6 Electric Invisible Fence for Cats: Top Picks
1. PetSafe Basic In-Ground Fence (8 lbs+)-Editor's Choice
Does your cat spend her time mostly outside the house and you can't stop worrying about her safety?
The Basic In-Ground Fence guarantees your cat security in the backyard by safely containing them.
The containment system has all the tools that you need to quickly set up the transmitter and bury wires around the yard.
Set up visual boundaries using the provided flags and attach the receiver collar to the neck of your feline.
The wireless fence is enough to cover about 5 acres, with its additional wires and flags.
Training your feline on her new boundaries in the yard should entail fun, quick sessions that take about two weeks.
Whenever your cat approaches the yard edge, the waterproof receiver collar emits a warning beep to remind your pet of the boundaries.
If the cat continues and crosses the boundary line, the system issues a safe, gentle static correction through the probes on the receiver collar.
The lightweight receiver collar is adjustable to fit your cat's size, and the system works with multiple cats with additional receiver collars for each added cat.
The invisible fence quickly teaches your feline to stay within her boundaries at the same time providing the much-needed comfort and freedom.
2. PetSafe Deluxe Indoor Containment system (Best for Indoor)
The Deluxe Indoor containment system is recommended if you want to restrict your cat's movement inside the house to certain areas such as the baby room or kitchen. 
The containment is designed with a compact transmitter that you will incorporate smoothly into your home.
What I love about this invisible fence is that you can adjust the range from two to ten feet. The system offers a tone-only mode for a non-stimulation warning.
What's more, the containment system is suitable for use with multiple cats. All you have to do is to have a receiver to the transmitter for each cat.
You can use this system with all Guardian and Petsafe pet fences except the PetSafe YardMax fence.
Also, if you are a multi-pet parent, the good news is that you can use this containment system with both cats and dogs.
If you are tired of your indoor pets coming around your furniture, soiling and spotting on your living room, the Deluxe Indoor Containment System is the best indoor invisible fence for your cat.
The only limitation with this system is its design specifically made for indoor use.
3. PetSafe Premium In-Ground Cat Fence (6 lbs Plus)
To set your pet's containment yard, you need to bury the boundary wire or fix it to a fixed object. Place boundary flags along the fence to increase visibility, especially when training your cat.
Just like other invisible fences for cats, the premium in-ground cat fence works by producing a radio signal from its transmitter that travels up to 4000 ft. along its boundary wire.
This in-ground invisible fence functions letting your cat wear the receiver collar in a way that the contact points are in contact with the next.
Anytime the cat approaches the fence, the collar produces a warning sound to alert the cat of the boundary.
If she proceeds towards the edge, the receiver collar emits a safe but static correction to get your cat's attention and persuade her to get back to its yard area.
The receiver collar is adjustable, waterproof and fits six to 11.5 inches of cat's neck sizes.
You can adjust the collar to suit your cat's temperament, and it includes a stretch section for your cat's safety.
Remember not to leave the collar for more than 12 hours on your cat's neck.
There is a low battery indicator, and the collar uses a replaceable battery.
This fence is for use by US residents only, and the unit is compatible with 110V outlets.
The limitation we found with this system is that the battery lasts for one to two months, and you will be required to order a fresh batch of batteries every two one or two months. 
4. PetSafe Pawz Away Barriers for Cats (Best Budget)
The Paws Away Pet Barrier is an good choice for cat owners who wouldn't want the hassle of installing underground wires.
PetSafe Paws Away is wireless/cordless and suitable for use either indoors or outdoors.
Restrict your cat's movement in the house by putting barriers near anything you want her to avoid, for instance, baby crib, furniture, dining table, etc.
The mini pet barrier transmitter is designed to emit radio signals.
Whenever your cat approaches the wireless transmitter, an audible sound is emitted by the lightweight receiver collar on her neck.
It is then followed by a progressive static correction that gets the attention of your feline to move away from the barrier. The static correction lasts for three to a maximum of 15 seconds.
The wireless fence is safe and comfortable for use by pets aged five months and above weighing at least five pounds. It has an adjustable range.
When used indoors, it protects an area between two to 12 feet in diameter while covering up to 16 feet in diameter when used outdoors.
Do you have multiple pets? All you have to do is to purchase an extra collar for each cat or dog.
5. PetSafe In-Ground Cat Fence for Cats Over 6lb
Cats are naturally curious animals who love exploring their environment.
Give your cat freedom to play, bask in the sun and be the cats that they are, without having to worry about their safety.
The PetSafe In-Ground cat fence is a light, comfortable collar specifically designed for cats.
The invisible fence is easy to install with a radio signal that travels through the buried wire marking the boundaries for your inquisitive little explorer.
Whenever your feline friend approaches the in-ground set boundary, the receiver collars containing contact points touching her neck sends a signal to the transmitter.
The receiver issues a beep as a warning sign to your cat but in case she persists, it emits a harmless, static correction persuading the cat to retrieve back to her containment area.
The collar strap is designed with a stretch section for your cat's safety, and you can keep all your cats in the containment area with an extra collar for each cat.
This fence is suitable for cats aged six months and above.
The system covers 1/3 of an acre, but is expandable up to 25 Acres with additional wires and flags that are available for purchase. 
6. SportDOG Brand In-Ground Invisible Fence for Cats System
SportDOG is a high-tech invisible fence system designed for multiple pets (cats and dogs).
It has waterproof receiver collars and lightning proof fence, and you wouldn't worry about harsh weather conditions.
What's more, you can have as many receiver collars connected to your kit as possible.
Also, the fence features a built-in indicator that gets activated in case of any cut or break in the underground wire.
Also, the SportDOG in-Ground fence has a feature that prevents your feline from wearing down the battery whenever it wanders for quite too long around the invisible boundaries.
This invisible fence can produce three warning signs, that is, sound, vibration, and shock.
The shock warning sign is designed purposely for dogs. The containment system is conducive for a multi-pet household especially cats and dogs.
The SportDOG in Ground Fence is pricey, but most of the pet parents who have used this gadget are satisfied with its efficiency and durability.
Related Posts: