Prosense Dewormer Solution for Cats: Is it Effective?
Roundworms are a common nuisance for cats.
With common symptoms such as vomiting, diarrhea, dull hair coat, coughing, and abnormal swelling, the quality of life of your cat will be affected.
Most of the time, cats affected by roundworms tend to shed off some weight.
Luckily, you can buy an over-the-counter dewormer for cats to treat this condition. The most popular dewormer is Prosense dewormer Solutions, which is used to treat roundworms.
If you are looking to treat tapeworms or hookworms, we recommend Bayer Drontal Broad-Spectrum Dewormer. See our review.
Prosense liquid dewormer solution is an easy-to-use dewormer that works well for both cats and kittens that are 6 weeks or older.
Cat owners who have used this liquid dewormer say that they start seeing results within 30 to 120 minutes after administering the first dose.
However, it can take up to 24 hours for the worms to completely get out of the cat's body.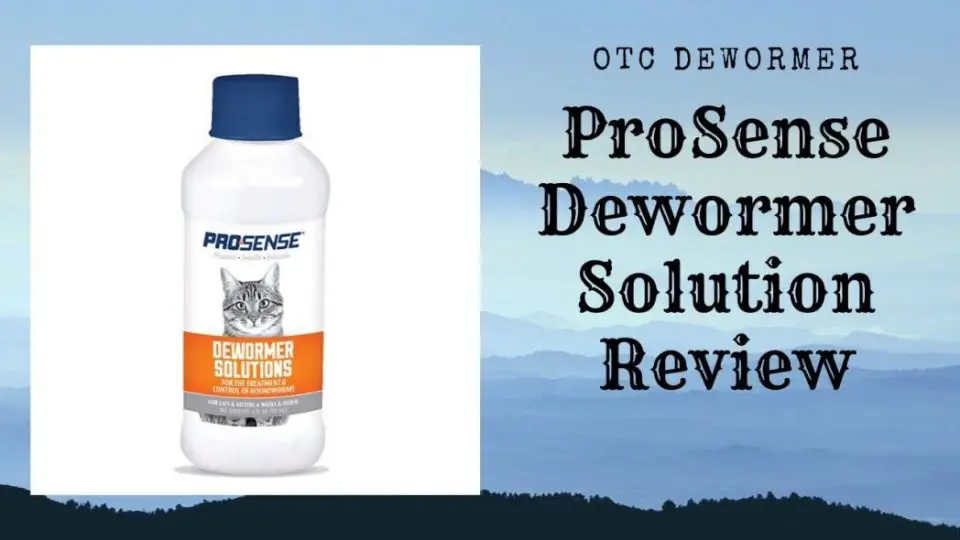 Our website is reader-supported through affiliate programs. If you purchase via links on our site we may earn a small commission.
Components of Prosense Dewormer Solutions
Prosense Liquid dewormer solution is an effective medication in combating large roundworms specifically Toxascaris Leonina and Toxocara Canis.
The active ingredient in Prosense liquid solution is Piperazine Citrate, which is the most effective OTC treatment for large roundworms.
It works by paralyzing and destroying the parasites promptly.
You can buy Prosense Dewormer at Amazon
How To Administer Prosense Dewormer
Prosense Dewormer solution is easy to administer, and it does not require a vet prescription.
For the initial dosage, the manufacturer recommends administering a ½ teaspoon per 5 lbs of body weight. Therefore, if you have a large cat, let's say 10 lbs., you can administer a full teaspoon of the liquid.
After the initial dose, you will need to re-administer the same dosage of the dewormer after 14 days. To prevent re-infestation, continue administering the dewormer to your cat after every 30 days.
The timing of dosage is important as it determines its effectiveness in eliminating roundworms.
Give your furry friend the dewormer a few minutes after taking her meal. Alternatively, you can mix the dewormer with her favorite food and ensure that she eats up her whole meal.
If you are administering the prosense dewormer to several pets, ensure that you give individual correct dosage to each one of them, either orally or through meals.
Possible Side Effects Of Prosense Deworming Solution
Although Piperazine Citrate is a safe ingredient that is less likely to trigger side effects on your kitty, it may have some mild side effects depending on the kitten/cat, or if you administer more dosage than is recommended.
Some of the possible side effects of this dewormer include muscle tremor, nausea, and vomiting. Your cat may exhibit any or all of these symptoms.
If unfortunately, it happens, ensure to contact your veterinarian immediately for clinical advice on the next course of action.
Precautions To Be Aware Of
Before purchasing or giving your cat any medication, it is always important to check its precautionary measures, if any.
The following are some of the precautions you should observe when administering Prosense liquid dewormer.
Not recommended for deworming kittens aged below six months.
For kittens or cats aged one (1) year and above, it is advisable to initially carry out the Heartworm Blood Test. If the results are negative, then you can deworm using this liquid dewormer.
Not recommended for cats/kittens weighing below 2.5 lbs.
Do not deworm a sick kitten or cat, pregnant or nursing female cat.
Always consult your veterinarian before administering this dewormer on your little furry companion.
Pros
Easy to administer either orally or through meals.
Effective in eradicating large roundworm infestations.
Suitable for both cats and kittens over 6 months.
Has a pleasant smell and taste, easily to administer to most cats.
Cons
Requires periodic administration to prevent re-infestation.
Has potential side effects such as vomiting and nausea.
FAQs for Prosense Dewormer Solution
Will this cover other worms?
Prosense Liquid dewormer is specifically manufactured to treat large roundworms. Therefore, it is not effective in combating other types of worms. Consult your veterinarian for clinical advice and treatment of other parasitical worms.  
Can I administer the Prosense Liquid Dewormer even if my cat doesn't have roundworms?
Yes. The medication is recommended for use after every month to prevent re-infestation of roundworms.
How do I determine that my cat has an infestation of large roundworms?
Cats with large roundworms often exhibit signs and symptoms that include lethargy, abdominal swelling, abnormal feces, colic, and vomiting just to mention a few.
If you notice any of these symptoms with your cat, first consult your veterinarian for clinical diagnosis and treatment.
How long does it take the Prosense Dewormer to completely eliminate the worms?
The dewormer works immediately after administering the initial dose. You may notice some improvement after 24 hours of administering the first dose.
However, the time it takes to exhaustively eliminate the roundworms through feces and for the stool to remain solid depends entirely on the individual cat.
However, for effective results, ensure that your cat completes the required dosage as instructed.
What is the appropriate proportion of food to mix with the dewormer?
The food proportion depends entirely on your kitty's feeding guidelines. For the Prosense Dewormer Solutions, stick to a ¼ teaspoon for every 2.5 lbs. of your cat's body weight.  
Can I use Prosense Dewormer Solution to deworm my dog as well?
No. The dewormer solution is specially made for cats and kittens (aged over 6 weeks, weighing at least 2.5 lbs).
Bottom Line
Large roundworms remains a common parasitic worm that affects a cats health, especially its digestive system.
Just like other worms, it is easy to treat and manage large roundworms. Prosense liquid dewormer solutions has made a name as one of the best OTC dewormers to treat and prevent roundworm infestation.
For effective treatment, follow the prescribed dosage carefully. Also administer the medication monthly to prevent re-infestation and keep your cat healthy. 
Related Reading: Flea treatment for cats
Sources
https://www.ncbi.nlm.nih.gov/pmc/articles/PMC2712001/
https://www.fda.gov/animal-veterinary/animal-health-literacy/keep-worms-out-your-pets-heart-facts-about-heartworm-disease