Cat Dewormer: Bayer Broad Spectrum (2022 Review))
Bayer Drontal broad spectrum dewormer is one of the most popular and most effective dewormers for cats.
Bayer is the best alternative to Prosense dewomer solution, which treats only one type of worms in cats i.e. roundworms.
This dewormer is highly effective in treating three different types of parasitical worms, including hookworms, tapeworms, and large roundworms.
With this treatment, you do not need to buy different medications to treat each type of worms.
Bayer dewormer is safe, reliable and easy to administer. In addition, it is suitable for both cats and kittens (aged one month and above, weighing at least 1.5 lbs.).
It has minimal side effects, and you can buy it without veterinarian prescription.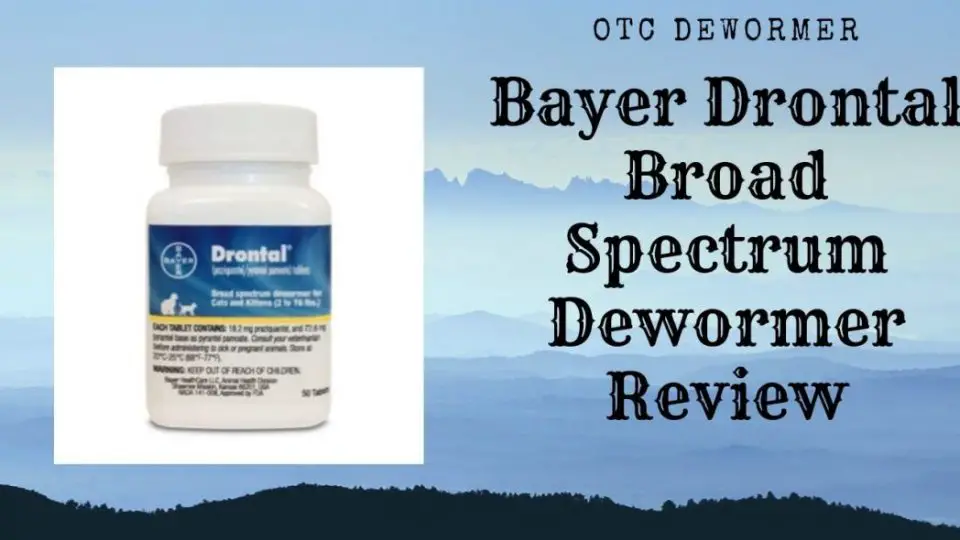 Our website is reader-supported through affiliate programs. If you purchase via links on our site we may earn a small commission.
Who manufactures Bayer Drontal broad spectrum dewormer?
Bayer Drontal dewormer for cats is manufactured by the Bayer Company. The company has been in existence for almost 150 years.
Bayer was founded in August 1, 1863 by Friedrich Bayer and Johann Friedrich Weskott.
The company has since undergone tremendous growth to be a global company, with its main focus being on life science field mainly Agriculture and Health Science.
Components of Bayer Drontal Broad Spectrum Dewormer
Bayer Drontal Broad Spectrum Dewormer is a tablet medication that is designed for both cats and kittens.
It has two active ingredients i.e. Praziquantel and Pyrantel pamoate, which makes Drontal for cats a powerful, safe and reliable dewormer.
The two active ingredients make this dewormer highly effective, and you can get results within 30 minutes.
Each tablet of the Bayer Drontal Dewormer contains 18.2 mg of Praziquantel, an anti-parasite that effectively destroys infections caused by the blood flukes and liver flukes.
In addition, each tablet of this dewormer contains 72.6 mg of Pyrantel pamoate; an anti-parasite that effectively fights infections such as pinworms, roundworms, and any other worm variants.
Note that, a bottle of this Bayer Drontal Dewormer contains 50 scored tablets hence suitable for homes with multiple pets.
What's more, you can administer the dewormer for a longer period of time as deemed necessary since the dewormer has a life span of two (2) years.
The combination of these two active ingredients effectively work to fight against all intestinal worms, especially hookworms, large roundworms, and tapeworms in cats and kittens.
How To Administer Bayer Drontal dewormer For Cats
The Broad Spectrum Dewormer comes in tablet form and is easy to crumble.
You can choose a number of options to administer the drug to your little furry friend(s).
The first option is to have your cat take the tablet orally in whole or cut it into small doses (half or quarter pieces) for ease of ingestion.
Alternatively, you can crush the tablet and mix with their favorite food, it works just fine! However, monitor your cat to ensure that they eat all the food.
Once ingested, the dewormer's active ingredients work to paralyze the intestinal parasites and eventually kill them.
The worms may be destroyed completely or expelled from the body through the cat's natural elimination cycle as poop.
You need to administer one tablet per 4-8 pounds of your cat's body weight.
So this means that if you have an adult cat, you can administer two (2) to three (3) tablets of the medication every time you are deworming them.
Remember to carefully read, understand and correctly administer the dosage as directed for best results.
Possible Side Effects of Drontal for Cats Non-prescription
Although cat owners who have used Bayer Drontal broad spectrum dewormer do not any side effects, there are instances when felines may react negatively to this treatment.
The side effects may occur due to interactions with the active ingredients, over-dosing or not following the recommended procedures.
Some of the side effects of Bayer Drontal for cats may include diarrhea, loss of appetite, salivation, vomiting, and lack of coordination.
Once you administer this medication, be on the look-out for any of these side effects and act promptly by contacting your veterinarian immediately for clinical advice.
Precautions when Using Bayer Drontal Dewormer
Please note that the drug is suitable for use by both adult cats and kittens. However, kittens should be at least one month old with a weight of 1.5 pounds and above.
Bayer Drontal Dewormer fights against adult intestinal worms only and cannot prevent re-infestation of worms. Talk to your veterinarian on how you can prevent re-infestation of the worms.
Do not administer this medication to your feline(s) if they are allergic to its active ingredients: Pyrantel Pamoate and Praziquantel.
Some parasitical worms can easily spread from animals to humans. Talk to your veterinarian on how you can prevent human infection.  
Pros
Eradicates roundworms, hookworms, and tapeworms.
Suitable for both cats and kittens.
Recommended by vets.
Precise dosage with scored tablets.
Side effects are rare and minimal.
Cons
Expensive but effective.
Difficulty to administer to cats that dislike the smell of medication.
FAQs about Bayer Drontal Broad Spectrum Dewormer for Cats
What is Bayer Drontal Broad Spectrum?
A Drontal Dewormer is an oral medication tablet administered to cats and kittens (at least a month old, weighing at least 2lbs).
The medication is effective in eliminating intestinal infections of hookworms, large roundworms, and tapeworms.
What are the expected results of the Bayer Drontal Broad Spectrum?
Bayer Drontal Dewormer should start working in 24 hours or less after you have administered the first dosage.
What are the side effects of the Bayer Drontal Broad Spectrum?
Some cats may react to some of the ingredients included in Bayer Drontal Dewormer. Common side effects may include vomiting, lack of appetite, and diarrhea. 
Bottom Line
Cats, especially outdoor cats are at a higher risk of intestinal infestation caused by worms.
Some intestinal parasites such as hookworms are dangerous, and should be treated immediately when the infestation is detected.
Always consult your veterinarian to establish the type of parasites your cat is suffering from and offer necessary clinical advice.
Remember, while you may not prevent your cat from getting worms, you can offer them effective treatment by administering proper deworming solutions immediately.