Affordable Dog Food For Pitbulls (5 Best Choices in 2022)
Looking for affordable dog food for pitbulls? You have probably found it expensive to feed your best mate, and are looking for a good solution.
Pitbulls have plenty of muscle and plenty of energy, and it's important to feed them the best dog food so they maintain their physical condition.
Just because some varieties of dog food are cheaper than others doesn't necessarily mean that you need to compromise on quality.
In general, it is advisable to feed an adult pitbull two meals per day as this helps prevent them overeating in one single meal and helps to spread their energy intake more evenly through the day.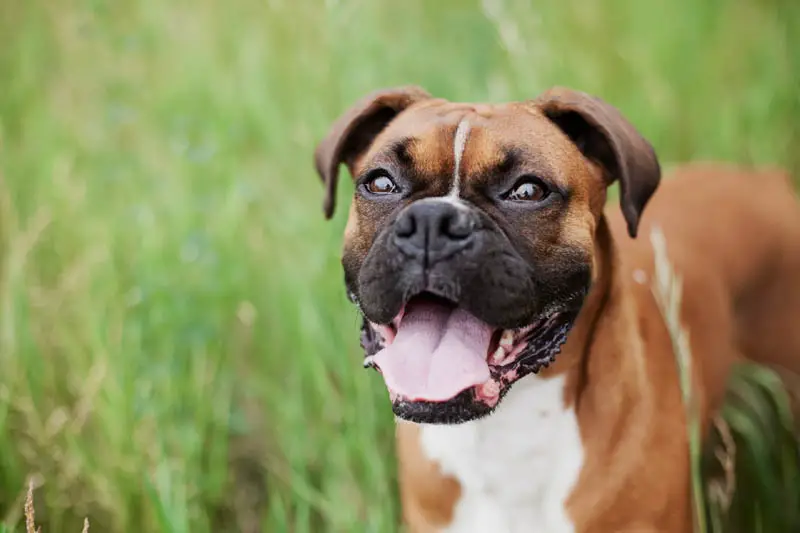 Age of Your Pitbull
If your pitbull is still a growing puppy then you may need to further consider the exact food you give him or her, as puppies growing bodies cannot extract as much protein from food as an adult dog can.
A high carbohydrate dog food is not ideal as with the varieties heavy in grains, and ideally pitbull puppy food should contain around 35-40% protein mostly in the form of meat.
At the other end of the scale your pitbull may be in the later stages of life and be lacking the energy levels associated with younger age.
As dogs of any breed age they will start to have joint issues such as arthritis and other ailments, so it's important to include omega 3 fatty acids in their diet which are generally found in fish and fish oil.

With these general factors in mind let's run through some good options for wet and dry affordable dog food for pitbulls.
We have researched the market and found some of the best dog food options that supply good nutritional value but won't break the bank.
The options below start with the cheapest dog food, through to the most expensive at the end of each section. All options listed have been chosen in the affordable price range.
In Short…
We believe that the Taste of the Wild High Prairie Grain Free formula is the best affordable pitbull food, however if you are on a very tight budget then take a look at Purina One ​​​​​Smartblend, as it offers good nutritional value at the lowest price in our round-up of affordable dry dog foods.
Our website is reader-supported through affiliate programs. If you purchase via links on our site we may earn a small commission.
Our top Picks
Best Affordable Dry Dog Food for Pitbulls
1. Purina ONE SmartBlend True Instinct Natural Adult
This particular Purina ONE SmartBlend is purely for adults and is not a suitable formulation for growing puppies.
With a combination of turkey as the main ingredient and real venison, this contains double the meaty chunks compared to other Purina ONE recipes. We think your dog will love this blend as it has crunchy kibble along with softer chewy meaty bits.
What Are the Ingredients
Important ingredients are added vitamins, minerals, and nutrients that provide a glucosamine content of 350 parts/million. Glucosamine is well known for its ability to maintain joint health and is beneficial for older dogs. High in Omega 6 fatty acids (1.7%), this food helps your dog maintain healthy skin and a lustrous coat.
Protein, Fat, and Carbohydrates
Other high-quality ingredients include chicken meal, corn meal,  wheat, soy – delivering 30% protein, 17% fat, and 30% carbohydrate. Purina state that it has no poultry by-product meal, no artificial flavors, and no preservatives.
How Many Calories
When it comes to calories this formula provides 360 calories per cup, so three cups per day gives the general recommendation of around 1100 calories per day for a healthy adult pitbull.
2. Diamond Naturals Extreme Athlete Formula
The Extreme Athlete Formula is made for active adult dogs, with higher protein in the form of cage-free chicken and is designed to give your hairy loyal friend plenty of energy.
This dry dog food does not have the correct nutrient balance for puppies, or dogs that are pregnant or nursing.
Diamond Naturals Extreme Athlete is made in the USA by a family owned and run company and contains sustainably sourced ingredients.
What Are the Ingredients
While most ingredients are USA sourced, there are ingredients such as flaxseed and Barley from Canada, and other ingredients like folic acid and taurine which can only be sourced from China.
Apart from cage-free chicken this food contains fruits and vegetables, designed to be highly digestible with a probiotic blend that helps support healthy digestive health.
The fruit and vegetables provide antioxidants and along with added vitamins, omega-3, and omega-6 fatty acids (3.5%), this natural recipe promotes healthy skin and a healthy coat.
There is no corn, wheat, filler, artificial flavors, colors or preservatives in this formula. Glucosamine levels are 300mg/kg minimum, and along with chondroitin supports joint health.
Protein, Fat, and Carbohydrates
Diamond Naturals contains 32% protein, 25% fat, and 22% carbohydrate on an as-fed basis. The protein in this food is almost exclusively from chicken and egg (91%), with the small remaining amount from plant-based protein.
How Many Calories
Looking at calories the Extreme Althlete Formula contains 470 kcal/cup, so around 2.5 cups per day should be sufficient for your adult pitbull. This food comes in a 40 pound bag which is approximately 160 cups.
3. Blue Buffalo Basics Limited Ingredient Diet, Grain Free Natural 
This particular BBB Limited Ingredient Recipe dry dog food has been formulated with fewer ingredients for adults with food sensitivities and supports immune health.
If you are after a similar recipe that is suited to puppies, then take a look at the Blue Buffalo Basics Turkey & Potato Recipe Puppy Dry Dog Food.
Blue Buffalo produce all their products in the USA, and the single source of protein in this formula (turkey) is also sourced in the United States.
For any ingredients in their food range not readily available in the United States such as vitamins and minerals, they do rigorous quality testing, and only work with reliable foreign companies. Blue Buffalo does not source ingredients from China.
What Are the Ingredients
The recipe contains turkey as the main protein source, along with easily digested carbohydrates such as potato, pumpkin, peas, and gluten-free grains for sensitive stomachs.
Turkey is the sole meat product in this limited ingredient dog food, and it also contains Blue's exclusive combination of antioxidants, minerals and vitamins specifically picked by vets and animal nutritionists – known as LifeSource Bits.
Natural flavor in this grain-free formula is enhanced by adding processed fruits and spices, so your pitbull is sure to enjoy it. This is a natural kibble free from corn, wheat, soy, dairy, eggs, poultry by-product meals, and artificial flavors or preservatives.
Protein, Fat, and Carbohydrates
The Grain-Free Formula Turkey & Potato contains 12% fat, 20% protein, 44% carbohydrate, and 300 mg/kg glucosamine. Omega-3 (0.75%) and Omega-6 (2.25%) fatty acids are included for a healthy coat.
How Many Calories
Caloric content is 352 kcal/cup, so 3 cups per day is approximately the correct amount to feed an active adult pitbull.
4. CANIDAE All Life Stages, Premium Dry Dog Food with Whole Grains
If you have a household with more than one hairy four-legged friend then the CANIDAE All Life Stages Multi-Protein Formula may be just the right fit.
This veterinarian-formulated premium dry dog food is suitable for canines of all ages from puppies to seniors and can also be used to feed pregnant pups. It can also be used for multiple dog breeds, so can make feeding time a little easier.
CANIDAE source many of their ingredients from the United States and the Pacific Northwest, and the formulas are manufactured in Texas.
Their All Life Stages Formulas are built from a base of optimum protein, designed to provide nutritionally dense formulas to support growth in puppies, and maintain the health and vitality of adults and senior dogs.
What Are the Ingredients
Featuring multiple forms of protein, this formula contains chicken, turkey, lamb, and oceanfish meal comprised of Menhaden fish meal.
CANIDAE source their premium lamb from New Zealand for a high-quality protein addition. This food is great tasting for dogs and has plenty of added flavor from ingredients like papaya, pineapple, cranberries, rosemary extract, and sage extract.
Protein rich, this food is grain inclusive but  does not contain common food allergens corn, wheat, or soy.
Protein, Fat, and Carbohydrates
A trio of probiotics (HealthPLUS Solutions) is part of the formula which provides antioxidants, omega-3 (0.5%), and omega-6 (3.7%). The formula has 24% protein, 14.5% fat, and 40.5% carbohydrate.
How Many Calories
The caloric content  is 468 kcal/cup, so 2.5 cups a day are ideal for a healthy adult pitbull.
5. Taste of the Wild High Protein Real Meat Recipe
Taste of the Wild High Prairie Grain-Free dry dog food is only suitable for maintenance of adult and senior dogs.
If you are looking for a similar Taste of the Wild  recipe for puppies, then have a look at Taste of the Wild High Prairie Puppy Formula Grain-Free.
Taste of the Wild is based in the USA and is a family owned and run company. They manufacture all their foods in the United States and their ingredients are from sustainable sources around the world.
Their grain-free recipes are designed to be highly digestible, allowing your full-of energy pup to gain the maximum amount of energy possible for a given meal size.
What Are the Ingredients
This formula contains multiple red meat proteins including real buffalo as the first ingredient, along with roasted bison, roasted venison, and beef. If you're looking for a great protein-rich food for your dog, this dry food delivers it.
The Taste of the Wild High Prairie formula also contains peas, sweet potatoes, and egg product, and provides 80 million live active cultures per pound to help promote a healthy immune system.
Ingredients NOT found in this food are grain, corn, wheat, filler, artificial flavors, colors or preservatives. There is no added glucosamine, corn products, or by-products, and Taste of the Wild is certified to be free of steroids, hormones and antibiotics.
Protein, Fat, and Carbohydrates
The High Prairie formula contains 32% protein, 18% fat, 26.5% carbohydrates, omega-3 (0.3%) and omega-6 (2.8%) fatty acids.
How Many Calories
The calorie count is 370 kcal/cup, so around 3 cups per day is recommended for an adult pitbull.
Relate​​​​​d Posts: