Best Dog Food for Pitbulls to Gain Muscle & Bulk Up
Pitbulls are naturally muscular dogs, and they need a well-balanced diet to help gain muscle and retain their physique.
Choosing feed that is not suitable for your dog will result in a poor overall condition that not only affects the appearance of your bully's coat – but can also stop them reaching their true physical potential.
If you want your pitbull to reach their peak muscle potential, then take time to evaluate their diet to find if it meets AAFCO standards. The dog food ingredients must be high-quality to help your dog gain lean muscle and bulk up quickly.
Let's take a look at which dog foods and supplements can help your pitbull bulk up with lean muscle.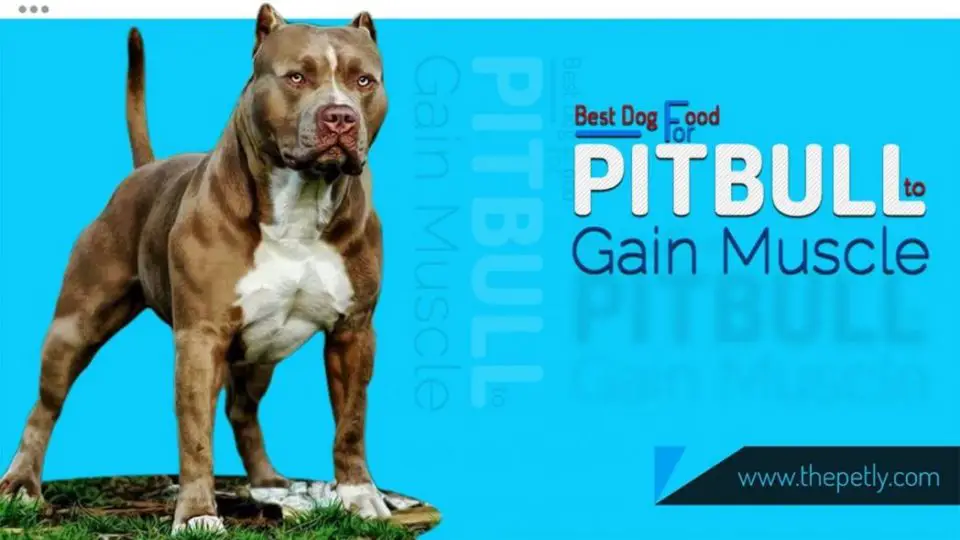 Our website is reader-supported through affiliate programs. If you purchase via links on our site we may earn a small commission.
Our Top Pitbull Muscle Gain Food Picks
1

Merrick Grain Free Real Texas Beef Sweet Potato Recipe

No grains
No poultry
65% protein

Get price at Amazon
What Food Is Best for Your Pitbull?
If you're really serious about giving your bully the best food, then there is no substitute for raw fresh meat.
Depending on how serious you are about your dog's diet, and how much time you have, making raw meat meals daily for you dog along with a few supplements can arguably promote better health than packaged food.
Feeding your pitbull raw meat meals won't necessarily make them more muscular than feeding them other foods, however optimal diet is a good foundation that strength can be built on.
If you don't have time or the extra money that daily meat meals cost, then it's still fine to feed your dog good quality kibble and wet food – just ensure that you add a supplement.
Feeding your pitbull can get expensive, if you're looking for some cheaper options then read our guide on Affordable Food for Pitbulls
Which Food Supplements Work Best?
There are a few supplements that I highly recommend for supplementing any type of diet your Pitbull is on, and they are well known for filling the gaps in dog's dietary requirements in general.
Supplements can work great, but not every supplement suits every dog – even if they are the same breed.
It is very important to monitor your dog's health by keeping an eye on their skin and coat, on their poop, energy levels, and behavior.
Like us, dogs have individual needs, so when adding supplements monitor them carefully for any adverse changes. I always recommend getting advice from a vet before adding supplements.
Good Pitbull Food Supplement Choices
The first one we recommend is not for constant daily use, and is intended to give your dog an energy boost as well as speed up their recovery time after heavy exercise.

K9 POWER Super Fuel Nutritional Energy & Muscle Dog Supplement will help your dog build lean muscle with regular training, without promoting weight gain.
Another K9 product that comes highly recommended for regularly supplementing your dog's meals is K9 POWER Show Stopper Healthy Coat & Skin Dog Supplement.

The Show Stopper formula is designed to give your dog a glossy healthy coat, and its omega-6 content helps dry itchy skin.

Most owners say they can see a marked difference in only two weeks after adding this supplement daily to their dogs food.
The final one I'll mention is Bully Max Muscle Builder for Dogs

This supplement is extremely popular and has surprised many bully owners with its effectiveness at building muscle on their dogs, and also in promoting greater health.

Like K9 Super Fuel this is best not used long term, just added to your dog's diet for a few weeks at a time.
Best Foods for Pitbulls to Gain Weight & Lean Muscle
1. Merrick Grain Free Dry Dog Food
Merrick Grain Free Real Buffalo is a natural grain-free recipe with plenty of muscle-building prospects.
Featuring de-boned beef as the 1st ingredient and primary source of protein, Merrick Grain Free will promote healthy lean muscle development.
We also like that this formula has generous amounts of omega-3 and omega-6 fatty acids which are essential in promoting healthier skin and a shiny healthy coat.
When it comes to taking care of healthy hips and joints, especially during rigorous exercise and for aging dogs, the formula contains Glucosamine and Chondroitin nutrient.
Furthermore, the carefully selected fruits and veggies add the required vitamins, minerals, and antioxidants for optimal health of your pitbull.
2. Bully Max High-Performance Premium Dog Food
The real meat offers a high-protein diet that is rich in amino acids, which are essential in supporting muscle development.
Furthermore, the good thing about this formula is that it's packed with 30% more protein and 20% more fat than any available traditional option.
Proteins aside, the formula contains 535 calories per cup, which is by far the highest number of calories within its class.
As such, the formula will provide your pitbull with the nutrients they need to turbocharge their athletic performance.
When it comes to the stomach safety of your pitbull, rest assured that Bully Max feed should not cause any disruption in their digestive system – due to being free from artificial flavors, soy, wheat, corn, or soy formula.
3. Purina Pro Plan 30/20 Formula Dry Dog Food
Whether you`re looking for your pitbull to gain muscle muscle or gain weight after an illness,  Purina Pro is a good choice.
Like Bully Max, Purina Pro contains 30% protein and 20% fat for optimal metabolism and lean muscle development.
Unlike humans, your dog`s main source of energy comes from fats and not carbs.
As such, the 20% fat in the Purina Pro will effectively suit your pitbull's metabolic requirements as well as maintain a lean and sturdy physique.
With chicken as the first and primary ingredient, Purina Pro offers a high-quality and protein-rich formula that will effectively sustain the energy needs of your pitbull, and promote total body health in all life stages of activity.
Besides chicken protein, Purina features amino acids which are essential in nourishing your dog`s muscles, especially after strenuous activity.
When it comes to VO2 Max, the Purina Pro is an excellent formula that helps to optimize the oxygen metabolism for your pitBull, and consequently improve on its endurance in a variety of fronts.
For the perfect joint health and mobility, the AAFCO approved formula features Glucosamine and omega-3 fatty acid.
On the cons side, some health critics are concerned with the high amounts of grain and gluten in the formula, and some dislike the odor.
4. High Prairie Taste of the Wild (Bison & Venison)
High Prairie from Taste of the Wild is a premium dog food with a reasonable price tag.
This formula is a highly nutritious and protein-rich formula blended with Bison and Venison as the main ingredients. The meaty formulation is the primary source of elements that promote the growth of your pitbull's sturdy body.
Since pitbulls are athletic in nature, the nutrients will further help in speeding energy regeneration in any strenuous exercise and also in building lean muscle.
The impact of muscle growth is manifested through a remarkable increase in strength and endurance. 
Just like all the grain-free options we've listed, the Wild High Prairie does not feature any corn, wheat, soy or any grain.
The lack of grain is instrumental in minimizing the chances of allergies, and other unpleasant reactions while improving digestion considerably.
5. ORIJEN Dry Dog Food, Grain Free, High Protein
Last on our list, but an excellent choice for protein-packed food, Orijen Red contains more animal protein than other dry dog foods.
The ingredient list has beef, wild boar, goat, lamb, mutton, pork, and Atlantic mackerel – that's a whole lot of protein!
Many of the ingredients in this canine power food are raw and fresh, meaning your dog will benefit from eating food closer to what nature intended them to eat.
They also have cartilage, liver, tripe, heart, kidney, and liver, which provide a good rounded selection of proteins and give the food a flavor your dog will love.
The ingredients in Orijen Red are designed to mimick a natural diet, and for that reason are also completely grain and filler free.
Find out exactly what type of pitbull you have with the Ultimate Pitbull Guide
Consider Your Pitbull's Genetic Traits
There's no doubt that a good diet is paramount to help your dog to gain strength and recover quickly after workouts.
However, it's important to note that all the training in the world combined with a great diet won't make your pitbull big and muscular if their particular breed is not naturally muscular.
If you want a muscular pitbull, then first your dog needs to have the right genetic make-up to support this.
What Age Should Your Pit Bull Be To Build Muscle?
It's not recommended to start building up a bully pup, as like humans, it can have adverse effects on their skeletal development and leave them with joint problems.
By 16 to 18 months of age your Pitbull puppy should have grown enough that you can start some high intensity exercises with that will promote muscle growth.