Hypoallergenic Cat Food: Which are Best? (5 Varieties Reviewed)
​Allergic reactions have traditionally been associated with human beings.
However, a recent study indicates that the number of allergies is on the rise, and not in humans alone, but also in cats.
Allergic reactions on cats are manifested several ways including excessive scratching, dermatitis and extreme hair loss.
Though skin responses are the most common reaction to allergies in cats, allergic reactions can also result in vomiting and diarrhea.
If your cat is experiencing allergic reactions, there is a good chance that a change in diet can help reverse the effects.
Ideally, cat parents recommend switching to a hypoallergenic cat food since this diet is prepared without ingredients that could potentially trigger allergic reactions in cats.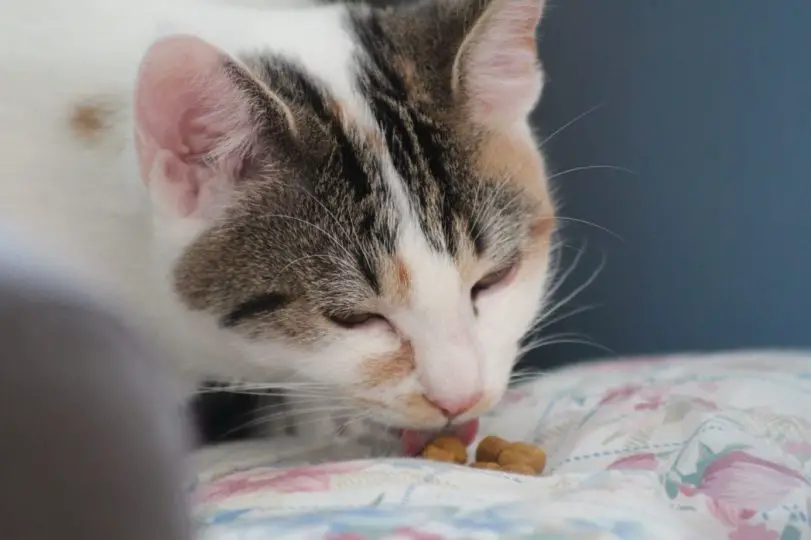 Our website is reader-supported through affiliate programs. If you purchase via links on our site we may earn a small commission.
Our Top Picks
5 Best Hypoallergenic Cat Food Reviews
1. Blue Buffalo Wilderness Chicken Indoor Cat Recipe
Grain-free hypoallergenic diets are becoming increasingly popular based on the philosophy that our cats should be eating similar diets to their wild counterparts.
This formula is prepared with deboned chicken as the first ingredient to provide premium proteins that cats love.
The sweet potato ingredient is a source of carbs that provide energy to support body functions.
It is also supplemented with whole vegetables and fruits like carrots, cranberries and blueberries that are anti-oxidant rich to boost your cat's immune system.
Like other Blue Buffalo cat foods this formula has life source bits, which is a blend of vitamins and minerals.
This formula does not contain corn, wheat, soy, preservatives, or artificial flavors – which are known to cause allergic reactions in cats.
Top 5 Ingredients
Deboned chicken, chicken meal, Pea protein, Tapioca starch, and Menhaden fish meal.
Other ingredients include: dried egg, peas, pea fiber, flaxseed, whole carrots, cranberries, blueberries, sweet potatoes, carrots, vitamins and minerals.
Guaranteed Analysis
Crude protein (min): 40%
Crude fat (min): 18%
Crude fiber (max):4%
Moisture (max): 10%
Taurine (min): 0.15%
Quick Look
Protein-rich, deboned chicken helps build strong muscles.
Omega 3&6 promote a healthy skin and shiny coat.
Whole vegetables and fruits (anti-oxidant rich and a source of vitamins and minerals).
A perfect alternative to a raw diet.
Find out more about Blue Buffalo cat food in our special review of this brand
2. Natural Balance Limited Ingredient Green Pea & Salmon
This limited ingredient formula is manufactured by Natural Balance, and it is prepared using simple ingredients to reduce the risk of food sensitivities. 
Even with fewer ingredients, it still offers a complete and balanced blend of nutrition.
Uniquely, this diet consists of green peas, which is an excellent source of carbs for your cat, rich in potassium, and is highly digestible.
The second primary ingredient is premium quality salmon, which is a rich source of premium proteins and amino acids.
It also contains Taurine, which helps in improving eyesight and heart function.
What we love most about this diet is that it is free of artificial colors or flavors, and this gives your cat a natural meal.
Top 5 Ingredients
Green Peas, Salmon, Salmon meal, pea protein and Canola Oil.
Other notable mentions include Rosemary extract, Green Tea Extract, Essential vitamins and minerals.
Guaranteed Analysis
Crude Protein (min): 30%
Crude Fat (min): 12%
Crude Fiber (max): 4.5%
Moisture (max): 10%
Taurine (min): 0.16%
Quick Look
Uses a simple and modest formula.
Helps with tummy and vomiting issues in cat.
Uses top-grade ingredient.
Taurine fortified.
3. Royal Canin Feline Selected Protein
What is most appealing about this hypoallergenic cat food is the chelated minerals that are simple for your cat`s body to digest.
The choice of ingredients in this formula is not only nutritious, but also easily digestible, and appeals to the taste buds of even the most picky felines.
This diet contains antioxidants, which are essential in fighting infections and boosting the overall immune health system of your cat.
The presence of omega-3 fatty acids, B-vitamins, and amino acids support healthy skin, and gastrointestinal integrity of your cat.
Note that this formula requires a Veterinarian's prescription.
Top 5 Ingredients
Duck, duck liver, pea flour, duck by-product meal, pea protein and vegetable oil.
Guaranteed Analysis
Crude Protein (min): 9%
Crude fat (min): 5.3%
Crude fiber (max): 1.5%
Moisture (max): 77.5%
Quick Look
Has protein-rich duck and pea as the first ingredients.
Great for cats with food allergies.
Helps manage diarrhea and vomiting in older cats.
Contains grains.
4. BLUE Basics Limited Ingredient Cat Food
Blue Basics LID grain-free formula contains Whitefish as the single protein source.
Whitefish is a delicious and a rich source of proteins that even picky eaters will love.
If your cat is allergic to meats such as beef and poultry, Blue Basics Limited Ingredient fish formula is a good place to start.
This diet also has a unique blend of vitamins, antioxidants, and minerals selected by trained veterinary and animal nutritionists for the ultimate health for your cat.
A unique ingredient included in this formula is pumpkin, which is known to help with digestion and constipation. 
Blue basics limited ingredient formula does not contain corn, wheat, dairy, soy, or grains.
The exclusion of these known allergens protects your cat from possible allergic reactions.
Top 5 Ingredients
Deboned Whitefish, menhaden fish meal, tapioca starch, peas, and pea protein.
Other ingredients include potatoes, canola oil, fish oil, pea fiber, pumpkin, flaxseed, vitamins and minerals.
Guaranteed Analysis
Crude proteins (min): 30%
Crude fat (min): 14%
Crude fiber (max): 6%
Moisture (max): 10%
Taurine (min): 0.15%
Quick Look
Whitefish is a great alternative to cats that are allergic to beef and chicken.
Helps manage tummy issues due to food sensitivities.
No corn, additives or artificial colors.
5. Hill's Science Diet Chicken & Rice Recipe
Hill`s Science Diet Adult Chicken and Rice Recipe is a specially formulated hypoallergenic balanced nutrition for cats with sensitive digestive systems.
It is gentle on the stomach, and a great option for cats that experience tummy upsets due to food allergies.
Featuring a unique blend of minerals, vitamins and antioxidants, this rice & eggs diet addresses all the nutritional needs of your cat.
It free of artificial colors, flavors or preservatives that may trigger allergic reactions.
Cat parents who have used this formula have reported success with tummy problems and food sensitivities.
It also helps restore the cat's skin, and gives cats a shiny coat.
The omega 3 & 6 and vitamins C & E, are essential in supporting a healthy immune system while promoting healthy skin and a shiny coat.
The downside with this formula is that it does contain some questionable ingredients like cornmeal. Nevertheless, most cat parents are satisfied with this diet as a hypoallergenic formula.
Top 5 Ingredients
Brewers Rice, corn meal, pork fat, pork meal, and egg-product.
Guaranteed Analysis
Crude protein: 34.5%
Crude fat: 22%
Crude fiber: 1.2%
Carbs: 37%
Taurine: 0.22%.
Quick Look
Ideal for cats with sensitive digestive systems.
Ideal for cats that vomit due to food sensitivity.
Restores shiny coat and healthy skin.
Helps in hairball control and prevention.
Economical.
Contains high proportions of carbs.
Not recommended for kittens, pregnant or nursing cats
Conclusion
Cats with food sensitivities often experience stomach upsets, digestive issues and even vomiting.
Transitioning to the best hypoallergenic cat food can help stop the tummy issues, improve skin health and restore your cat's shiny coat.
Some cat food formulas require a veterinarian prescription, and it is recommended to talk to your vet to find the best hypoallergenic formula suited to your cat.
See More Of Our Cat Diet Series
Sources
https://www.ncbi.nlm.nih.gov/pmc/articles/PMC4755411/
https://www.webmd.com/vitamins/ai/ingredientmono-41/chelated-minerals