Best Cat Food For Hairball Prevention (In 2022)
​Cats are heavy groomers by nature, and any idle time is spent removing loose fur.
While some fur may fall on the carpet, some hairs are ingested. As more fur is swallowed, the hairs combine to form a ball-like object known as a hairball.
Since the hairball is foreign to the cat's stomach, it is unlikely that it will proceed through the digestion process. Instead, the cat will attempt to get rid of it and the simplest means is through vomiting.
The vomited hairball is not pleasant to see (especially on your carpet) and you should use an effective carpet cleaning solution to get rid of the stains before they become ingrained.
Cat food manufacturers have developed some food varieties to help combat and reduce the formation of hairballs. This is mainly through the use of extra fiber in the diet to prevent hairball formation, allowing hairs to pass through the cat's gut.
If you cat is having trouble removing ingested hairballs you should address the issue immediately.
While grooming can help reduce cases of hair ingestion, you could try switching your cat's diet to a cat food for hairball control.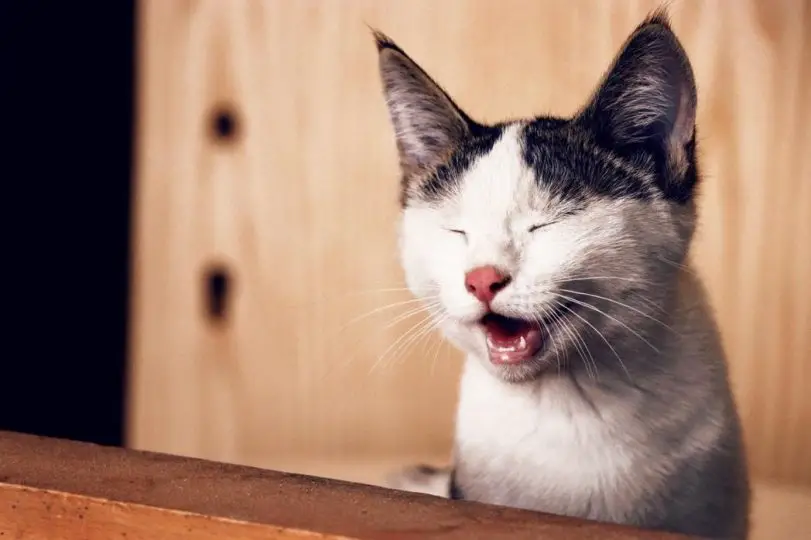 Our website is reader-supported through affiliate programs. If you purchase via links on our site we may earn a small commission.
Causes Of Cat Hairballs
The main cause of hairballs is cat's fastidious grooming habit.
Usually, the tiny hook-like textures on a cat's tongue catch loose hairs released during grooming, and the cat ingests these hairs.
When the cat swallows loose hairs over time, they form round hair-like objects called hairballs.
The cat gets rid of the hairballs through their feces or by vomiting. Vomited hairballs are often thin and tube-like due to the narrow size of the esophagus.
Long-haired cat breeds such as Ragdoll, Persian, and Birman are more likely to be affected by hairballs.
The basic symptoms of hairballs may include:
Continuous vomiting
Gagging, retching, and hacking without releasing a hairball
Cat Hairball Remedies
Here are simple steps that you can take to reduce the frequency of hairballs. They include:
Use a Hairball Laxative
Hairball laxatives help in the prevention and removal of hairballs through the digestive tract.
There are several mild laxatives on the market today that can ease the discomfort in your cat.
Check out our list of home remedies for hairballs
Give Your Cat A Hairball Food Formula
There are dozens of top rated hairball control cat foods that are designed to reduce hairballs in cats.
These high fiber formulas help reduce the amount of shedding and improve the health of the cat's skin.
Hairball formulas also help the cat to pass ingested hairs before they form hairballs.
Cat Food for Hairballs – Top 5 Reviewed
1. Hill's Science Adult Hairball Control
Hill's science is a United States company that manufactures high-quality pet food using locally available and imported natural ingredients.
With a team of over 200 vets, food scientists, and nutritionists, Hill's prepares cat foods using high-quality ingredients like real chicken, lamb or salmon proteins to ensure that your cats get the nutrients it requires.
Hill's Science Hairball Control cat food is made using a natural fiber blend to reduce hairball formation.
It is prepared using real chicken as the first ingredient. Other ingredients include omega-6 fatty acids, and vitamin-E to ensure a healthy skin.
The blend of antioxidants helps strengthen the cat's immune system.
It is an ideal hairball formula for cats aged 1 to 6 years that are prone to hairballs.
Hill's Science Diet cat food has NO artificial colors, flavors, and preservatives.
2. Wellness Natural Hairball Control 
Wellness Natural adult cat food is made by the Wellness Company, a company that produces all-natural high-quality foods for cats and dogs.
This cat food formula is prepared with high levels of animal proteins that match the cat's proteins needs and other nutritional requirements.
The Wellness Company claims that it does not use fillers such as corn, wheat, flavors and preservatives that may cause allergies in cats.
The Wellness Natural Hairball Control Adult Cat Food is a unique fiber blend that helps move hairs and hairballs through the cat's digestive tract.
It is prepared with deboned chicken as the first ingredients to give the cat the much-needed animal proteins, with natural flavors.
It also contains essential vitamins and minerals to ensure the healthy functioning of the cat's body organs.
This hairball cat food has an irresistible natural taste that even the picky eaters will love.  
3. Canidae Grain-Free Pure Hairball Control
This hairball control formula is prepared by Canidae, a family owned business has been preparing nutritious meals for cats for over 20 years.
Canidae sells pet food that is prepared using real animal proteins such as poultry, fish and fresh meat to ensure the cat gets the needed nutrients to support its growth.
They also add fruits, vegetables and digestible carbohydrates.
The Canidae hairball control cat food is ideal for sensitive cats that are struggling to move hairballs through the digestive system. 
It is made with chicken as the first ingredient and whole foods (digestible) like potatoes, peas and chicken peas.
This diet is a limited ingredient diet, which means that it is made with a low number of ingredients to help reduce the risk of allergies and stomach upsets.
It has dried probiotics to ensure healthy digestion and minerals for nutritional balance.
The key ingredients include fresh chicken, chicken meal, turkey meal, potatoes, peas, chicken fat, lamb meal and natural flavors and minerals.
4. Blue Buffalo Indoor Hairball Control
Blue Buffalo Company is a household name in the pet industry and is popular for producing plenty of specialized formulas for felines.
One of the unique compositions of Buffalo cat food is the LifeSource Bits, a blend of antioxidants, vitamins, and minerals that supports the cats overall well-being.
Blue Buffalo indoor hairball control chicken & brown rice recipe has plenty of dietary fibers and omega fatty acids.
It contains animal-based proteins such as deboned chicken, chicken meal and menhaden fish meal.
The omega-3 and 6 fatty acids help to promote a healthy skin and coat.
Apart from hairball control, blue buffalo blue indoor hairball cat food also helps in weight control with its balanced calories from proteins and fats.
5. Nutro Specialized Care Cat Food
The Nutro Company is a United States company headquartered in Franklin, Tennessee.
The company manufactures premium brands of dog and cat foods as well as Greenies treaties.
Nutro cat foods are designed to solve particular health problems in cats such as weight management and hairball reduction.
The first ingredient is usually real meat such as poultry or fish.
The Nutro Hairball control chicken and brown rice recipe cat food is made with farm-raised chicken as the first ingredient and brown rice recipe.
The natural fiber blend helps minimize hairball formation and helps to move ingested hairs through the digestive tract.
The combination of antioxidants such as vitamin E to strengthen the cat's immune system.
Other components include fatty acids, vitamins, mineral and other essential nutrients.
Read more about Nutro cat food in our Nutro Cat Food Review
Frequently Asked Questions
Are hairballs in cats dangerous?
Hairballs are normal in cats, but in some cases, they can become too big for the cat's digestive tract.
Large hairballs can cause blockage along the esophagus and may threaten the cat's life.
If you notice your cat having breathing difficulties or is uncomfortable, it is recommended to visit your vet as soon as possible.
How can I prevent cat hairballs?
The first thing you can do to prevent hairballs is to groom your cat regularly.
Frequent brushing can help remove loose hairs before they are ingested, leaving a clean coat.
If there are few or no hairs to swallow, the cat will be less affected by hairballs.
How can I help my cat pass a Hairball?
Add one teaspoon of olive oil to the cat foods once or twice a day to prevent the cat from vomiting hairballs (only give your cat olive oil during mild bouts of constipation).
You can also use canned pumpkin and hairball formulas.
What are the Symptoms of a hairball in Cats?
The common symptoms of hairballs include vomiting, gagging, retching and hacking without releasing a hairball.
Cats suffering from hairballs can also lack appetite.
What does a normal cat hairball look like?
Cats are heavy groomers, and in the process, they ingest hairs into their digestive system.
The hairs accumulate in the cat's stomach, and they resemble a tube of hairs when they are vomited.
They form tube-like shapes due to the shape of the esophagus.
Read More About: