Songmics Cat Tree Condo Review (Treat Your Fluffy Friend)
So let me guess …your all-so-innocent furball is tearing up the place, slowly destroying your lounge and leaving kitty-fluff everywhere?
Yes, we've all been there!
Personally my little furry friend was constantly scratching the arms of my sofas, not to mention frequent jumping from one piece of furniture to the other. 
If you're like me, then you probably don't enjoy cleaning up spilled drinks and generally broken stuff around the house.
So here we both are thinking there must be a solution to this problem, and well …yes there is!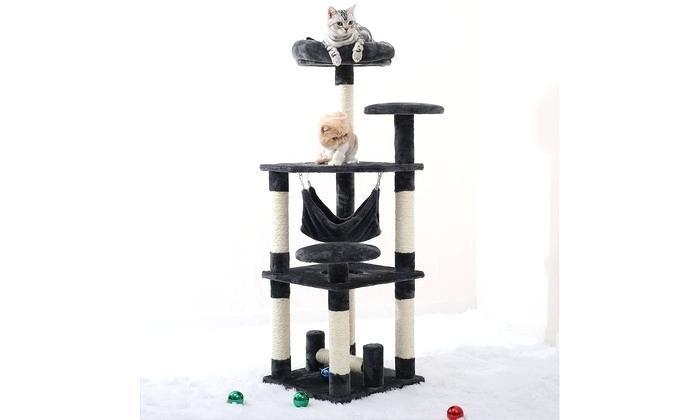 Our website is reader-supported through affiliate programs. If you purchase via links on our site we may earn a small commission.
The Songmics cat tree condo is​ a great cat furniture item that every owner should have at home as a safe haven for their playful cat.
Key Features of Songmics Cat Tree
Multi-Leveled
Your furry friend will have so much fun playing, jumping around, and even taking a good nap with this well designed cat tree.
The cat tree features two luxurious condos that are spacious enough even for a large cat.
It not only offers comfort but also the privacy your ​kitty may need during a nap or rest time. 
​The Songmics cat tree is designed with three ​well padded platforms, offering your cat a cozy place to rest while ​keeping a watchful eye on their surroundings.
Also, each perch contains a dangling ball that will keep your cat entertained.
​The edges of the ​platforms are well-padded ​so your cat won't get injured if they miss their mark when jumping up.
Your feline friend will never have enough of the sisal-roped slope, and will enjoy scratching ​their claws over the natural ​rope as well as exercising.
With the multiple perches, ​this tree can handle your multiple cats.
Luxurious Touch
Cats love luxury, and the Songmics cat tree provides just that. It offers a cozy home for your feline to play around, rest and even take a nap.
Featuring four platforms, three perches, two comfy condos, a large slope for scratching and sharpening claws, this cat tree is every feline's dream come true.
Stability
One of the top priorities that cat owners look out for when shopping for a cat tree is its safety features – is ​it stable enough?
Well, the Songmics cat tree is made of CARB-certified premium high-density particle board. The ​strong particle boards enhance the stability of the cat tree and the overall safety of your cat or kitten as they jump around the tree.
In addition, the cat tree features sturdy supporting tubes. The high-density tubes comprise of compressed and glued cardboard.
The supporting tubes coupled with the natural particle boards ensure that the cat tree won't wobble around even with ​great effort from large cats.
Its stability is further enhanced by its super sturdy base, the 67-inch height, and its 64-pound weight.
This cat tree guarantees you peace of mind if you are worried that your playful cat might ​knock this cat condo over and ​injure themselves.
Affordability
Packed with ​great features, you would expect that the cat tree is a bit pricey, however the Songmics cat tree comes at a modest price, which is slightly lower than what comparable brands cost.
Spacious Enough
My neighbor bought this cat tree for her four cats and has no regrets with her purchase. The cat tree is spacious enough ​to work perfectly for multiple cats. 
Apart from adult cats, this cat tree is also safe for kittens, who are looking for a safe place to play, jump and​ sharpen ​their tiny claws.
Colors
​You can choose between two colors: smoky gray and light gray.
Conclusion
Gift your lovely furry friend with this amazing Songmics cat tree condo and save your furniture from the irritating cat scratches.
With its premium features and modest pricing, the Songmics cat tree is designed to give you a peace of mind and let your kitty show their athletic side!
Read More