5 Best Cat Toys For Playful Indoor Cats (In 2022)
​Cat toys are important for helping your cat maintain a healthy physical state, and also for giving you hours of cheap entertainment! 
Aside from the physical growth, interactive cat toys for indoor cats are also vital for your cat's mental vitality and wellbeing..
Cats generally have a short attention span, so you will need a few different toys that will grab their attention when they are in different moods.
Some toys are automated running off batteries, while most are passive needing you to initiate the play and have a good laugh while you play with your kitty.
From cat trees, to hunting mazes and scratching blocks, start looking and you'll be amazed at the variety of cat toys available – and we take a look at a few popular choices below.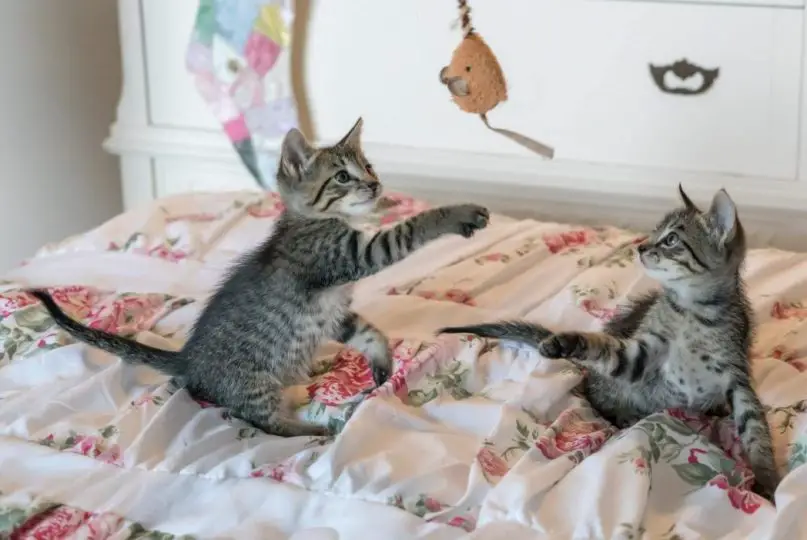 Our website is reader-supported through affiliate programs. If you purchase via links on our site we may earn a small commission.
Cat Toys – Some Great Choices
| | |
| --- | --- |
| | Editor's Choice |
| | Best Seller |
| | Best For Kittens |
Cats Need Exercise To Stay Healthy
It's important for your cat to get regular exercise, as it gets their metabolism going, works their muscles, and helps keep their weight steady.
Indoor cats quite often don't get enough exercise, and while toys are a great option on their own, you can get your cat more active if you have a few minutes per day to play some games with your cat.
Cats will play with just about anything – for a few minutes! The trick is to watch their behavior and start working out what type of toys they are really attracted to.
Once you have a few of their favorite things around, they will quite often pick them up and play on their own.
The best cat toy you can possibly get is to get another cat! So if your up for two cats it's definitely worth it for your cat's health, as they will play together often, and groom each other daily which keeps their coats in pristine condition.
Give your cat a great physical workout with our 5 cat workout ideas.
Cat Toys for Indoor Cats -Top 5 Picks
1. Doc & Phoebe's Indoor Hunting Cat Feeder
Our top choice for the best cat toys for indoor cats is the Doc & Phoebe's Indoor hunting cat feeder.
Most cat parents love this toy for its design and how it gets their kitties busy all the time.
Although your cat is a domesticated pet, they still have instincts similar to those of wild cats.
This indoor cat feeder replicates a wild cat's natural feeding behavior, naturally enticing them to explore their hunting instincts, and provide them with hours of play.
With this toy, bowls are in the past.
Feeding entails filling the 5-mouse shaped feeders and hiding them around your home.
With that done, your cat will embark on a mission to hunt, catch, and play with five small meals a day.
The advantage of using this toy for your pet is that it eliminates boredom and inactivity, improving the cognitive and motors skills of your feline.
You can even leave them out at night to stop kitty waking you up early for a feed!
It is made with durable plastic and fabric skin that will appeal to your cat's sense of clawing and grabbing their prey. The material is also easy to clean.
Quick Look
Can feed two cats.
Decreases anxiety.
Corrects your litter box woes.
Cannot be used with wet cat food.
2. FEANDREA Multi-Level Cat Tree With Cat Toys
The Feandrea Multi-level cat tree serves as a scratching pole for your cat, thanks to the natural sisal posts, which allows your cat to stretch and sharpen their claws. 
It satisfies your cat`s desire to scratch, provides an exclusive place to exercise, and at the same time protects your décor and furniture.
Unlike your regular scratching poles, this one features multi-level climbing platforms, which improve the overall fun experience of your cat.
This cat tree also features cat toys including a ball with bell that will provide endless hours of fun and play. 
Finally, your cat will love the two large and comfy condos after hours of play.
Here, they can take a nap, relax, or sleep after a tiring and play session!
Quick Look
Superior quality; constructed by CARB-certified natural particle boards.
Scratch-resistant.
two spacious and comfortable condo.
Multi-level cat tree.
3. Pawsome Pets Automatic Cat Laser Toy
This interactive pet toy from Pawsome Pets uses a laser pointer to keep your four-legged fluffball happy and playful.
Featuring a rotating laser pointer, you will love watching your little kitty chase and run after the light point as it shoots around the floor.
For ease of use and convenience, the toy is available in three different modes: slow, fast and random.
The versatility of the toy allows you to change the speed of the laser point movement depending on your cat`s temperament.
Additionally, it kills the boredom that comes with using only a single laser mode movement.
The light emitter on this tool is a class 2 laser, meaning that it will not harm your pets eyes even after prolonged use.
If you have a deaf cat, this is the perfect toy since it's all visual.
Quick Look
Safe for cats eyes.
Suitable for kittens.
Ideal for deaf cats that need visual stimulation.
Operates using batteries.
4. PetFusion Ultimate Cat Scratcher Lounge
Scratching is an instinct not only for cats but all felines, and they will instinctively scratch anything they can get their claws in to.
The PetFusion Ultimate cat scratcher cardboard lounge is a scratching tool that allows your cat to groom their nails and mark their territory.
This interactive toy will help keep your cat from your leather sofa, and expensive carpet.
The cardboard scratcher engages them regularly, and doubles as a bed.
The corrugated cardboard has holes for them to stick their claws into, and you will find them regularly going back through the day for vigorous scratching sessions.
Just spray a bit of catnip on this big scratching toy and it will become even more irresistible for your cat.
Made by cat owners for cat owners, this toy is durable, stable, and provides your cat with a premium scratching surface.
Quick Look
Durable.
Eco-friendly.
Extremely popular & top rated.
Mid-priced toy.
5. SnugglyCat The Ripple Rug 
If you are looking for a toy that will provide a full body experience for your pet, the Ripple Rug is the ideal choice.
This rug is a perfect toy for behavioral training as it allows you to hide treats or toys inside, and watch as your little friends go wild as they hunt and stalk the toys.
What you will love most about this toy is the infinite configuration of the ripples, which helps in killing boredom, while keeping your cat entertained.
Sporting Velcro touch points, this rug is versatile and allows you to constantly reconfigure it to create new shapes.
The SnugglyCat The Ripple Rug also makes a good choice if you are looking for an interactive toy for multiple cats.
It measures 47" x 35", and this provides enough room for several cats to rest or play on.
The bottom is made with non-slip rubber to prevent slipping as your cat pounces and plays on the rug.
This rug is made using recycled plastic bottles, which are non-toxic and safe to play with. It's a great choice for environment conscious kitty parents.
Quick Look
Non-slip bottom.
Great for multiple cats.
Mold and mildew resistant.
Durable and strong.
Toy Wrap Up
Unlike their outdoor counterparts, indoor cats tends to be under-stimulated most of the time, and this makes them idle often.
Introducing them to the best cat toys for indoor cats can motivate them to get busy with endless hours of fun and play.
Plus, they also get to build on their physical health and minimize the likelihood of gaining too much weight.
Read More :