Go Pet Club Cat Tree Review: Most Stable Cat Tree Ever?
A high-quality cat tree at a modest price is what go pet club cat tree offers you.
Featuring 15 levels, 10 posts, 2 condos, 2 fancy hanging toys, 3 perches, and 2 push-up ladders, this cat tree offers your furry friend the ultimate haven to play, get entertained, rest and even take a nap.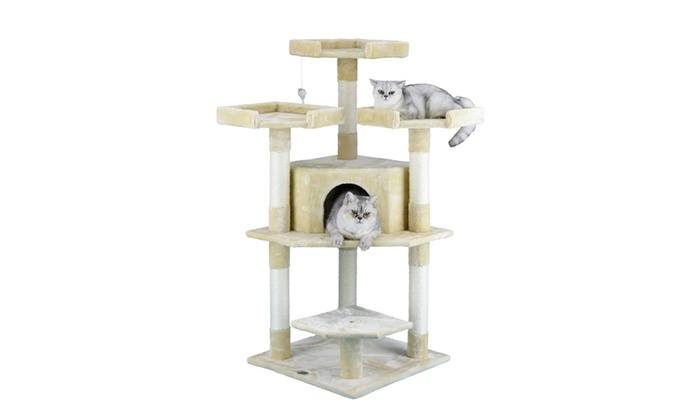 Our website is reader-supported through affiliate programs. If you purchase via links on our site we may earn a small commission.
Features Of The 72 inch Go Pet Club High-Quality Cat Tree
Go Pet Club prioritize safety and the quality of their cat trees and this particular one is no exception.
The boards of the cat tree are made from compressed wood which explains not only its durability but also guarantees your cat's safety.
Besides that, the tree is covered with high-quality faux fur that creates a safe yet soft material for your pet.
It comprises 10 posts, each covered with natural sisal rope. With the rope, your furry friend can exercise and sharpen her claws by scratching the rope (and not your sofa).
Suitable For Multiple Cats  
For cat parents with multiple cats, having a cat tree for each cat is not only costly but also takes up lots of space in your house.
Therefore, having a spacious cat tree that would accommodate two or more cats is a good idea, rather than having several cat trees in the limited space.
With the Go Pet Club cat tree, your multiple cats can enjoy playing together, hiding away from the world and more fun activities in their small haven.
And you know what, even the meanest cat won't resist sharing this tree with others. It is suitable for medium to large cats.
Ease Of Assembly
It does not take rocket science to put together this cat tree. The cat tree comes along with an instructional manual and necessary tools plus to assemble it.
All you need to do is to follow given instructions, step by step and before long, your cat tree would be ready for use.
Pricing
For a great cat tree with awesome features, you would expect that possibly you would have to break the bank to have it. Far from it!
Go Pet Club is modestly priced, and it costs less than what comparable cat condos cost.
See how Songmics cat tree condo compares to this cat tree in our review.
Comfort and entertainment  
Packed with 3 perches at the top end of the cat tree, spacious condos, and ladders, this cat tree keeps your feline friend active.
Talk of climbing, hiding, scratching, being entertained by the hanging toy mice, this cat tree offers lots of fun activities for your cat.
Privacy
Just like human beings, cats love to hide and spend some time without any disturbance, just relaxing and sleeping. The spacious and quiet condos offer this privacy for your cat.
To be specific, the lower condo is roomy and is suitable for the large cats while the top condo fit small cats and even medium-sized ones.
Specifications 
Height- 72 inches tall
Overall size- 50W *26L* 72H
Baseboard size- 23.5 W * 21.5L
Colors- comes in different colors; beige, paw print, brown, black, etc
Board Material- compressed wood
Covering material – soft faux fur
Covering material for posts- natural sisal rope
Posts- 10
Levels- 15
Pros & Cons
Suitable for multiple cats; medium to large cats.
High quality and sturdy cat tree that can withstand even larger cats.
Offers endless entertainment and fun activities.
Simple to assemble.
Modestly priced.
Takes up a lot of space (not ideal for small apartments).