5 Best Automatic Cat Feeders (Multiple Cats Can Share Food)
Cats can be relatively low maintenance pets, at least when compared to other ​pets such as large energetic dogs.
Nonetheless, you still need to provide them with the right nutrition each day. However, if you spend most of the time away from home, your cat`s feeding schedule can be interrupted.
Rather than worrying about how your cats will get their meals, you can get an automatic cat feeder for multiple cats.
Automatic feeders regulate how much your furry friends consume per meal, even when you are unavailable to refill their bowls. They are programmable and can be set to dispense dry cat food.
Additionally, the feeder keeps your cats on a healthy eating schedule, while providing them with a sense of autonomy. Your ​kitties will no longer have to wait until you arrive home so that they can have a meal. 
An automatic cat feeder is just what you need to keep your little furry friends happy and well fed at all times.
Another great reason to get a modern wifi-enabled cat feeder is that the best models have inbuilt camera monitoring, with a microphone and speaker also.
This is great when you are away for a few days, as you can visually check in on your fluffy friends at feeding time​ by using your smartphone, and you can even have a little talk with them too!
We reviewed some ​automatic cat feeder brands based on what cat parents love, and picked out a few that stood out.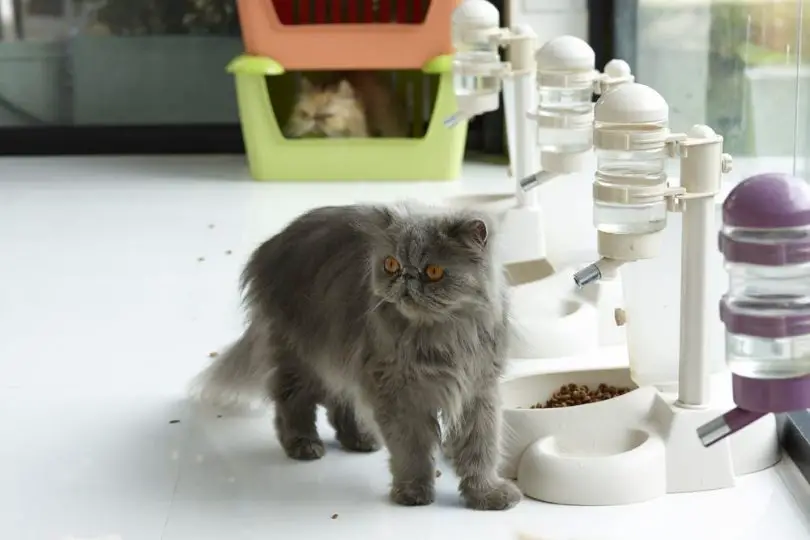 Our website is reader-supported through affiliate programs. If you purchase via links on our site we may earn a small commission.
Automatic Cat Feeder – Our Top Picks
Best Automatic Cat Feeder For Two & Multiple Cats
1. PetSafe Healthy Pet Simply Cat Feeder- Editor's Choice 
Reliability, ease of use, and durability are some of the reasons why the Pet Simply Feed Automatic Feeder tops our list of the best automatic cat feeder for multiple cats.
The PetSafe Healthy is one of the most customizable models on our list with the option of programming up to 12 meals with all meals ranging from a modest 2 tablespoons to 4 cups of food.
Customization does not stop at meals only but also extends to programming the feeding mode. The feeder comes with multiple feeding modes, which improves on the versatility of the feeder.
The Slow Feed, for instance, dispenses food slowly over a 15-minute period to avoid overfeeding, vomiting or bloating.
On the other hand, the immediate feed mode allows you to feed your cat outside the normal feeding time. Lastly, the Pause feed allows a temporary stop in feeding to allow a change in feeding schedule.
This automatic cat feeder provides a generous capacity that can hold up to 24 cups of dry pet food.
When it comes to design, the PetSafe Healthy Pet Simply comes with a clean and minimalist design and it features an LCD screen for easy reading.
Flexibility on the PetSafe is again manifested in the power options, with the device running either on 4 alkaline batteries or AC power adapter.
On the downside, this automatic cat feeder does not include an AC adapter in its unit package. The adapter is purchased separately.
2. CFS-3 Super Feeder Automatic Cat Feeder 
If you love flexibility, the CFS-3 Super Feeder is the perfect automatic feeder for two cats.
The base of the auto feeder holds up to five cups of food. This holding capacity is expandable using extra add-ons to hold more food based on your cat`s feeding needs.
Using an analog timer to set multiple feeding times throughout the day, the CFS-3 is uniquely designed to feed your furry friend from a fraction of a cup to several cups per day up to 48 times per day.
​If you purchase the combo with a digital timer, it allows feeding up to 8 cycles.
Available in a compact design, and modest measurements of 11 by 10 by 15 inches, the CFS-3 can sit either on the floor or you can remove the base for mounting.
A major highlight of this feeder and probably where it breaks even from the PetSafe we have reviewed above is the ability to control the feeder with Alexa, Google, and other systems.
On the lower end, the CFS-3 does not come with the various settings that most automatic feeders have, including display or control.
Nonetheless, it works perfectly well and is ideal for those who need a simple, no-frill feeder that will automatically dispense food for their multiple felines.
3. WESTLINK 6L Automatic Pet Feeder 
The Westlink is one of our budget automatic cat feeder options on our list.
This Westlink automatic cat feeder is programmable, allowing you to dispense up to 4 meals a day.
For convenience and easy dispensing, the feeder comes with pre-set buttons for breakfast, lunch, dinner, and a fourth meal.
Aside from the food dispensing, the feeder allows you to set the size of the food portions between 1 and 39 portions, with each portion measuring 10 to 12 g.
The Westlink is the best cat feeder for multiple cats, thanks to its generous 6L food capacity.
The signature feature of this feeder is the built-in voice recorder and speaker.
The recorder allows you to record your voice for 10 seconds, while the speaker will call your felines for meals. 
The recorder and speaker help your pets in recognizing mealtimes, and can as well act as a comforting feature when you are away.
Another distinct feature on this feeder is the built-in infrared detect, which stops food from locking, and allows your pets to enjoy their meal every time.
The addition of a user manual and ultra-low power consumption are extras that make this feeder worthwhile.
Though the infrared detection is an awesome feature that avoids food blockage and spills, it does not perform as expected with food sizes that exceed 0.39 by 0.39 inches.
4. PetSafe Smart Feed Cat Feeder (Wifi-enabled)
The PetSafe Smart is a truly "smart" automatic multiple feeder.
The PetSafe Smart is designed with the latest technology in mind.
Using a wireless router, the PetSafe can automatically sync with your iPhone or Android smartphone for autonomous control anywhere.
Therefore, whether you are at work, traveling or in the library, you can easily access your pet`s feeding schedule or change mealtimes.
The PetSafe Smart is customizable at the very least, allowing you to set up to 12 meals for your cat`s feeding schedule.
Moreover, the dispenser provides flexibility regarding food portions, as it allows you to dispense meals ranging from 1/8 of a cup up to 4 cups depending on your cat`s feeding temperament.
Like the PetSafe Healthy Pet, the PetSafe Smart Feeder equally comes with a variety of feeding modes, including instant mode, unique slow feed, and more.
The PetSafe Smart feeder has a stainless steel bowl, is easy to clean, and dishwasher safe.
Additionally, the tip-proof and seals on this dispenser will prevent your felines from opening the lid and accessing the food.
Again, like the PetSafe Healthy, the Smart provides you with flexibility with regards to power options as it allows the use of power adapters or alkaline batteries.
This automatic food dispenser is a popular feeder that combines unique features, all nicely packed on a single unit, and this makes the price easy to swallow.
5. Cat Mate C3000 Automatic Pet Feeder (Best for kittens)
The Cat Mate C3000 automatic feeder is a time-based automatic feeder, and comes with a tamper-proof nozzle that will help in keeping your cat`s kibble safe from inquisitive paws.
The feeder ensures that your kibble stays dry and fresh, in a tinted plastic hopper that can accommodate up to 6.5 oz. of kibble.
Though it`s on the lower end of the price, the feeder comes with an LCD and control panel, which will improve on not only the control but also the aesthetics.
With this feeder, you can dispense the food in small portions, with the minimum feed of 2 teaspoons upwards.
When it comes to power option, the feeder operates with 4 C batteries that can last up to 6-9 months of continuous use.
One of the downsides of this feeder is the low feed capacity, as well as portions. While the portion might be ideal for those with cute kittens, it`s not ideal for those with grown-up felines.
6. Arf Pets Automatic Pet Food Dispenser
This food dispenser gives you the option of feeding your cat up to four times per day.
It provides between 1-15 portions in a single serving with the minimum weight of each piece being about two tablespoons worth of food and a maximum of one cup.
The unit is easy to use. It comes with a programmable LCD clock that is easy to program.
You can even record it with a personal message for your feline friend. It has a control panel with different buttons such as record, up and down arrows. The unit is controlled using the directional arrows.
To operate the feeder, just set the clock, adjust the settings according to your cats eating habits, and click the magnetic lock closed to keep the food fresh and secure until mealtime.
The feeder allows the user to set the number of hours and minutes per meal.
Each meal is spaced out at five-minute intervals. You can also set the system to zero if you want your cat to skip a meal
It is imperative that you set the clock correctly (it uses the military/ 24-hour time).
Features of Arf Pet Automatic Food Dispenser
​Can customize portions from 1-10.
Powered by AC/DC power adapter or 3-D alkaline batteries.
5-foot cord power.
DC power: 5V1A standard power supply.
Capacity: 4lbs of dry food.
Made of solid ABS plastic.
The option of manual feeding.
7. Bergan Feeder Petite Gourmet Combo
This product comes with a food dispenser and a water hopper (each one consists of a base and a container) which are wide enough for your cat to drink and eat for several days.
The base features a slot to fix and secure the container and a tilted surface towards an indentation which acts as a bowl. This design provides better reliability to refill the food and water as needed.
It has a sturdy design to provide better stability. Your cat will not tip it over easily.
The Bergan feeder has a wide opening on the top to refill without spilling. The waterspout features a single spout to avoid water overload.
The feeder dispenses 6lbs of food and the water hopper, 1.5 gallons.
This feeder is suitable for the following situations:
To feed several cats who are heavy water drinkers.
In case you will be away from your cats for one or two days.
To eliminate the daily duty of pouring food and water.
For indoor use.
For cats who do not like touching the water before drinking it.
When you do not have a feeding schedule for your cat.
8. Petmate Pet Café Feeder (Multiple color options)
It is an elegantly designed gravity feeder which automatically replenishes the food reservoir when the levels run low.
It has an eco-friendly food hopper with a wide mouth and a removable lid to prevent spillage during refills and also make it easy to clean.
It is made from PET (polyethylene terephthalate) bottles which is BPA- free plastic that is safe and recyclable hence environmentally sustainable as compared to PVC bottles.
The unit comprises of a transparent food container which allows you to monitor the food level accurately. It also features recessed handle areas for easy lifting so do not worry about dropping it.
The Petmate pet café feeder comes in three colors: pearl tan, pearl blue, pearl white and in 3 sizes: 3lbs, 6lbs, and 12lbs. this review is for 6lbs, pearl tan feeder.
Automatic Cat Feeders: The Final Wrap
Proper nutrition is necessary for the proper health of your cats. 
However, if you spent most of the time away from home, it can be inconveniencing to keep up with the proper cat feeding schedules.
Sometimes, you delay refilling the food bowls, while in other times, you completely forget to replenish the bowls.
Using automatic cat feeders for two or multiple cats ensures that your cats get timely meals several times each day even when you are away. 
Unlike ordinary cat feeders, automatic cat feeders are programmable, hence allowing you to schedule timed intervals when the meals will be dispensed automatically and in defined portions.