Find The Best Food For Your Cat (Healthy Food Guide)
When you are looking to change your cat's diet to a new food source it can be difficult to determine what food is good for your cat, with the right ingredients and nutrient composition.
Cats are known to be notoriously picky about what they eat, and you might have to test some cat food brands or more to find one brand that both you and your cat are comfortable and happy with.
How To Choose The Best Cat Food For Your Cat
When making your decision, firstly think about your cat's age, physical condition such as being overweight, neutered, pregnant, or health problems – this will help narrow your choices.
Cat's also have their own taste preferences, so take that into account and then you have a good starting point.  
It's a bit harder for first time cat owners, or if you have a brand new kitten, as you have less info to guide your first choices.
To make your decision easier, we compiled a list of some top-rated premium cat food brands that most cats and their owners are happy with.
We also look the factors that we consider when testing and reviewing pet foods to narrow down to the best options – and this will help build your knowledge of what to look for.
Note: you will find the reviews at the bottom of the page
Got a new kitten?
You might to see our dedicated kitten food review, and we also made a new kitten checklist to get you started.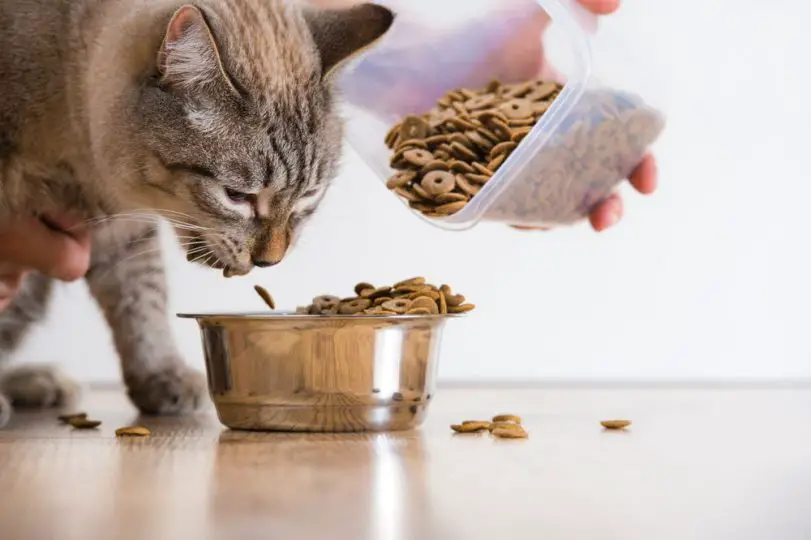 Our website is reader-supported through affiliate programs. If you purchase via links on our site we may earn a small commission.
Our Top Picks
Buyer's Guide to Cat Feeding
As cat owners, we all want the best for our pets, and one of the ways of achieving this is by giving your cat a high-quality diet.
But there is a problem: there are too many cat food brands, controversies, and disagreements on how to feed your cat.
Debunking the myths and learning what to look for in cat food can help you make an informed decision on the type of food to buy for your cat.
Choosing the Best Cat Food
Here are some considerations you should make when choosing the ideal diet for your feline:
What Is The First (Main) Ingredient?
Cats are obligate carnivores and have a natural desire for meat.
Chicken, turkey, duck, fish, and beef are some of the best sources of animal proteins for cats.
It should also have a size-able proportion of healthy animal fats and low levels of carbohydrates.
Grain Free
Some brands may include grains such as wheat, corn, and soy. These ingredients are known to trigger allergies in some cats.
Note that not all carbs are grains. A diet may have limited amounts of carbs (to provide energy) and have zero grain ingredients. 
No Artificial Preservatives
Some cat foods may contain chemical preservatives such as BHT, BHA, and ethoxyquin.
These preservatives may be harmful to your pet, you should avoid formulas that include these chemicals in their ingredient list.
Dry Food Vs Canned Cat Food
There is always debate on what type of food is better between dry and canned cat food.
The critics of dry recipes say that the cat needs to remain hydrated all the time by giving them a moisture-rich cat formula.
While the above is true, veterinarians see no problem with dry recipes as long as you maintain a balance between dry and canned cat food.
However, vets warn that feeding a dry cat food only diet may cause life-threatening urinary problems, since many cats may not have the urge to drink water on their own.
If you decide to follow the dry food route, make sure that your cat drinks enough water.
Check our article on how to entice a cat to drink more, and also our review of some attractive-looking ceramic cat fountains
For a cat that has had urinary problems, it would be appropriate to transition to canned cat food to avert more problems.
If you are in doubt about what is best for your feline, talk to your vet about the ideal diet to give your cat.
Is Raw Freeze-Dried Cat Food Safe?
Veterinarians and animal nutritionists recommend giving your cat a diet that is similar to what it would eat in the wild.
The best option, in this case, is raw meat.
Although it can be expensive to get the actual raw meat from the wild, you can buy frozen raw meat that is almost similar to what wild cats eat.
An alternative for frozen raw meat is steamed near-raw recipe that has been dehydrated to kill pathogens.
One advantage of frozen raw food over canned or dry cat food is that it is less processed, retaining most of the original nutrients.
Frozen raw foods usually come with instructions on how to hydrate them before giving your cat.
When buying frozen cat foods, make sure you know the type and the percentage of ingredients.
In most freeze-dried raw cat formulas, the meat content is usually above 95%. 
Animal Byproducts
Reputable cat food brands include byproducts that are sourced from highly digestible and nutritious animal organs like liver or lungs.
However, some brands may contain byproducts whose origin is questionable.
When buying cat food, make sure you go for a diet prepared by a reputable pet company that you can trust.
Animal Protein
A good diet for cats should have high animal proteins, high animal fats content and low carbs. 
Animal proteins usually contain certain essential nutrients like taurine and arachidonic acid that are not found in plant-based proteins.
Animal proteins are present in beef, chicken, turkey, fish, poultry and other animals.
Before buying your cat's favorite brand, make sure to check the list of ingredients and the proportion of protein to other ingredients.
Animal proteins are listed first due to their moisture content, while other ingredients are listed towards the bottom.
Are Grains Bad For Cats?
There is much debate whether grains are beneficial or not in a cat's diet, and many cat owners avoid cat food brands that have grains and gluten as part of the ingredients.
These two ingredients are known to cause allergies in some cats, and some pet companies use them as fillers, particularly in cheaper foods.
Studies have found that in actual fact cats are more likely to have an allergy to a protein source than grains and the gluten in the grains.
Note that feeding your cat a grain-free diet does not necessarily mean that the food is carbohydrate-free.
Not all carbohydrates are grains, and some pet food manufacturers may replace the grains with more carbs like potatoes.
If you intend to buy low-carb cat recipe, simply don't look at the presence of grains alone since there may be other ingredients that are carbs and not in the grains category.
So a diet with some grains is not necessarily bad for your cat, just keep an eye out for signs like scratching, hair loss, or inflamed skin – and try foods with different compositions to see if this remedies the problem.
Consider Life Stage And Physical Condition
Cat foods are prepared for different stages and conditions, so to know if you are buying the right cat food, check the label for a nutritional adequacy statement.
The statement may read like this: "This food is complete and balanced for growth and reproduction" or "This food is balanced for all life stages."
There are specific foods for adult cats and kittens.
Also, pet food companies prepare special diets for cats with special conditions.
For example, there are cat foods for older cats, for pregnant cats and indoor cats, so make sure to verify that you are buying the appropriate food for your cat.
You might also have a cat with health issues like a heart condition, thyroid problems, or urinary crystals – and in these cases you would look toward foods specifically designed to assist with treating these conditions.
For more info, check out our guides on the best cat food for various health issues:
Your Budget
Although there are some very cheap cat food brands on the market, don't let this be your only guiding factor.
The truly organic, healthiest cat formulas, and generally the best-selling cat food brands are normally available for reasonable prices. 
There are a few affordable brands on the market if you are on a tight budget.
If you have some extra dollars to spend, you will be spoilt for choices, and typically higher quality food leads to less health issues for your cat – and over the long term you may save more on vet bills.
History Of Recalls
In recent years, pet owners have become cautious of the type of ingredients added to pet foods.
Some of these fears arose during the massive melamine recalls in 2007. Researching a brand's recent recalls can help quell such fears.
Some responsible companies conduct in-house independent tests before sending their foods to the stores.
Most reputable pet food companies such as Natural Balance, Blue Buffalo and Nutro foods have an internal department that is tasked with reviewing samples of pet foods before they are released to the market.
This helps address issues of contamination, low composition of certain ingredients, and complaints from customers.
Good Dry Cat Food Choices
1. Wellness-core Grain-Free (Turkey & Chicken)
The Wellness Core Grain-Free formula is prepared for all life stages. The main ingredients in this formula are turkey and chicken.
This food is formulated by animal nutritionists and veterinarians to provide your cat with a balanced diet, carefully selected for cat's health and longevity.
It has limited grain-free carbohydrates that offer better digestibility and the required energy for cat's daily needs.
There are NO grains (wheat, corn or oat), additives, or by-products.
Wellness Core Dry Cat Food contains probiotics and fatty acids that assist in digestion and making the coat smooth and shiny. 
Guaranteed Analysis
Crude protein 38% (min)
Crude fat 12% (min)
Crude fiber 5% (max)
Moisture 10% (max)
Calcium 2.2% (max)
2. Taste of the Wild Dry Cat Food
The Taste of the Wild Rocky Mountain formula is prepared to mimic the food that wild cats eat naturally.
It is prepared on the basis of a balanced diet and nutrition with minimal risk of your cat getting allergies.
This Taste of the Wild formula is made with roasted venison, smoked salmon, and chicken meal as the first ingredients.
Its list of ingredients also included a limited proportion of grain-free carbs such as sweet potatoes, peas and pea protein to provide the required energy for an active cat.
It is supplemented with vegetables and fruits that not only boost your cat's immune system but also supports your cat's health.
The fatty acid components support a healthy skin and coat.
This formula is made in the United States using ingredients sourced from US.
This formula is our top pick for the best dry cat food brand. 
Guaranteed Analysis
Crude protein 42% (min)
Crude fat 18% (min)
Crude fiber 3% (max)
Moisture 10% (max)
Taurine 0.15% (max)
Good Wet Cat Food Choices
1. ZiwiPeak Canned Cat Cuisine
ZiwiPeak Cat Food is prepared with 93% fresh meat from free-range grass-fed lamb, and wild-caught rabbits.
The rabbit and lamb meat are combined to produce the right balance of proteins and animal fats, and the diet also includes organs, bones, and green mussels to round out the nutritional value.
ZiwiPeak is a moisture-rich and nutrient-dense diet that will not only help your cat stay healthy, but also provides a balanced grain-free natural diet.
It is free of fillers and other additives that may trigger allergies.
The New Zealand green mussels make up 3% of the ingredients, and is a natural source of chondroitin and glucosamine that help in developing strong joints, especially in young and older cats.
Apart from the land and rabbit recipes, you can choose from the other recipes such as beef, mackerel & lamb, venison and fish, venison, and lamb.
Guaranteed Analysis
Crude protein 11% (min)
Crude fat 3.5%% (min)
Crude fiber 2% (max)
Moisture 78% (max)
Ash 3% (max)
2. Nature's Variety Instinct Grain-Free 
Instinct Nature's Variety is made with 95% chicken, turkey, and chicken liver as the first ingredients.
Other ingredients included in this formula are vegetables, fruits, and other wholesome ingredients, with ground flaxseed as the main source of fats.
This diet does NOT contain any grains, potatoes, artificial colors or preservatives.
One unique feature about this formula is the pate texture that even finicky eaters will find delicious and digestible.
Instinct cat foods are prepared by Nature's Variety, a private pet food company located in the USA.
The Instinct line offers various nutritious choices for cats including raw frozen diets, canned, kibble, biscuits, and frozen bones.
Guaranteed Analysis
Crude protein 10% (min)
Crude fat 7.5% (min)
Crude fiber 3% (max)
Moisture 78% (max)
Omega 3 fatty acids 0.2% (min)
Omega 6 fatty acids 1% (min)
3. Weruva Cats in the Kitchen Canned Cat Food
Weruva Cats in the Kitchen is prepared with cage-free boneless chicken, and topped up with fish oil to provide a balanced diet with high protein, and healthy fat proportions.
This formula is a limited ingredient diet that include 66% animal proteins and 33% fats, and is prepared without grains such as corn and soy.
The manufacturer claims that that Weruva in the Kitchen is human grade, and it is prepared in human food facilities.
The recipe comprises boneless, skinless white breast meat chicken, fish loins, and lamb.
If your cat is a finicky eater, Weruva canned cat food has a variety of textures and flavors that your cat will find tasty, and is gluten and carrageen free.
Weruva Cats in the Kitchen is prepared by Weruva, a family-owned business operated by David and Stacie for over a decade.
Guaranteed Analysis
Crude protein 10% (min)
Crude fat 2.5% (min)
Crude fiber 0.5% (max)
Moisture 85% (max)
Calcium 0.25% (max)
Ash 1.5% (max)
Good Freeze-Dried Cat Food Choices
1. Instinct Raw Boost Grain-Free Recipe
Instinct Raw Boost Freeze-dried cat food is a premium formula that combines a high protein kibble and freeze-dried raw diet to provide your cat with a healthy meal.
It is made with cage-free chicken as the first ingredient, is all natural, nutrient-dense and has minimally processed bites of real chicken.
It does NOT contain grains, potatoes, additives or colors.
Instinct Raw Boost has added probiotic boost, omega three fats, and antioxidants to help in digestion, boosting your cat's immune system.
Instinct Raw Boost is prepared in the company's kitchens in Lincoln, Nebraska, with all its ingredients and sourced and prepared in the USA.
Apart from the chicken flavors, Instinct Freeze-dried raw recipe also prepares duck and rabbit flavors.
Guaranteed Analysis
Crude protein 37% (min)
Crude fat 20.5% (min)
Crude fiber 4.0% (max)
Moisture 9% (max)
Omega 3 fatty acids 0.35% (min)
Omega 6 fatty acids 3.2% (min)
2. Stella & Chewy Freeze-Dried Recipe
Stella & Chewy freeze-dried raw cat food is made with 98% cage-free chicken, being complete and balanced for all life stages.
The ingredients used to prepare this recipe are 100% organic and sourced from within the United States.
This raw cat food diet is supplemented with taurine, probiotics and other nutrients that help in digestion and keeping your cats skin healthy.
The natural flavors make the food tasty and finicky eaters quite often take well to this food.
The company prepares its brand of pet foods in its FDA-inspected kitchens using sustainable ingredients, and is one of the most trusted pet food companies in the USA.
Guaranteed Analysis
Crude protein 45% (min)
Crude fat 25% (min)
Crude fiber 5% (max)
Moisture 5% (max)
Taurine 0.2% (min)
3. Primal Freeze-Dried Nuggets Chicken and Salmon Formula
The Primal Freeze-dried nugget range is a complete and balanced recipe for all life stages.
It is made with 100% human-grade raw ingredients, and its poultry and game ingredients are free of antibiotics and hormones.
This chicken and salmon formula comprises 52% crude proteins (chicken, chicken gizzards, chicken liver, chicken necks and salmon), and 32% crude fats (salmon is the main source of crude fats).
This formula is also supplemented with taurine and Vitamin E to provide your cat with eye support and antioxidants.
Ground bones are added to this formula to provide calcium to strengthen the cat's joints and teeth.
All the ingredients used to prepare the Primal Freeze-dried formula are sourced from ranches located in the United States and New Zealand, ensuring a sustainable supply of natural and wholesome recipes.
Primal Pet Foods started operations in 2001, and it has grown to become one of the best pet food companies in the US, based in California.
Guaranteed Analysis
Crude protein 52% (min)
Crude fat 32% (min)
Crude fiber 1% (max)
Moisture 3% (max)
Research The Cat Food Brand Carefully
Because you want to give your cat the best, always research the cat food brand that you are buying.
Going an extra mile to know who the manufacturer is and any history of cat food recalls can help you identify any warning signs.
While the American Association of Feed Control Officials(AAFCO) requires commercial food companies to adhere to specific rules on nutrient levels, some personal research online can help you protect your cat.
If you are in doubt about a specific pet food brand or its ingredients, you can call or email the customer relations of the company.
A pet food company that values its customers will gladly respond and answer any questions that you may have about their product.
Sources
https://www.washingtonpost.com/news/animalia/wp/2017/08/15/grain-free-pet-foods-are-no-healthier-vets-say-focus-on-this-nutrition-issue-instead/