5 Best Cat Litter Box for Multiple Cats in 2020 [Scoop No More!]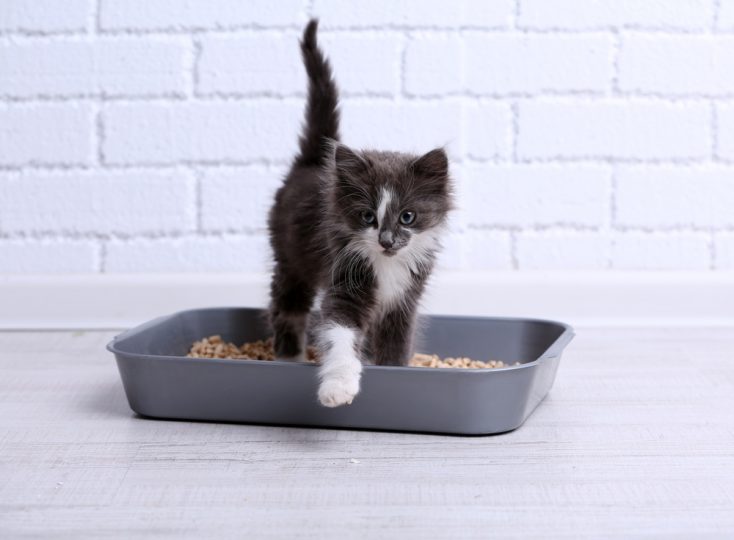 Cats are the most adorable pets that you can have, and this means that you can't just have one cat, especially if you are a crazy pet parent like me.
To handle the extra traffic in your home, you need the best cat litter box for multiple cats. The good thing about this type of litter is that you won't need a litter box for every cat in your home.
One question that pet parents ask is: Why buy one litter box for multiple cats when I can buy a litter box for every cat? The answer is simple.
A litter box that is specially designed for multiple cats is constructed in a way that provides enough floor space, adds privacy for our shy pets and improves hygiene.
On the other hand, owning several litter boxes for each of your cats is not only expensive, but also takes up all the space and you might end up spending countless hours cleaning all the litter boxes.
Our website is reader-supported. We research all reviewed products carefully to give you the best choices possible, and if you buy via links on our site we may earn a small commission.
Litter Box for Multiple Cats Comparison Chart
| | | | |
| --- | --- | --- | --- |
| CatGenie Self-flushing cat box | | | |
| | | | |
| Catit Jumbo Hooded Litter Box | | | |
When a Multi-cat Litter Box is Needed
There are several reasons why you need the best litter box for multiple cats over having an ordinary litter box that is shared between several cats. Here is why:
Limited Space
Living in a small apartment should not hinder you from moving in with your three or four cats because you do not have space.
Most pet parents often feel limited because living in small apartments means that you can't have a litter box for each cat.
Rather than going through all this hustle, why not buy a litter box that is designed to accommodate several cats.
It would be even more convenient getting a self-cleaning litter box that supports multiple, because you do not have to empty the box every day.
Instead, the automatic litter box self-cleans itself and the waste is deposited in a compartment that you empty every week or biweekly depending on how fast it gets filled up.
Easier to Keep Clean
Multiple cat litter boxes are designed in a way that you can clean it with ease and less frequently than several single cat litter boxes.
When the latter is shared by several cats, the litter gets exhausted more quickly and this means that you have replace the litter more frequently.
Cheaper
Most litter boxes are not that cheap, and buying a litter box for each of your cats would definitely dent your pockets.
Buying one multiple litter box will leave extra coins in your wallet, since you just need one box for your several cats.
Plus, you also save on the amount of money spent of buying the best flushable cat litter, since a single pack would be enough for one box compared to when it is shared across several litter boxes.
Best Litter Box for Multiple Cats- Top Picks
1. CatGenie Self-flushing cat box (Editor's Choice)
Cat Genies is one of the most popular litter boxes and our top choice for the best litter box for multiple cats. It is designed to automatically detect movements and flush once the cat has left the box.
Once the cat has finished her business inside there, the waste clumps pass through the granules holding area.
The holder then pulls out the clumps which are then pushed to the reservoir. The waste is then liquefied and flushed down the toilet to the sewer line.
With this litter box, you will spend less time cleaning since this process is automated.
If you are one of those pet owners who dread seeing pet poop, this litter box does all the dirty work and you do not have to touch, scoop or change the litter.
To keep the box clean, use a cleaning solution to wash, scrub, scour, and sanitize the bowl to ensure proper hygiene for you and your cat. After cleaning, the granules are dried and ready for the next session.
The litter box is ideal for one to two averaged sized cats who are six months or older. Do not use it for more than three cats.
You can also set a timer to determine when the Cat Genie automatic litter box operates. It has 14 to 24 hours of activity and 10 to 30 minutes delays for cleaning.
Box contents:The main litter box, the bowl, the sanitizer cartridge and washable granules.
How CatGenie Works (Video)
2. LitterMaid Mega Series 
The LitterMaid mega series is fitted with motion sensors that detect the cat movements, when he enters or exits the litter box.
The motion sensor is set to detect when your cat enters or leaves. This litter made litter box is a self-cleaning model that eliminates the need for manual scooping.
The cat's litter is scooped automatically into a sealed, disposable receptacle that contains carbon filters to prevent odors from getting into the house.
LitterMaid litter box does not require much daily maintenance. Your only job is to replace the waste receptacle and follow the weekly cleaning instructions.
The LitterMaid is a precision-operated appliance; meaning that if the rake gets jammed during cleaning, the process will be stopped automatically, reversed and started all over again.
This unit comes with four waste receptacles and four carbon filters, a scoop and a rake cleaner.
Contents of the LitterMaid litter box: four waste receptacles, four carbon filters, scoop and rake cleaning
3. Catit Jumbo Hooded Litter Box
Catit Jumbo is an enclosed litter box that gives your cat privacy and enough room to comfortably turn around when taking care of his business.
When cleaning this litter box, you can either opt for the easier way of flipping the lid and folding it back or remove the top part completely.
The Catit Jumbo litter box is suitable for small, medium and big sized cats. It can accommodate two small sized cats. Do not get this litter box if your kitty likes to chew on fabrics.
4. Nature's Miracle Just for Cats 
The litter box is the best cat litter box for multiple cats in a house with little storage space. Its space-saving design allows you to tuck this litter box into a corner. It also gives your cat the much-needed privacy.
This litter box uses a built-in charcoal filter to prevent odors and also inhibit odor-causing bacteria, mold, and mildew from growing. It is one of the most affordable litter boxes for multiple cats.
Features
Made of durable plastic.
The high sides and hooded cover eliminate leakage.
The interior is made of a non-stick material which allows easy cleaning, prevents litter caking and odor build-up.
The open litter box design is perfect for cats who prefer easy access to the litter, and it also makes it easy to clean.
Suitable for households with multiple cats but it can also work for single cat household.
The lip opening is 5" above the ground.
5. MFPS Enclosed Cat Litter Box
The MFPS gives you about 6" of working space meaning that you can stuck up the cat litter as high as you want to make it last longer.
The classic color combination (black and white) undoubtedly blends with other household items in your house. The flowing lines profile design is also soft and safe.
The MFPS litter box is lightweight, durable and made of premium thick PP material giving you value for your money.
Features
The front opening is convenient to go in and out.
The high walls prevent the cat from tracking granules outside the litter box.
The litter box is spacious hence providing a lot of space for the cat to carry out his business.
The enclosed nature of the pan makes it efficient to handle when it is time to empty or clean.
Easy to clean and also store because the unit is removable.
The side clip clamps the lid shut.
It is ideal for a single cat or multi-cat households.
Pros