5 Best Self Cleaning Litter Boxes: For Multiple Cats
Ok, so let's face it …we ALL hate cleaning out kitty litter trays
I personally hate the process of scooping out all the stinky wet litter on that dreaded day of the week …"litter tray cleaning day".
You can make life easier by automating the waste disposal process, and reducing your exposure to dust, dried poop, and unpleasant smells.
A self-cleaning litter box can make your life easier without the need to manually sift through your cat's toilet daily.
These litter boxes make waste disposal easy by automatically cleaning and disposing of your furry friend's little deposits, helping to reduce household odors.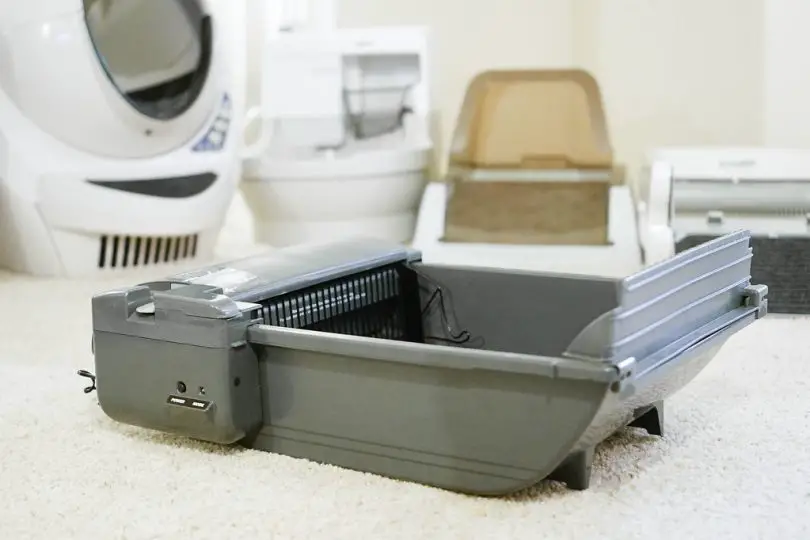 How do Automatic Litter Trays Work?
They are designed to detect cat movements (no – not that type of movement!), so that once your cat has finished their business they automatically remove solids, and deposit the waste in a waste compartment.
This helps to prevent unpleasant sights and smells from spoiling your relationship with your cute feline companion.
There are many different designs available and they all aim to remove solids from the litter. Many designs allow you to easily dispose of the used litter via a disposable tray or bag.
Most designs have a rake system that drags through the litter and catches the solids, and there are a variety of ways that the machine then deals with the waste.
There is even one design that automatically washes and dries the litter!
One common thing with this type of litterbox is that you will need a power source for them to operate.
Our website is reader-supported through affiliate programs. If you purchase via links on our site we may earn a small commission.
Self-Cleaning Litter Boxes – Top Picks
Our Best Self Cleaning Litter Box Reviews
1. Litter-Robot III Open Air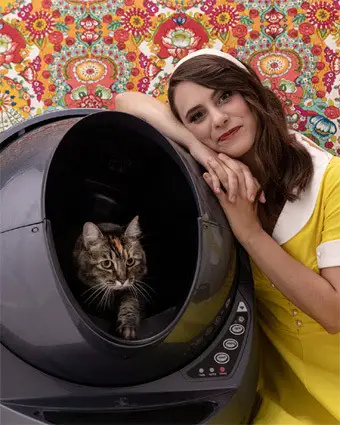 Let's start with the most expensive option, and after you get over the shock of a litter tray costing north of $450, the others will look even better!
If you're looking to gift your cat with something unique, you should check out the Litter Robot III Open Air cat litter box.
Well, actually it would be more of a gift for you, as your special little kitty probably won't care less!
There is a fully automatic self-cleaning system that ensures there are no unpleasant sights and smells, and is set to automatically clean the kitty litter after your cat has left the litter box.
How Large Is It?
The Litter-Robot III Open Air has a large entryway that can accommodate any large cat, and is designed for comfort and safety.
If you have multiple cats then this is the one truly automated litter box that will set you free from constantly hand-scooping poop out of kitty litter.
Other Features
Made from strong materials, this litter box ensures durability and resists premature wear and tear.
It features a lockout option so that your curious cat (or kids!) do not mess-up the settings.
Once the waste compartment is full, the machine gives an alert to be emptied.
How Many Cats Own a Litter-Robot?
Currently over 400,000 cat slaves (known as humans) own a Litter Robot, and most cats say they enjoy the extra privacy that the wifi-enabled settings give them since their human can make adjustments remotely!
With a 90 day money-back guarantee we think it's worth looking at the king of kitty toilets. Your cat may not thank you – but your sanity will!
Pros
Has a faded night light that comes in handy if you have aged cats with eye-sight problems.
Easy to use and clean.
The automatic timer settings are customizable to cat needs.
Comes with a 48-hour backup battery should there be power interruptions.
Best for multi-cat households.
Cons
Expensive
Some customers have reported timer issues.
2. ScoopFree Ultra Self-Cleaning Litter Box (Editor's Choice)
The ScoopFree Ultra Self-Cleaning Litter box is a product from PetSafe, one of the leading manufacturers of premium cat products.
Budget-friendly, the ScoopFree saves you time and effort, and comes with crystal litter that absorbs cat urine and removes bad odor emanating from cat waste by dehydrating it.
How it Works
This litter box also comes with an automatic rake that sweeps across the used litter 20 minutes after your kitty has finished doing their business. Click the Amazon link below to to see a video of the litter tray in action.
The waste is deposited in a waste compartment equipped with a trap cover to prevent the waste from spreading into the house. There is a special privacy hood on the litter box gives cats some privacy while using their version of a toilet .
Maintenance
The ScoopFree automatic cat litter box can be maintained with the help of a litter box refill that keeps the box clean for several weeks. All you need to do is to replace the disposable litter box after a few weeks.
The manufacturer claims this litterbox is 99% dust free, so is good for allergy sufferers.
Pros
Stays odor-free due to quick urine absorption.
You don't have to manually scoop the poop!
Keeps your home clean and odor-free.
The privacy hood is a perfect choice for shy cats.
Cons
There are reported cases of the sensor failing to work properly.
Read full review here: ScoopFree Ultra Review
3. Cat Genie Self Washing Cat Litter Box
Cat Genie is a one-of-a-kind litter box and the world's only self-flushing and self-washing cat box with washable granules.
Germ, odor, and dust-free and automatically washes and dries itself. The washable granules are cleaned according to your preferred settings, and the inbuilt driers help speed up the drying time.
How does Cat Genie Work?
The best place to install it is in the bathroom or laundry so that it can be connected to a cold water supply hose and electricity.
The Cat Genie is a medium sized litter box, and will accommodate one to three cats, but not recommended for more than three.
Pros
The washable granules help to maintain an odor-free environment.
A hygienic solution to cat litter disposal since the cat wastes are flushed away immediately.
Accommodates 1 to 2 cats comfortably.
Cons
Requires to be connected to a water source and power.
Cartridge may need replacement after some time.
4. Pet Zone SmartScoop Self Cleaning Litter Box
The SmartScoop automatic cat litter offers an effortless transition from an ordinary litter box, and it does not require additional waste containers.
The automatic cleaning process is completely autopilot and hands-free. The waste receptacle can handle up to 1 week of waste from one cat.
How Pet Zone SmartScoop Automatic Cat Litter Box Works
The receptacle has an easy-to-install waste bag that is replaceable once the waste is full. You can use domestic-sized waste bags or SmartScoop biodegradable bags to replace the receptacle waste bags.
Filters and Bags
When you buy this automatic cat litter box, you get six carbon filters and 24 bio-degradable bags for convenient cat waste disposal. Also included in the package is an anti-trailing ramp and mat.
The SmartScoop automatic cat litter box has a sturdy construction made to last, and resist wear and tear. Cat owners say is easy to assemble.
Pros
Ideal for multiple and large cats
Easy to assemble.
Autopilot cleaning process keeps it clean and odor-free 24/7.
Friendly transition for cats using regular cat litter.
Self-clumping litter
Cons
Hard clumps of waste may jam the rake when cleaning.
5. Littermaid Multi-Cat Mega Cat Litter Box
Like the SmartScoop automatic cat litter box, the Littermaid Multi-Cat offers an easy transition from a manual litter box to a self-cleaning litter box
The unit is fitted with motion detectors to detect your cat's use of the tray. The sensors are activated when your cat enters the kitty toilet to do its business.
Once the cat leaves, there is a 10-minute delay before the cleaning cycle proceeds to clean the cat waste.
Anti Litter Tracking
The waste box has an anti-trailing ramp that prevents litter from sticking on your cat's paws and leaving a trail of litter through the house.
The high-wall design prevents cats from kicking litter out of the box and onto the floor, which happens naturally when they bury their deposits.
Littermaid LM980 holds 60% more litter than other competing brands. Also, the waste receptacle is large enough to accommodate multiple cats.
What You Get
This cat litter box comes with a removable rake, battery backup, four sealed waste receptacles, and four carbon filters. It has dual setup capabilities in automatic and manual modes.
Pros
Removable rake and tray for easy cleaning.
Ideal for multiple cats.
Equipped with carbon filters to eliminate odor.
Automatic rake scooping capability.
Cons
Small waste storage container that requires daily cleaning.
Some customers have reported cases of jamming in the rake.
Choosing the Best Self Cleaning Litter Box
Before opening your wallet to buy an automatic cat litter box, you should consider various factors that will make it easier for you and your cat to use the box.
From the different brands, varieties, and functionalities of various litter boxes you should choose a litter box that your cat will most likely be comfortable with.
Here are some of factors to consider:
Size Matters
The first question you should ask yourself is: How much space will the litter box need?
If you reside in an apartment, you might go with a small-sized box that fits in your available space.
If your cat is big or you have multiple cats, go with an automatic litter box that is big enough to accommodate their needs.
Number of Cats
How many cats do you have?
Will they fit in one litter box or will you need two boxes?
Some litter box brands can accommodate two to three cats at once, typically ones with a large waste storage capacity.
Cat Preferences
What happens if you buy something that the cat does not like?
Take into account your cats preferences and habits when buying an automatic litter box.
For cats that love closed space, go with a litter box that includes an enclosed hood.
Ease of Use
Automatic litter boxes still need a certain amount of human intervention to keep them operating, look for a box that minimizes the waste disposal and cleaning headaches.
Another function offering ease of use is to have a wifi-enabled unit that lets you operate and regulate the functions easily.
An ideal choice for a litter box is one that allows you to dispose of waste effortlessly, and excels in odor control.
Power Sources
Some automatic cat litter boxes require an electrical power source for them to function.
Obviously you will need to install or place the litter box near electrical outlets for easy installation, or otherwise consider the cost if you need an electrician to install an extra outlet.
If sourcing power is an issue or too expensive, look at a battery operated unit.
Why Buy A Self Cleaning Cat Litter Box?
If you're like me, you would prefer spending more time bonding with your fluffy feline friend instead of dealing with their kitty litter issues.
Automating cat waste disposal becomes almost effortless with an automatic cat litter box. Here are some of the benefits that you get by automating litter disposal:
Time saving 
Don't have time to scoop litter every day?
Just get yourself the best automatic litter box and let it do the work while you take time to do more important things (like feeding your cat of course!).
Your effort will only be needed when throwing out the bag of litter or changing the disposable tray once every few weeks. Far better than the daily chore with an ordinary litter box.
Hygiene
An automatic cat litter box is not only more hygienic for your cat, but also for you!
With odorless litter boxes and non-clumping litter, you won't have to worry about unpleasant smells getting into the house.
Cats are super-sensitive to foul smells, and living in a hygienic environment is far preferable for your cute companion.
With automatic cleaning, no urine or poop will be left soaked in the litter box, and even better your cats paws won't be digging in dirty litter after each use of the box.
Luxury
Just like us mere humans, cats like demand to be pampered once in a while!
After all, it's not much to ask – especially since we exist purely to meet their needs.
Cats just need food, love, shelter and good clean place to do their business.
An automatic cat litter box provides not only a fresh-smelling environment but also an odor-free room.
There's a reason why people like bidet's, and for that exact same reason your cat will be in a happier place with the feline equivalent.
FAQs About Automatic Cat Litter Boxes
What Is The Best Automatic Cat Litter Box For You?
The best automatic litter box is the one that best suits YOUR needs – after all, your kitty isn't going to stop pooping just because you picked one brand over another!
It's well suited to multiple cats, and has made many owners lives easier.
We think The Litter Robot tops the lot for features and ease of use …it's a great choice if you don't mind spending more to get a premium product.
Our other recommendation is the ScoopFree Ultra Self-Cleaning Litter box.
With it's large capacity it's ideal for large cats. It has a privacy hood that allows shy cats do their stuff without getting disturbed by their human parents.
A great choice for quality product that does what it promises.
How Does A Self-Cleaning Litter Box Work?
Self-cleaning litter boxes are fitted with a sensor that detects when the cat enters and leaves the litter box.
Once the cat has finished its business, the box auto cleans the litter and the waste is deposited in a waste receptacle, which is closed to prevent the waste odor from getting into the house.
Once the receptacle (or disposable tray) is full, you can remove the waste and dispose of it hygienically using a trash bag.
How Does The ScoopFree Litter Box Work?
Lift the litter box and slide in a disposable litter tray which is filled with crystal litter to help in reducing odor.
Once it is full, throw away the old tray and replace it using a new tray.
What Is The Cat Genie?
The Cat Genie is an automatic litter box that comes with litter-like washable granules that do not need changing.
They are 100% dust free, septic-safe and biodegradable.
How Do You Keep The Litter Box From Smelling?
Every litter box will once in a while need a good clean with some water and detergent to remove old residue.
You can also try litter deodorizers to keep the box fresh. Also, keep the litter box in a well-ventilated area if possible.
Find Out More: