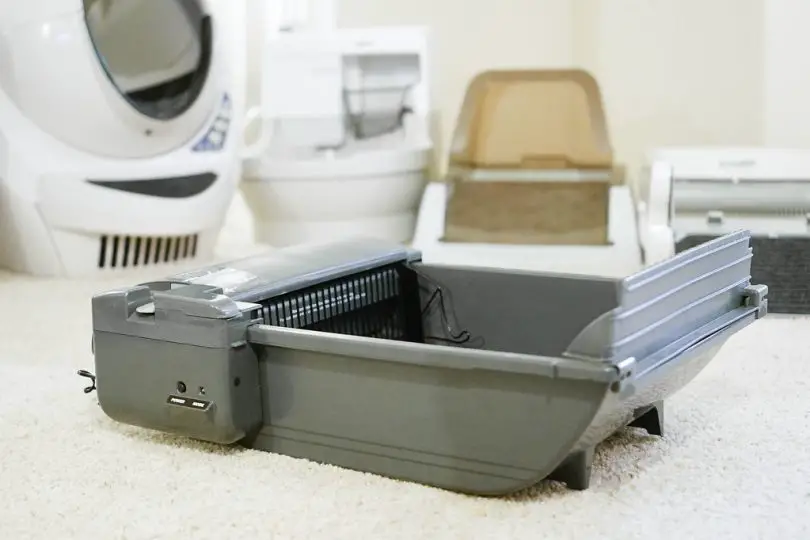 5 Best Self Cleaning Litter Box Reviews in 2020 [Best for Multiple Cats]
Disposing of cat litter is not the best job that anyone would like to do everyday.
Sometimes its smelly, and sometimes you just can't look at the poop.
For others, looking at the litter is enough to spoil their day. And for kids, the litter is another health risk (especially for kids who are allergic to dust).
But, you can forget all that but automating the waste disposal process. How? you may ask. Get the best self-cleaning litter box and you shall forget all the horrible scenes and stories of dealing with cat litter.
An automatic litter box makes waste disposal easy, through automatic cleaning and disposal of cat wastes.
It is designed to detect cat movements such that, once the cat has finished her business, it automatically cleans and deposits the waste in a waste compartment.
This ensures that no unpleasant smells or sights get into the house.
Self-Cleaning Litter Box Comparison Chart
ScoopFree Ultra Self-cleaning Litter Box

Editor's Choice

(Best Seller)

Cat Genie Self-Washing Litter Box

Littermaid LM980 Mega Litter Box
Best Self Cleaning Litter Box Reviews
1. ScoopFree Ultra Self-Cleaning Litter Box (Editor's Choice)
The ScoopFree Ultra Self-Cleaning Litter box is a product from PetSafe, one of the leading manufacturers of premium cat products.
This self-cleaning is budget-friendly, and its superior cat features make petting a lot easier. It comes with unique crystal litter that absorbs cat urine and removes bad odor emanating from cat waste by dehydrating it.
This litter box also comes with an automatic rake that sweeps across the used litter 20 minutes after the cat has finished doing its business.
The waste is deposited in a waste compartment equipped with a trap cover to prevent the waste from spreading into the house. The special privacy hood in the litter box gives the cat some privacy while doing its business.
ScoopFree automatic cat litter box can be maintained with the help of litter box refile that keeps the box clean for several weeks. All you need to do is to replace the disposable litter box after a few weeks.
The mat helps reduce litter tracking, and the soft texture keeps the cat comfortable inside the box.
Cat Genie is a one-of-a-kind litter box and the world's only self-flushing and self-washing cat box with washable granules.
It is germ, odor, and dust-free and, it automatically washes and dries itself. The washable granules are cleaned according to your preferred settings, and the inbuilt driers help fasten the drying time.
How does Cat Genie Work?
Cat Genie Cat Litter should be connected to water and power for it to work appropriately.
The best place to install it is in the bathroom or laundry room so that it can be connected to a cold water supply hose and electricity. It is medium sized to accommodate 1 to 2 cats and not more than three.
3. Pet Zone SmartScoop Self Cleaning Litter Box
The SmartScoop automatic cat litter offers an effortless transition from an ordinary litter box, and it does not require additional waste containers.
The automatic cleaning process is completely autopilot and hands-free of any hand scooping. The waste receptacle can handle up to 1 week of waste from one cat.
How Pet Zone SmartScoop Automatic Cat Litter Box Works​
The receptacle has an easy-to-install waste bag that is replaceable once the waste is full. You can use domestic-sized waste bags or the SmartScoop biodegradable bags to replace the receptacle waste bags.
Once you buy this automatic cat litter box, you get six carbon filters and 24 bio-degradable bags for convenient cat waste disposal. Also included in the package is an anti-trailing ramp and mat.
The SmartScoop automatic cat litter box has a sturdy construction to last long and resist wear and tear. It is easy to assemble.
Use the included easy-to-read guide in case you encounter any difficulties.
4. Littermaid LM980 Mega Cat Litter Box
Like the SmartScoop automatic cat litter box, the Littermaid LM980 offers an easy transition from a manual litter box to a self-cleaning litter box
The unit is fitted with motion detectors to detect the cat's use of the tray. The sensors are activated when the cat enters the waste receptacle to do its business.
Once the cat leaves, there is a 10-minute delay before the cleaning cycle proceeds to clean the cat waste.
The waste box has an anti-trailing ramp that prevents litter from sticking on your cat's paws and leaving a trail of litter in the house.
The high-wall design prevents litter kicking-cats from kicking litter out of the box and onto the floor, which is a common habit among some household cats.
Littermaid LM980 hold 60% more litter than other competing brands. Also, the waste receptacle is spacious enough to accommodate multiple cats.
This cat litter box comes with a removable rake, battery backup, four sealed waste receptacles and four carbon filters. It has dual setup capabilities in automatic and manual modes.
5. Litter-Robot III Open Air
If you are looking to gift your cat with something unique, you should get the Litter Robot III Open Air cat litter box.
Its fully automatic self-cleaning system ensures that there is no unpleasant smells and sights. It is set to automatically clean the cat litter 7 minutes after the cat has left the litter box.
Litter-Robot III Open Air has a large entryway that can accommodate any large cat, from any breed. It is designed for comfort and safety.
The box is made with strong materials to ensure durability and resist any wear and tear.
It also has a lockout options so that your cat or kids do not mess-up the settings. Once the waste compartment is full, the machine gives an alert to be emptied.
Choosing the Best Self Cleaning Litter Box
Before swiping your card or opening your wallet to pay for an automatic cat litter, you should consider various factors that will make it easier for you and your cat to use the box.
From the different brands, varieties and the functionalities of various litter boxes, you should choose a litter box that your cat will love and be comfortable with. Here are some of the factors that you can consider:
Size Matters
The first question you should ask yourself is: How much space will the litter box need? If you reside in an apartment, you should go with a small-sized box that your cat will fit in comfortably. Also, if your cat is big or you have multiple cats, go with an automatic litter box that is big enough to accommodate large cats or several cats.
Number of Cats
How many cats do you have? Will they fit in one litter box or will you need two boxes? Some cat litter box brands can accommodate two to three cats at once. However, if you have more than three cats, you may purchase two or more litter boxes that your cat can use comfortably.
Cat Preferences
What happens if you buy something that the cat does not like? Take into account the cat preferences and habits when buying an automatic litter box. For cats that love closed space, go with a litter box that is closed.
Ease of Use
If you are transitioning from a manual litter box, you should go with an automatic litter box that is easy to use and is efficient in litter disposal. An ideal choice for a litter box is one that disposes of the waste effortlessly and excels in odor control. With an automated litter box, you do not have to see or touch the cat waste again.
Power Sources
Some automatic cat litter boxes require you to plug into an electrical source for it to perform efficiently. If this is something that you might want, consider installing or placing the litter near electrical power points for easy installation.
Should you Buy a Self Cleaning c Litter Box?
At this time and age, you should be spending more time bonding with your cat instead of dealing with the litter. Just the same way you let the blender do the magic instead of letting your head ache while crushing fruits with bare hands.
Automating cat waste disposal is seamless and effortless with an automatic cat litter. Here are some of the benefits that you get by automating litter disposal:
Time saving
Don't have time to scoop the litter? Don't worry- get yourself the best automatic litter box and let it do the rest while you take time to bond with your cat. You will only be needed when throwing off the bag of litter once in a while, maybe once or twice in two weeks.
Hygiene
An automatic cat litter box is not only hygienic to your cat, but also to you! With odorless litter boxes and non-clumping litter, you will not have to worry about unpleasant smells getting into the house.
Plus, cats are super-sensitive to foul smells and living in a hygienic environment will even improve his/her self-esteem. With automatic cleaning, no urine or cat poop will be left soaked in the litter box.
Luxury
Just like humans (or let's say girlfriends), cats like to be pampered once in a while. After all, it is not much to ask. Cats just need food, love, shelter and good place to do his/her business.
An automatic cat litter provides not only a fresh-smelling environment but also an odor-free bathroom to relieve the day's stress. Get your cat an automated cat litter box and watch her shower you with love.
FAQs about Automatic Cat Litter Box
What is the best automatic cat litter?
ScoopFree Ultra Self-Cleaning Litter box is our top choice for the best automatic litter box. It is large and ideal for large cats. It has a privacy hood that allows shy cats do their stuff without getting disturbed by the curious human parents.
How does a self-cleaning litter box work?
Self-cleaning litter boxes are fitted with a sensor that detects when the cat enters and leaves the litter box. Once the cat has finished its business, the box auto cleans the litter, and the waste is deposited in a waste receptacle, which is closed to prevent the waste odor from getting into the house. Once the receptacle is filled up, you can remove the waste and dispose of it hygienically using a trash bag.
How does the ScoopFree litter box work?
Lift the litter box and slide it in a disposable litter tray, which is filled with crystal litter to help in reducing odor. Then leave it for some time. Once it is full, throw away the old tray and replace it using a new tray.
What is Cat Genie?
Cat Genies is one of the best automatic litter boxes that come with litter-like washable granules that do not need changing. They are 100% dust free, septic-safe and biodegradable.
How do you keep the litter box from smelling?
To keep the cat litter box from smelling, replace the litter twice a week and change the litter box once a year. You can also try litter deodorizers to keep the box fresh. Also, keep the litter box in a well-ventilated area.