Remove Old Pet Urine from Carpet (5 Best Cleaning Detergents)
Being a pet owner means that you will at some point deal with old pet urine, poop, and vomit on your carpet.
And this is regardless of the fact that you have toilet-trained your cat or they already know how to use the litter box.
Whoops!
Sometimes our puppy pals get a bit too excited when we get home and nervously pee on the carpet, or maybe fluffy the cat couldn't get to the litter box since the door was accidentally shut.
Rather than getting mad at your four-legged fur babies, you should get a good quality carpet cleaner for removing pet urine, so you can remove the stains and odor when they occur.
It's not a good idea to just use any household cleaner as some may damage the carpet by bleaching the color, or further set the existing stain into the pile.
The best carpet cleaners for pet urine are gentle on the carpet, do not have bleaching agents, and contain enzymes that penetrate the stain to loosen it from the pile. They don't leave toxic residue behind, and leave the texture and feel of the pile unchanged with a faint pleasant odor.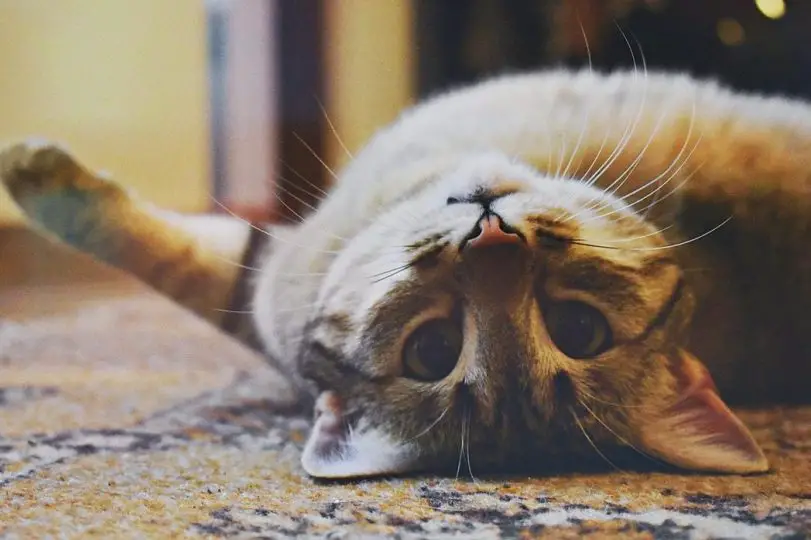 Our website is reader-supported through affiliate programs. If you purchase via links on our site we may earn a small commission.
Our Top Picks
We have reviewed some quality carpet cleaning detergents to help you become familiar with what is available, and after that we have a section with some great tips on how to get those stains and smells out – no matter how bad!
Some carpet cleaning solutions are used with carpet cleaning machines to deeply clean the carpet as well as remove pet urine and poop odors.
Check our review of effective carpet cleaning machines that are popular with pet owners.
Best Carpet Cleaners For Old Pet Urine – Reviews
1. Rocco & Roxie Pro Strength Stain & Odor Eliminator
Rocco & Roxie is an awesome product that is going to clear your carpet of all the dog and cat stains and odors.
It is a gentle and safe option since it does not feature chlorine or any bleaching agent/chemicals, and it is safe to use around pets and children.
Unlike other products, the product does not leave any hazardous propellants, or residues behind.
This carpet cleaning solution is enzyme activated, and it is designed to remove stains that are embedded deep down in your carpet.
Once the solution gets into contact with the old pet urine and other stains, its enzymatic bacteria is activated and it starts tackling the ammonia crystals and organic matter until they are eliminated.
Apart from old pet urine and odors, this carpet cleaner can also be used to deal with pet pop, vomit, coffee spills or other organic spills.
The effectiveness and safely of this product has earned it an approval by the trusted Carpet and Rug Institute.
Use it on any type of stain, and it will leave your carpet spotless, odorless and get rid of pet urine smells in your house.
What we love most about this formula is that it`s versatile, being suitable for use on various different surfaces.
Whether there`s a stain on your carpet, clothing, kennel, furniture, or anywhere that a stain can happen, you can use this product for guaranteed results.
Pros & Cons
Non-toxic.
Completely bio-degradable.
Completely eliminates odors.
Versatile – Can be used to remove stains from garments, furniture, carpet, mattresses, etc.
Has a strong odor.
2. Bissell 78H6B Deep Clean Pro 2X Shampoo 
All products of Bissell Company undergo an evaluation by the Environmental Protection Agency (EPA).
This carpet shampoo has evaluated and found to be safe for pets, families, workplaces and the environment.
Therefore, you can always expect a performance-oriented product.
The Bissell 78H6B has proven unbeatable when compared to other similar formulas within its price range.
What separates this Bissell product from the rest is the fact that it contains at least 2X the cleaning agents of other products, making it more effective than your typical cleaning solution.
You can use this cleaning solution with your upright deep cleaning machine, whether you own the Hoover PowerScrub, Rug Doctor or Bissell.
Read about some great choices of portable and upright carpet cleaners
What many users love most about this product is the convenience that it offers when removing a pet stain from your carpet.
For instance, this product allows you to remove a permanent stain within a period of only 30 seconds.
Apart from pet stains, this stain cleaner also tackles grass, mud, blood and other tracked in stains.
Pros & Cons
Economical.
An appealing smell akin to that of a fabric softener.
Quick action (remove stains almost immediately).
Softens the carpet fabric.
Safe for pets and kids.
Can froth heavily.
3. Hoover PETPLUS Concentrated Pet Stain Odor Remover
The Hoover PETPLUS is formula is a concentrated and enzyme enhanced detergent solution that will remove and deodorize pet odors, and stains from your carpet.
This formula is free of toxic elements, is septic safe and phosphate-free, making it safe for use around children and pets.
It provides a deep clean of old pet stains on carpets, upholstery, and car interiors.
This cleaner penetrates deep into the carpet to eliminate stubborn stains and odors, leaving the surface smelling fresh with a cotton breeze scent.
What most pet owners like about this carpet cleaner is that it does not affect the orientation, color or texture of your carpet.
Hoover PETPLUS concentrated formula is manufactured in the United States.
Pros & Cons
100% biodegradable.
Safe and non-toxic.
Pleasant fragrance.
Phosphate free.
Some customers say that it doesn't work well at deodorizing.
4. Biokleen Bac-Out Stain & Odor Eliminator 
The Biokleen Bac-out is a professional natural cleaning powder that is all natural, and it's also available as a spray.
It provides an excellent way to keep your carpets free of stains, dirt, and grime. This carpet cleaner is gentle on the carpet fabric, mattresses, car interiors and furniture.
The natural ingredients in this product are plant-based extracts of citrus, grapefruit seeds, and plant-based surfactants, which are effective in cleaning the tough stains and odors trapped in or on your carpet.
It does NOT contain chlorine, ammonia, phosphate, petroleum solvents, glycol, or alcohol.
It eliminates the odors, leaving a fresh and pleasant smell.
Since the product is all natural-based, it does not leave any toxic residue, and it does not release any harmful substances.
This makes the cleaning solution an ideal option for homes with kids and pets.
What is unique about this pet cleaner is that it is uniquely prepared for use in heavy traffic and commercial areas because it always yields the best results, while keeping the environment safe.
Pros & Cons
Non-toxic.
Uses natural plant-based extracts.
Excellent choice for cleaning high-traffic areas.
Can be used as a deodorizer.
There are complaints about the packaging.
5. Bubbas Super Steamer Carpet Cleaner
For odors, especially pet urine odors, the Bubbas Super Steamer Carpet Cleaner is a great product designed for pet owners.
The cleaning solution offers commercial grade cleaning, by removing tough stains and odors hidden deep inside your carpet.
This product is excellent at lifting the smell from any carpet and upholstery, and works almost immediately.
This effective power might be attributed to the rather strong smell of the product, but which disappears not long after the carpet has dried.
When it comes to stain removal, the product does not skimp either, and is fast and effective at removal of stains and grime.
You can use this formula to clean a variety of stains including pet stains, poop, blood, coffee stains, and many type types of hard-to-crack stains.
Customers who have used this carpet cleaning solution on pet stains such as old urine and poop say that it does a really great job by completely removing odors and stubborn stains.
The only complaint is the initial strong smell, but which clears quickly leaving a fresh sparkling clean surface.
Pros & Cons
Easy to use.
Economical.
Offers commercial grade cleaning.
Eliminates old pet urine odors quickly.
Strong smells that lasts for some time after cleaning.
How To Remove Pet Stains From Your Carpet
If you are lucky to notice urine stains before they dry up, you can remove the stains and odors quickly using a mixture of carpet cleaning solution and water.
However, for old pet urine stains, you will have to do some extra work to at least get your carpet back to its normal condition and remove the odors.
How To Remove Wet Pet Urine From Carpet
The longer pet urine is allowed to stay on the carpet, the worse the stain and odor will become.
Therefore, at the very first sign of dog or cat urine on the carpet, you should take immediate action to clean up the mess.
The good thing is, wet dog urine on the carpet is much easier to remove than urine that has dried up.
Follow the following steps to remove wet pet urine stains from the carpet:
Spray water onto the urine to help dilute it.
Place a few paper towels on the soaked section of the carpet to absorb the liquid.
Cover the paper towels with several layers of old newspapers. You can also place some layers of newspapers below the carpet if it is possible.
Press or stand on the layers of paper towels and newspapers to absorb as much urine as possible.
If the paper towels and newspapers get soaked, remove them and repeat the process again until the stained section is dried up and there are no signs of wetness on the paper towels.
Once the soaked section of the carpet has dried up, use a wet vacuum or just rinse the section with cool water.
How To Remove Dry Pet Urine From Carpet
Unlike moist pet urine stains, older stains are often challenging to remove since they have soaked for a longer duration, and dried up.
This means that they require some extra effort and resources than moist pet stains.
Here are the steps you should follow to clear old pet urine stains and odors:
Soak the stains thoroughly with water. If you have a vacuum cleaner, use it to saturate the carpet with clean water and dry up the surface.
Apply your odor neutralizer on the cleaned area according to the manufacturer's instruction. Different solutions have varied instructions on the amount of the solution that you should use.
After applying the solution, let it dry completely. If the carpet is still stained, apply your stain remover to the surface.
If stains have soaked into the carpet underlay and the smell persists, you may need to replace that section of underlay.
NB: Just to be sure you are using the right solution, first test the solution on a low traffic area that is hidden from the public view. If it does not stain the carpet, continue using it
Sources