Carpet Cleaning Machines To Remove Pet Urine (In 2022)
We've all experienced that time when we visited someone's house and were taken aback at the look and smell of their pet urine stained carpet.
That ​smell alone is enough to kill your appetite, ​and makes you want to leave as soon as humanly possible! 
If you can't stand ​experiences like this, then others visiting you will feel the same.
You may have pets living inside your house, but it doesn't mean you can't keep the carpet and lounge clean and smelling fresh.
The best way to maintain the cleanliness of your carpet and upholstery is by using a carpet cleaning machine designed to remove pet urine stains and ground-in dirt.
These machines are built to collect pet hair, remove odors, and keep your house smelling fresh.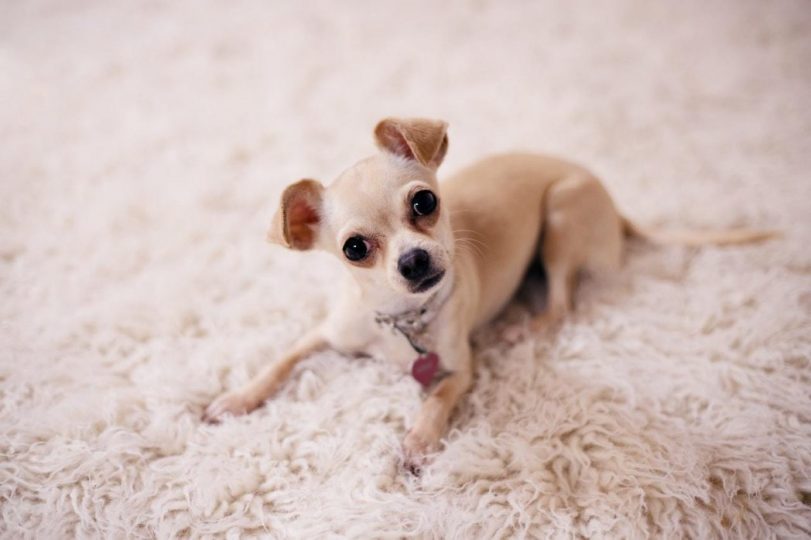 Our website is reader-supported through affiliate programs. If you purchase via links on our site we may earn a small commission.
The ​carpet cleaner that I found to perform better than other machines is the Rug Doctor Mighty Pro X3.
This machine is used by commercial carpet cleaning companies due to its great capability and high suction power. Though expensive, this machine is perfect for cleaning large spaces or multiple rooms.
Our Top Picks
5 Great Carpet Cleaning Machines For Pet Urine
1. Rug Doctor Mighty Pro X3
The Rug Doctor Mighty Pro X3 is an ideal choice if you have a large cleaning area (large sitting area or several bedrooms).
Apart from removing pet stains, the Rug Doctor Mighty Pro X3 extracts water from carpet, leaving them near-dry.
Commercial cleaning companies love this cleaning power due to its professional look, high cleaning power and effectiveness in removing old pet stains.
Attachments
Stair tool.
Upholstery tool.
A 17-oz Urine Eliminator Trigger Spray.
A 40-oz bottle of Pet Carpet Cleaner Formula.
Functionality
The manufacturer did an excellent job by combining various features that customers are always looking for in pet carpet cleaners.
From the powerful motor, deep cleaning, and excellent pet features, this machine is quite impressive.
During carpet cleaning, the carpet cleaner permeates the carpet or rug so that the cleaning solution and water reach the carpet fibers, removing stubborn stains instantly.
Also, the powerful suction power helps in removing water from the carpet, speeding up the drying process.
Ease of Use
The machine is easy to use and operate, but is a bit heavy at 39 pounds.
To compensate for the weight of the Rug Doctor, the manufacturers included an adjustable handle so you don't have to keep bending over as you move around.
The long power cord is a plus for the machine, and we found this cleaner to have one of the longest from the carpet cleaners we tested.
Accessories
The Rug Doctor comes with different additional tools such as the stair and upholstery tool.
The upholstery tool is very useful for cleaning your furniture, car, and other hard-to-reach places.
Included in the package are a bottle of pet formula carpet cleaner, and a pet urine eliminator trigger spray.
Durability
Rug Doctor Mighty Pro X3 Pet Pack is a quality carpet cleaner built to last.
The manufacturer gives a generous warranty of 5 years.
Pros
Long power cord.
Wide cleaning path at 10.8 inches.
Includes a pet formula carpet cleaner and urine eliminator spray.
Less storage space required.
Two separate water tanks.
Vibrating Cleaning Brush to lift dirt from the carpet.
Cons
Heavy.
Cleans only in one direction.
See how the Rug Doctor Mighty Pro X3 Pet Pack works:
Bissell ProHeat Revolution Pet Pro
Not many carpet cleaners have such pet specific features, making the Bissell Revolution Premier Pet stand out from the rest.
The Bissell carpet cleaner has several innovative features such as a pet hair basket, and pet stain tools.
The shipping weight of the machine is 31.8 pounds while its dimensions are 23.5 x 14 x 25 inches.
Key Features
12 Rows of Dual Rotating Power brushes
With more Power brushes than other Bissell models, the 12 rows of counter-rotating power brushes designed to loosen stubborn stains on carpets.
Heatwave Technology
The Heatwave technology in the Bissell Premier Pet carpet cleaner helps maintain constant water temperature throughout the cleaning process.
Just add warm water to the carpet cleaner, and the Heatwave Technology works to retain the water temperature.
Although cold water works well in carpet cleaning, using warm water during deep cleaning offers better results in removing stubborn stains.
Large Water Tank
The Bissell DeepClean Premier Pet cleaner is one of the few carpet cleaning machines with a water tank more than 1 gallon.
This cleaner has a 1.25 gallon, which means that users will not need frequent trips to the sink to refill the tank.
However, the carpet cleaner lacks separate tanks for clean water and dirty water.
Instead, the carpet cleaner stores clean water in a pouch that decreases as more water and detergent formula is used up.
EdgeSweep
The majority of carpet cleaners clean the inner section of the carpet leaving the edges to be cleaned manually, and this may be a huge workout if you have a large carpet area.
With EdgeSweep, you can clean up to the edge of the carpet.
Pet Hair Basket
The pet hair basket is a great innovation in the Bissell Premier Pet model, a feature that is missing in other popular models.
The pet hair basket works by capturing pet hair before it clogs the water tank.
Surround Suction
The surround suction feature fastens the carpet drying time by sucking up as much water as possible during the cleaning exercise.
This feature helps in drying surfaces fast by the time the carpet cleaning is complete.
Cord Length
This carpet cleaner comes with a 22-feet cord length that is adequate to cover a large carpet area without having to unplug every time.
Warranty
The carpet cleaner comes with a three year limited warranty, and Bissell has an excellent support system and helpful online tutorials on their website.
Pros
Pet Hair Basket.
12-rows of Dual Rotating Brushes.
Heatwave Technology to maintain water temperature.
Pet Stain Trapper Tool.
Cons
3. Hoover Power Scrub Deluxe FH50150 (Best Lightweight)
The Hoover Power Scrub Deluxe FH50150 combines various excellent technologies and features to make carpet cleaning relatively easy.
This carpet cleaning machine is popular with pet owners due to its lightweight nature and effectiveness in removing pet stains.
It is designed to clean carpets and fabric surfaces efficiently, leaving a dry surface thanks to its forced heated air mechanism.
The carpet cleaner's rotating brushes and suction tools are effective at lifting dirt and removing stains from carpets, and the attachments such as the crevice tool can also be used to clean your car.
Features
Weighs 19 pounds.
8-inch ready-to-use hose and upholstery tools to clean hard-to-reach areas.
Forced heated air for a quick dry time.
Automatic detergent mixing system.
Patented SpinScrub technology with rotating brushes spins for constant carpet contact.
Easy to fill, empty, and clean.
Wash/Rinse Selector.
Additional Tools
Stair tool.
Upholstery tool.
Crevice tool.
SpinScrub Hand Tool.
Functionality
The Hoover Power Scrub Deluxe Carpet Cleaner excels in removing pet stains, with a wide cleaning path of 11.24' which is wider than most carpet cleaners.
The spinning brushes loosen dirt deep in the pile.
The power scrub suction is useful in removing water and excess moisture allowing carpets to dry quickly, and the forced heated air speeds up the carpet drying process.
Though the additional tools have mixed reviews, the majority of buyers agree that they are effective in cleaning carpets and the hard-to-reach areas.
Ease of Use
The Hoover 50150 carpet cleaner is one of the easiest to assemble and operate, with its lightweight nature making it easy to move around.
This carpet machine has an automatic detergent mixer, and you just need to push the trigger in cleaning mode. Once the dirty water tank fills, the machine automatically switches off.
Unlike other models, this machine allows DIY maintenance.
For example, once you have finished cleaning you can detach the brushes and remove the debris collected from your carpet.
The machine has several handles that make it easy to lift and carry around.
However, some of the buyers say that the 20-foot power cord is too short, especially when you have a large cleaning area.
Additional Accessories
The Hoover Power Scrub Deluxe comes with several accessories including the crevice tool, stair tool, upholstery tool, and SpinScrub hand tool.
There is a tool storage bag included to store the accessories.
It also comes with a free bottle of Hoover Clean Plus all-purpose carpet cleaner and deodorizer.
Durability and Warranty
The Power Scrub Deluxe Carpet Cleaner is a good budget machine, and most buyers are satisfied with how this machine works.
However, there were a few complaints of minor leakages from this cleaner.
This carpet cleaner comes with a 2-year warranty.
Pros
Easy to assemble and use.
Lightweight.
Extra tank for detergents.
Detachable brush heads for easy cleaning.
Can use either hot or cold water.
Quick drying time.
Series of useful accessories.
Cons
Some leakage issues.
Small water tank.
Short power cord.
See the Hoover Power Scrub Carpet Washer in action:
4. Rug Doctor Pet Portable Spot Cleaner (Best Portable)
The Rug Doctor Portable Spot Cleaner is a small-sized but powerful carpet cleaner that gets rid of stubborn pet stains and spots around the house.
The machine is a product from Rug Doctor, a company that has been in existence over the last three decades, and is famous for producing powerful professional-grade carpet cleaning machines.
The Rug Doctor Portable is a great option for pet owners, and comes in handy for cleaning up dirty spots from pet paws and kids muddy shoes!
This portable unit competes relatively well with other portable carpet cleaners, however is not intended for cleaning large areas.
Key Features
Lightweight
The machine is portable and weighs only 15 pounds when the tanks are empty.
Motorized Brushes
One of the things I like about the Rug Doctor Spot Cleaner is the motorized brush head that makes deep cleaning a quick and easy task.
The machine is one of the few brands that comes with a motorized brush.
The technology helps in removing deep down dirt and debris that cannot be removed using the standard brushes.
High Amp Motor
Rug doctor portable spot cleaner has 10 amp, 1200 Watt motor that translates to high suction power and cleaning.
Other portable carpet cleaners have less motor power, making Rug Doctor a stand out.
Large Cleaning Path
The Rug Doctor Spot Cleaner has a 4.5 inches cleaning path that allows the carpet cleaner to cover large surface areas when cleaning.
Two-tank system
The spot cleaner comes with two large water tanks, one to store clean water while the other one holds dirty water.
The clean water tank has a water capacity of 64 Oz while the dirty water tank has a capacity of 38 Oz.
Due to the large size of the cleaner tank, few refill trips are needed.
2X Suction Power
The 10 amp motor of the Rug Doctor carpet cleaner gives it high suction power at the same level as full-sized carpet cleaners.
A powerful suction helps lift more dirt and dirty water from the carpet, speeding up the carpet drying time.
Rug Doctor Formula Detergent
The Rug Doctor Portable comes with an 8 Oz trial size detergent formula, it won't go far, but is enough for a few small spots to get you started.
Performance of Rug Doctor Spot Cleaner
Despite being small-sized, this portable carpet cleaner has great features and tools that give it superior performance compared to other portable carpet cleaners.
The motorized brushes, high amp motor, powerful suction, and large cleaning path make cleaning easy and effective.
Ease of Use
The Rug Doctor Pet Portable carpet cleaner comes fully-assembled and ready to use, and new users find it friendly to operate.
The Rug Doctor Portable can easily be moved around while cleaning due to the retractable handle and wheels, weighing less than 19 pounds.
The two water tanks are easily removable for emptying dirty water or refilling with clean water, making the machine easy to maintain.
Durability
The Rug Doctor Portable Spot Cleaner is well-engineered to last for an extended period, as with all Rug Doctor machines.
This pet carpet cleaner comes with a 2 year limited consumer warranty.
Pros
Lightweight.
Affordable.
Powerful Suction.
Removable two-tank system.
Extendable handle and wheels.
Cons
Not ideal for cleaning entire rooms.
How to Set Up and Clean Rug Doctor Spot Cleaner:
5. Bissell SpotClean Professional 3624
If you are looking for a lightweight carpet cleaner for your home, vehicle, or furniture, Bissell SpotClean Professional is one of the best choices, weighing less than other portable machines.
This Bissell Portable model is ideal for cleaning small spills or pet stains, and comes with useful features and attachments that make it perfect for spot cleaning.
The majority of pet owners say that the SpotClean Pro is useful for spot-cleaning pet mess, with some using it as a sanitizer (although not specifically designed for this purpose).
Key Features & Attachments
Lightweight – weighs 13 pounds.
Capable of deep cleaning stains on carpets and fabrics.
22-foot power cord.
5-foot flex hose to clean hard to reach areas like stairs.
Comes with a 3-inch stain removal tool, and 6-inch stairs tool.
2X Professional Deep Cleaning Formula.
Large tank size-3/4 gallon.
Functionality
One strong feature of this carpet cleaner is its strong suction.
With a 5.7 amp motor, the machine offers good suction power, and combined with the stain removal tool, helps in dealing with old stubborn stains.
Some users have been surprised how well this carpet cleaner works on old stains better than larger heavier models.
Ease of Use
The Bissell SpotClean Pro 3624 is very simple to use due to its lightweight build.
The machine has a single water tank with clean and dirty water compartments that detaches easily for emptying and refilling.
One downside of this machine is the lack of wheels.
Some customers say that adding wheels to the cleaner would make cleaning easier, while others say wheels are no needed since the machine is lightweight and can be carried around easily.
Durability of Bissell SpotClean
The majority of owners use the Bissell SpotClean to spot-clean high traffic areas, and when used as intended (ie. not for cleaning large areas) it lives up to Bissell's quality standards.
Pros
Powerful suction.
Lightweight.
Long power cord.
Requires a small storage space.
2-years warranty.
Cons
See the Bissell SpotClean Professional in action:
How To Choose A Carpet Cleaning Machine For Pet Urine and Stains
One of the most important factors to consider when selecting the best carpet cleaning machine for pet urine, is how well it performs.
You obviously want a carpet cleaner that combines top-of-the-line features that give you value for your money and revitalize your carpet from the effects of everyday living.
Before recommending the carpet cleaners, we tested them for performance and other important aspects to ensure we remain with the best. Here is what we found out:
Functionality
We tested how well the carpet cleaners performed by putting them through some of the toughest stains such as pee and poop-stained carpets.
We also tested how well they extracted water from the carpets.
Most of the carpet cleaners tested performed well, and they were able to remove the carpet stains within one cleaning session.
In extracting water from the carpets, the carpet cleaning machines worked pretty well since they drained almost 100% of the water.
When selecting a carpet cleaner with high performance, go for those with higher amps.
High amps mean that the machine has more power than those with low amp.
Also, carpet cleaners with one or more roller brushes were able to reach ground-in dirt and stains, leaving the carpets fresh and clean.
Ease Of Use
We tested the convenience of the carpet cleaning machines by comparing the weight and how easy it was to move it forward and backward.
Also, we examined how much time we took to clean and extract water from a medium to large sized carpets.
Carpet cleaning machines with bigger tanks were more efficient when cleaning a large surface area since you don't need to switch out water often.
Also, carpet cleaners with a large cleaning path cleaned a large area faster than those with a small cleaning path.
If your house has carpeted staircases, a carpet cleaner with a long cord is more convenient.
Carpet cleaning machines with a heated air dryer were more efficient in drying up carpets after extracting water from them.
Lighter carpet machines were more convenient than heavy cleaners since we could move them back and forth when doing the cleaning.
Additional Accessories
The attachments that come along with your carpet cleaning machine make carpet cleaning easier for you.
The extra pieces can also make your carpet cleaner perform other cleaning tasks apart from just carpet cleaning.
For instance, a carpet cleaning machine that comes with an upholstery tool can be used to clean the couch and chairs.. A long cord can make staircase cleaning much easier.
Some carpet cleaners come with a crevice tool that helps you in cleaning corners and other hidden areas that the cleaner cannot reach. Also, some cleaners have an extra bag for storing necessary tools and accessories.
Warranty Period
Just like other machines, carpet cleaning machine manufacturers give a guarantee period in case your machine becomes defective, or you need replacement.
The majority of manufacturers of the cleaning machines we have reviewed provide at least a one year warranty period.
Some of the manufacturers have support centers across the United States, so you can check around instead of waiting for an extended period to have your machine repaired.
Recommended Features
A long power cord and hose
A carpet cleaner with a long power cord (at least 15-foot or more) allows you to clean a large area without having to unplug and move to another section.
A long hose (at least 5-foot or more) makes it easy to clean stairs and hard-to-reach areas without carrying the carpet cleaner around.
A large Water Tank
Nobody wants to make trips to the sink every few minutes.
A good carpet cleaning machine should have a large tank that holds adequate water for the cleanup, with only a few refills.
Additional Tools
Some carpet cleaners come with additional tools that make thorough cleaning easier.
Examples of these tools include a crevice tool, upholstery tool, stairs tools and a scrub tool.
Powerful Suction
The best carpet cleaning machine for pet urine should have a powerful suction power to extract water and extra moisture from your carpet, leaving it relatively dry.
Some carpet cleaning models have a forced heated air that speeds up the drying time.