Omega Paw Self-Cleaning Litter Box: 2022 Review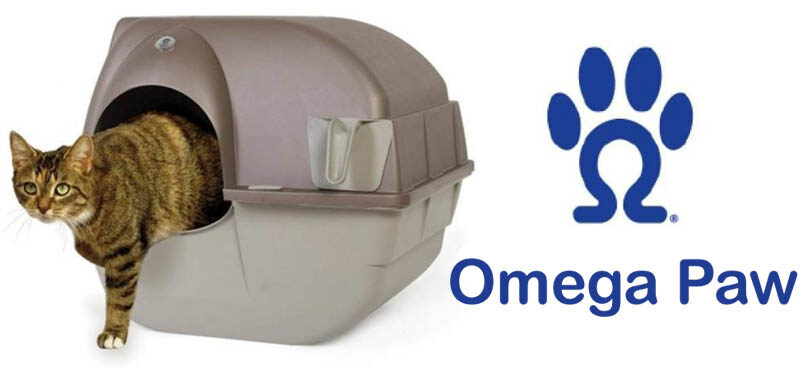 Ask any cat owner what their worst cat hygiene worries are, and dealing with cat litter will probably top the list.
Most cat parents just don't like scooping cat waste and cleaning out soaked litter at the bottom of the box.
If your cat gets repelled by strong smells coming from the litter box, they will likely find an alternative "litter box" to relieve themselves. The alternative could be the carpet, beneath the sofa or even in your bedroom!
Luckily, there are better alternatives that solve most of the litter box problems.
The Omega Paw self-cleaning litter box is a cheap litter box that eliminates the need to scoop the litter every time your cat poops, and is spacious enough to be used by large cats and multi-cat households.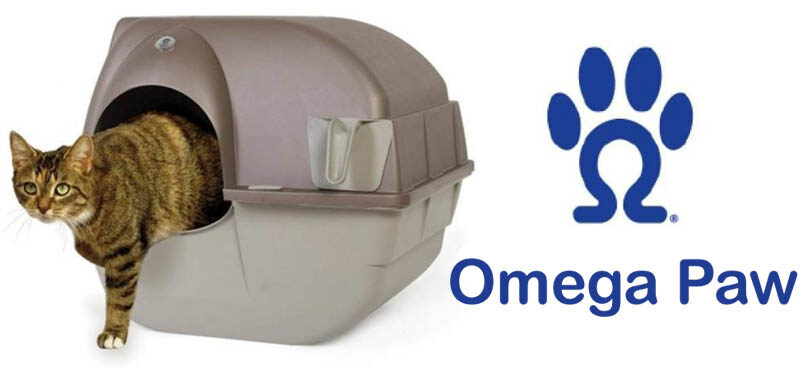 Our website is reader-supported through affiliate programs. If you purchase via links on our site we may earn a small commission.
Omega Paw Self-Cleaning Litter Box
While this litter box is not fully automated, it achieves almost the same function without using any electrical power.
This litter box does not have a machine and motor as is the case with other automated litter boxes.
Instead, it features a unique design that keeps the litter box free of poop.
All you have to do is to roll the litter box to its side where the waste compartment is located.
The waste clumps in the litter will then get sifted into the waste container, so that when you roll it back to its original position, only the clean dry litter will return to the holding area.
Next, take out the waste container and empty the clamps into a trash container.
This simple process gives you a clean litter box, without trashing the whole litter or scooping the litter clamps manually.
Features of Omega Paw Self-cleaning Litter Box
This litter box is highly popular among cat owners, and it is a best seller on some of the biggest e-commerce stores.
Large Size
The Omega Paw litter box is large in size, and it is designed to fit any of the large-sized cat breeds such as Ragdoll, Persia and Maine Coon, also making it an ideal choice for multi-cat households.
Lightweight
This litter box is lightweight, making it easy to roll the litter box to its side to separate the waste clumps from the clean litter.
Though lightweight, this litter box is stable, and will not roll when the cat is doing their business inside.
Self-Cleaning
This unit is designed to self-clean itself using a roll and clean mechanism, however by self-cleaning, we do NOT infer that this unit is automated.
You have to perform some manual tasks such as rolling it to the side to sift the clean litter, and disposing of the wastes collected in the pull-out waste compartment.
Innovative Design
The Omega Paw Self-cleaning litter box features a unique and superior design that allows it to do almost the same function as automatic litter boxes – but at a much lower price.
It comes with a patented grill which separates the waste clumps and clean litter, allowing you to use the clean litter again rather than having to buy new litter every time you empty the litter box.
All the wastes are deposited in a pullout tray that you can remove and dispose of the waste.
This helps you to save money by not needing to replace the litter so often.
Privacy Hood
Most cats are shy by nature, and many will not do their business in a place that is open to the public eye.
Instead, they prefer doing their things in private, and this litter box solves this problem by providing a privacy hood.
No Power Required
Most self-cleaning litter boxes require electricity in order to function, but the Omega Paw litter box is free-standing, and can be placed anywhere, with no need for a power outlet or batteries.
Easy Assembly
The Omega Paw Roll N Clean litter box is easy to assemble, and comes with an instruction manual that explains the step-by-step process of assembling the parts.
Most cat owners say that it took them less than 7 minutes to put everything into place.
Budget pricing
The Omega Paw self-cleaning litter box is favorably priced compared to other comparable litter boxes.
Compared to traditional litter boxes where you have to manually scoop the treasures buried under the litter, this litter box costs a little more.
However, taking into account the additional features such as the roll and clean mechanism, privacy hood and spacious nature, this unit is definitely worth the price. 
Drawbacks Of The Omega Paw Litter Box
While this self-cleaning litter box has won the hearts of many cat owners, there are certain features that some cat parents would like to see fixed or improved.
Does Not Fully Contain Odors
Although the manufacturer does mention that this unit helps control odors, it does not meet the expectations of cat parents looking for an odor-control mechanism.
The unit lacks charcoal or other odor-filtering materials that help contain cat poop odors.
Adding filters can help manage the strong odors coming from the litter box.
Check out our review of top rated litter boxes for odor control
Plastic Material Not Durable
This Omega Paw Roll N Clean litter box is constructed using a thin plastic that has caused problems with earlier models.
There have been complaints that the plastic breaks easily when it makes contact with a hard surface such as concrete walls.
UPDATE
We found that the manufacturer took these complaints into consideration, and made improvements on the design.

The plastic material is now sturdy and more dense than before, and a sunken section at the top to reinforce it when rolling it over to sift the wastes.

However, the current design still does not include odor-filtering materials.
Should You Buy This Litter Box?
The Omega Paw self-cleaning litter box is best suited for a cat parent looking for a budget low-tech, low maintenance litter box that makes daily waste removal easier.
If you are a person who travels a lot and rarely gets time to clean the litter box, then this litter box may not sufficiently meet your demands.
If you're looking for a fully automated litterbox that takes care of everything, I recommend the Petsafe Scoopfree Litter Box, or Littermaid which are designed to automate the cleaning process.
Check out our reviews of some great self-cleaning litter boxes here.
There is less effort required from you, since they come with a disposable tray that you can pull out and dispose of after a week or two, depending on how many cats you have.  
Quick Look
Pros
Favorable pricing.
No power connection needed.
Privacy hood for shy cats.
Large-sized and spacious for large cats and multi-cat houses.
Unique self-cleaning design that makes cleaning hassle-free.
Easy to set-up.
Cons
Not completely automatic, and there is some manual effort required.
Not effective in odor control (lacks odor-reducing filters).
Requires some additional space outside the box to allow rolling.
See More Cat Litterbox Articles
Sources
https://pets.thenest.com/use-charcoal-absorb-litter-box-odors-12766.html