5 Best Cat Foods To Prevent Shedding & Dandruff (Made Easy)
If you been a cat parent for long then you have no doubt had to deal with the layer of house fluff that is your cat's constant shedding of hair.
Whether it`s on the rugs, furniture, or any other area – shedding is part of a cat`s lifestyle and they are damn good at it!
However if your cat suddenly starts losing large amounts of fur, or exhibits a dull dry coat with bald spots and raw itchy skin, their shedding could be an indicator of an underlying issue.
These could include things such as stress, infection, allergy, or diet.
Changing your kitty's diet can help address a couple of these issues.
We have chosen some food varieties below that can reduce the chance of allergic reactions for your cat, also promoting a healthy coat and supporting their immune system.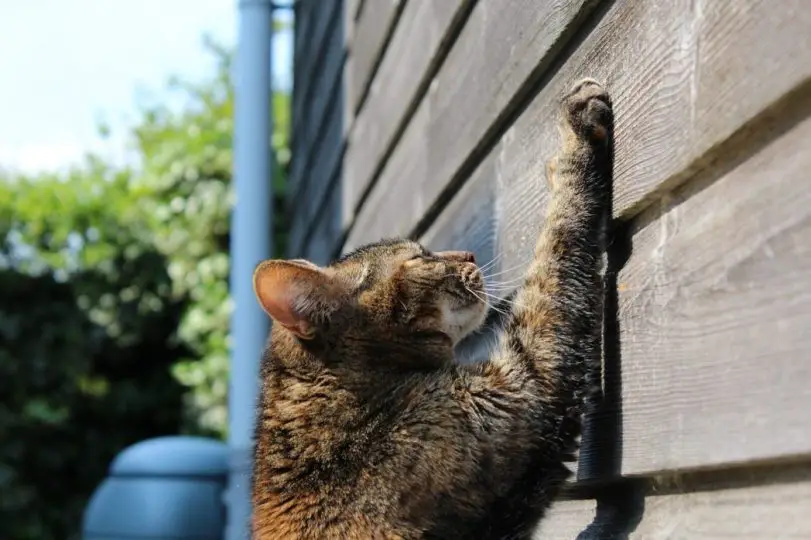 Our website is reader-supported. We research all reviewed products carefully to give you the best choices possible, and if you buy via links on our site we may earn a small commission.
Our Top Picks
Common Signs and Symptoms of Cat Shedding
Cats are heavy groomers, and you will frequently notice lose hair on your carpet.
However, excessive cat shedding is abnormal, and you should attempt to find out the exact cause of the problem.
Some Early Signs of Cat Shedding
Continuous scratching.
Dry itchy skin.
Redness on the skin.
Bald spots and raw skin.
Typical causes of cat shedding/excessive hair loss
Allergies
Some cats may be allergic to certain ingredients, and if ingested, these ingredients trigger allergic reactions in cats.
Diabetes
Diabetic cats may experience excessive hair loss due to the deficiency of some nutrients in the body.
Parasites
Common parasites like fleas and worms often cause irritation in cats and this results in excessive scratching. The end result of the excess scratching is hair loss and a dry itchy skin.
Poor Nutrition
Some diets are so poorly constituted that they do not have the proper nutrients balance that cats need. Ideally, cats need a high proportion of real animal proteins as well as essential vitamins and nutrients.
Feeding your cat with ingredients such as grains, gluten, and plant proteins will leave your cat deficient in certain nutrients that they need to maintain good health.
Insufficient Water
Cats do not have a natural appetite for water, as they do for protein-rich animal proteins.
If you give your cat lots of dry cat food without providing sufficient clean drinking water, your cat will get dehydrated and can experience a decline in the skin health. Your cat will appear dehydrated and have dry skin.
Best Cat Food for Shedding- Top 5 Picks
1. Weruva Grain-Free Canned Cat Food (Editor's Choice)
Preventing and controlling the shedding of your cat is now easier, thanks to Weruva Grain-free.
This meal is not only an excellent choice for promoting a better health system for your cat and prevent shedding but is also a great alternative to your common cat food.
It is prepared with the protein-rich cage-free chicken as the first ingredient. However, it`s not your regular raw chicken; this meal features top quality muscle meat which is sourced from breast meat.
The thinly shredded cage-free boneless, skinless chicken breast meat is nutritious at the very least and is akin to a cat`s natural whole prey diet.
Aside from the high-quality protein, what many cat owners love about this diet is that it contains low carbs and is a low-fat food, which makes the product an ideal diet for your cat.
Your cat will appreciate the minimally processed meal that is free of grains, gluten, Carrageenan and any other bad stuff that may trigger an allergy or affect the urinary tract.
Instead, the omitted fillers have been substituted with added vitamins, minerals, and anti-oxidants.
Some of the important minerals include ash, magnesium and phosphorous with proper moisture levels for the perfect pate.
This formula is however slightly expensive more than other brands. But don't be fooled by the price; the premium ingredients and the popularity of this diet among cat owners as the best cat food for shedding tells it all.
Top 5 Ingredients
Chicken (boneless, white breast), water, potato starch, sunflower seed oil, minerals and vitamins.
Guaranteed Analysis
Crude protein (min): 10%
Crude fat (min): 1.4%
Crude fiber (max): 0.5%
Moisture (max): 85%
Taurine (min): 0.05%
Pros
Made with protein-rich shredded chicken breasts.
Grain-free.
Also Ideal for cats with kidney infections.
Delicious.
Cons
Expensive but worth every penny.
2. Instinct Original Grain-free Recipe Natural 
Instinct Original Grain-free canned cat food is a complete and balanced nutrition that is ideal for cats of all ages, from kittens to senior cats.
It is prepared with 95% grass-fed lamb, turkey and chicken liver as the first ingredients. The other 5% comprises wholesome fruits and vegetables that are a rich source of vitamins, minerals and fibers.
This formula uses real animal proteins for strong lean muscles. It comes in a pate texture that all cats crave for, including the picky cats. Some of the wholesome ingredients include carrots, cranberries, pumpkin, blueberries, broccoli and parsley.
Although the recommended cat's nutritional profile should include animal proteins, these plant ingredients provide certain nutrients like fibers and select vitamins that are absent in animal proteins.
This diet is also supplemented with menhaden fish oil, which is a rich source of Omega-3 fatty acids.
This Instinct Variety formula is ideal for controlling and managing common food allergies that cause shedding.
Since it is prepared with mainly lamb and turkey recipes, it is ideal for cats that are allergic to chicken, beef and grains.
Also, this diet does not contain wheat, soy, potatoes, preservatives, artificial colors and flavors, which are known to trigger allergies.
Top 5 Ingredients
Lamb, lamb broth, turkey, turkey liver, and ground flaxseed.
Other ingredientsinclude
Montmorillonite clay (see its benefits here), eggs, peas, carrots, blueberries, broccoli, pumpkin, cranberries, tomato, cabbage, vitamins and minerals.
Guaranteed Analysis
Crude protein (min): 11%
Crude fat (min): 9%
Crude fiber (max): 3%
Moisture (max): 78%
Pros
95% real animal proteins that include lamb and turkey.
Ideal for cats with chicken, beef and grain allergies.
Rich in fibers that help in digestion.
Cons
Costs more than other comparable brands.
3. Purina Pro Plan Entrees in Gravy Cat Food 
Introduce your feline to extraordinary nutrition with the Purina Pro.
Featuring real chicken as the primary ingredient and complemented with rice, in a tasty gravy, the product delivers a highly nutritious and healthy package with each mouthwatering bite your cat makes.
Each serving of this delicacy is laden with nutrients that your cat needs to maintain a robust immune system.
This wet food is uniquely formulated to provide your furry friend with the energy they need for an active lifestyle.
The inclusion of essential nutrients is a bonus as they provide the support your cat needs for a healthy skin and coat.
It also contains important nutrients that boost the cat's immunity to guard her against common pet illnesses.
This Purina Pro Plan Entrée does not contain any fillers such as preservatives and artificial colors, it`s also grain and gluten free.
Top 5 Ingredients
Moisture for processing, chicken, wheat, liver, meat by-product and rice.
Guaranteed Analysis
Crude protein (min): 11%
Crude fats (min): 2%
Crude fiber (max): 1.5%
Moisture (max): 80%
Taurine (min): 0.05%
Pros
Savory with exceptional taste.
All ingredients are FDA-approved.
Best Budget.
Supports healthy skin and a shiny coat.
Cons
Comes with higher levels of phosphorous, and therefore not ideal for cats with kidney diseases.
4. Hill's Science Diet Hairball Control Cat Food 
There`s probably a no better way of transforming your cat`s life from the inside out, other than using the Hill`s Science Diet.
Packed with high-quality components, this product offers complete, balanced nutrition with real chicken as the primary ingredient.
The animal protein is complemented by natural fiber blend that help reduce hairball formation.
Tailored for the overweight cats, this product is highly digestible and has 14% fewer calories, which help in weight loss. It is ideal for adult cats.
Aside from the animal protein, this product is packed with natural ingredients plus vitamins, minerals, antioxidants for a healthy immune system, and is free of fillers such as preservatives, or flavors.
Top 5 Ingredients
Chicken, corn gluten meal, brewers rice, wheat*, and powdered cellulose.
Guaranteed Analysis
Crude protein: 40%
Crude fat: 9.6%
Crude fiber: 8.0%
Taurine: 0.23%.
Pros
Highly digestive.
Rich with natural fibers.
Protein rich real chicken.
Rich with antioxidants that boost the immune system.
Cons
Not grain-free.
Some customers have reported receiving older versions of this brand.
5. Wellness Complete Health Natural Dry Cat Food 
Wellness Health Natural cat food is yet another excellent option for controlling shedding in cats.
The product offers a natural and comprehensive hairball control by combining premium chicken protein, and other ingredients to naturally prevent hairballs and move the hair via the digestive tract.
This formula features a special natural fiber blend that is essential to maintaining an effective gut system. It helps move the already formed hairballs through the digestive system.
The vitamins and minerals in the meal are vital in maintaining shinier hair and a healthy coat.
Wellness Complete Health Natural dry cat food is all-natural and is free of wheat, corn, soy, preservatives, colors or meat by-products.
This formula is prepared in the United States in the company's food kitchens using ingredients sourced hygienically from North America.
First five ingredients
Deboned chicken, chicken meal, rice, ground barley, ground rice and whitefish meal.
Guaranteed Analysis
Crude proteins (min): 36%
Crude fats (min): 16%
Crude fiber (max): 5.75%
Moisture (max): 10%
Taurine (min): 0.2%
Pros
Great choice of cat food for shedding and hairball control.
Natural fiber blend.
Modestly priced.
Cons
It's not 100% grain-free.
Conclusion
Although it may be difficult to identify hair shedding problems in some cat breeds, you should carefully monitor your cat to see if there are patchy hair losses and increased scratching.
The main cause of shedding is the food they eat; the food may contain ingredients that trigger allergies in cats.
If that is the case with your cat, you should consider a gradual change of diet to the best cat food for shedding. These cat foods are usually prepared to give your cat a healthy skin and shiny coat.
However, if the cause of the shedding is an underlying health condition, you should contact your vet for clinical diagnosis and recommend the right treatment.
Read More About :