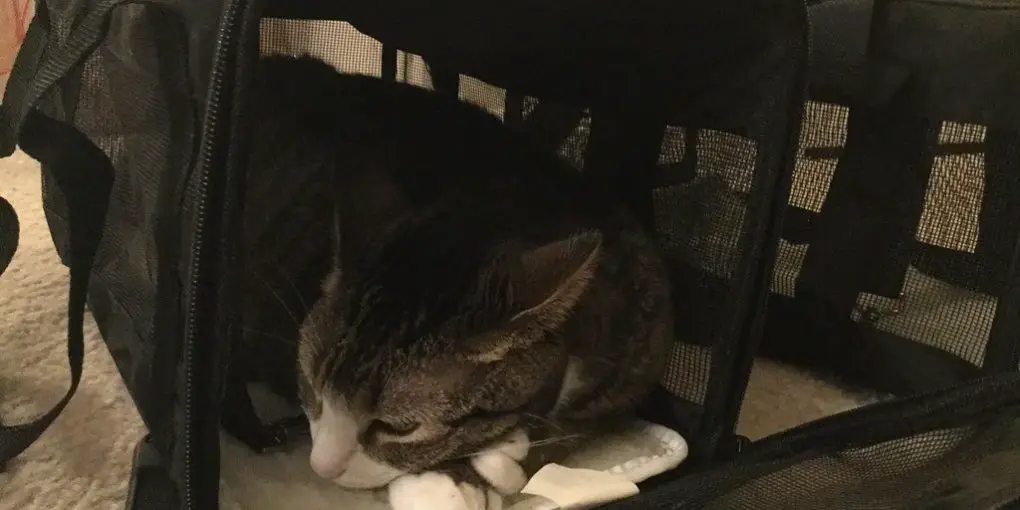 5 Best Cat Carrier for Nervous Cats Reviews for 2020
The worst fear that pet parents have is losing their pets while travelling.
More often, people choose to leave their little friends behind just to avoid the inconvenience of dealing with a nervous cats.
If you are going on a long distance travel or just visiting the vet with your nervous cat, you get the best cat carrier for nervous cats to restrain her.
These cat carriers are designed in a way that no cat can break away on her own. Instead, it safely restrains the cat and it is padded with a soft lining to protect the cat from any injuries.
They come in different shapes, colors, and sizes, and you can be sure to get a perfect cat carrier for your cat.
Cat carriers and cat harness no escape come in handy when travelling for long distances with your cat.
| | | | |
| --- | --- | --- | --- |
| Petmate Two-door Top Load Kennel | | | |
| AmazonBasics Soft-Sided Pet Travel Carrier | | | |
| Necoichi Ultra-Light Portable Cat Carrier | | | |
Here are the best cat carrier for nervous cats that we recommend for scared cats and long distance travel (air travel & car travel)
Best Cat Carrier for Nervous Cats-Top 5 Picks.
1. Petmate Two-door Top Load Kennel- Editor's Choice
Some pet owners prefer to buy a hard shell cat carrier rather than a fabric-made cat carrier. While both add convenience when traveling, a hard shell cat carrier provides added protection for your pet. If you are looking for a hard cat carrier, you should consider Petmate Two-door Top Load Kennel.
This pet carrier is made with heavy-duty steel and plastic material for enhanced safety, ventilation and visibility. It has nuts and bolts to secure the top cover (made with steel wire) once you have loaded your pet. Petmate pet carrier also has an easy squeeze latch door that makes it easy for the cat to get in and out.
The design of this hard shell pet carrier allows the pet to have extra space inside there to sit up and look around. However, this may be different for large pets that need enough space to sit up. Petmate is ideal for pets measuring 7" tall and 15" in length.
The only challenge that some pet owners have reported is the difficulty in assembling it once the item has been shipped. You may try a few times to get it into shape but if you follow the instructions, setting it up will take only a couple of minutes.
2. Sherpa Deluxe Pet Carrier ( Best cat carrier for nervous cats)
If you are looking for the best portable cat carrier that is built for convenience and comfort, you should consider Sherpa Deluxe Pet Carrier.
This cat carrier is soft-sided and comfortable to ensure your cat's comfort and safety whether you are driving on the road, by rail or by air.
It comes in various sizes, and the small carrier can hold up to 8 pounds while the large carrier cat holds 22 pounds. There is also a medium cat carrier that holds up to 16 pounds, depending on your cats' weight and measurement.
One of the unique features of Sherpa Deluxe Pet Carrier is the patented wire spring frame. This allows the carrier to be compressed to fit in the under-seat requirements. This features will come in handy during air travel since you would not have to worry about injuring your fur baby while placing the carrier under a seat.
If you need to carry extra stuff for your cat (maybe treats, leash or medicine), you can safely store them in the carrier's rear pockets.
The carrier also comes with a seatbelt strap to keep the cat tucked inside while in the clouds. The Guaranteed On Board policy gives you confidence that this pet carrier meets airline safety rules.
3. Necoichi Ultra-Light Portable Cat Carrier- Best Budget Cat Carrier
Having a squeezed budget should not be an excuse for risking your cat's safety. Necoichi Portable Ultra-light cat carrier is budget-friendly, and it is made with a steady fabric with well-ventilated mess walls.
Apart from being pocket-friendly, Necoichi cat carrier doubles as up as the most lightweight cat carrier in the market. This makes it ideal when you are traveling for short distances, or if you are looking to reduce the size of your luggage while traveling far distances. It can fold flat after use for secure storage.
Necoichi cat carrier features a teepee-like design that gives the cat ample space to stretch and sit up while ensuring that the cat is safe and comfortable. The heavy duty mesh panel keeps the cat secured inside the carrier while in transit. It accommodates up to 18 pounds.
4. AmazonBasics Soft-Sided Pet Travel Carrier-Best Cat Carrier for Long Distance Travel
The all-black AmazonBasics soft-sided pet carrier is specially designed to keep your furry friend secure and comfortable throughout the journey. The adjustable shoulder strap gives you the convenience of carrying your pet like ordinary luggage.
This pet carrier also features a spring-wire frame to help you fit the carrier under your passenger seat in an airplane or train. The front and top openings make it easy to load and offload the cat with ease. These openings have sturdy zippers to keep the carrier securely closed while traveling.
AmazonBasics Travel Pet Carrier has a washable fleece pet bed to allow the cat to enjoy several hours of sleep comfortably. If you notice that the pet is too squeezed inside there, you can remove the base platform to create extra space.
Although this cat carrier comes in several sizes, most pet owners say that it is ideal for small cats and dogs. It is suitable for smaller pets under 16 pounds.
5. Pet Magasin Luxury Soft-sided cat carrier- Best Airline-Approved Pet Carrier
Pet Magasin Luxury is a soft-sided cat carrier that has been approved for air travel. It is soft-sided to ensure that the cat remains safe even if it bumps around while in transit. If you carry your cat in a pet carrier that is not soft-sided, you risk causing injury and stress to your cat.
This pet carrier has a sturdy construction to keep the cat secured and safe. It is designed in a way that it holds shape when panels are zipped up. When not in use, you can fold it flat and store it somewhere ready for the next trip.
Pet Magasin is lightweight in nature and weighs only 2.2 pounds. It has mesh side panels to ensure a free flow of air and a padded sleeping bed for added comfort. The adjustable shoulder strap makes this pet carrier portable and easy to carry around like regular luggage.
Why you Need a Sturdy Cat Carrier
There several events that you will need to carry a cat carrier. They include:
Taking the Cat to the Vet
When taking your cat for checkup or to be treated, you should bring the cat in a cat carrier if you want to avoid chaos. You see, the vet's clinic is a busy place with lots of other dogs and cats seeking medical attention.
The last thing you would want to do is to carry your cat freely in your arms into a room full of dogs and cats and give the cat a chance to be aggressive. The result? More injuries, wounds, and blood.
Since vets already know the chaos that cats and dogs would bring to the clinic, most clinics have a policy requiring the animals to be restrained.
Cat carriers also apply when visiting animal shelters, orphanages, and national parks.
Long Distance Travel
Whether you are traveling by rail, road, or air, a cat carrier is an absolute necessity. For example, when traveling by road, an unrestrained cat may jump outside the window while the car is in motion.
The result would be several broken bones or even God forbid, death. If jumping out of the window is not one of the options, the cat may decide to play hide and seek with its owner and hide below the pedal, and before you realize it, you've already pressed the break too hard.
Apart from road travel, cat carriers are also important when traveling by plane. In fact, most airlines have a policy that states that pets should remain in their crates while on air. There are dozens of airline-approved cat carriers on the market that keep your cat restrained and secure.
Moving Houses
When movers are busy packing, moving and loading crates, the cat may get in one of the crates without your knowledge. You will be forced to turn the house upside down, knock on the neighbors' doors or search the surrounding bushes for the little kitty while the cat is hiding in one of the crates.
To avoid such agony, keep the cat in his cat carrier to allow the movers do their job.
Also, changing houses and moving into a new environment will cause stress to the cat. If not restrained, the cat may disappear in an effort to locate her usual abode. Lucky you if someone finds and takes him to an animal shelter. Keeping the cat in his carrier will not only keep him safe but also help him adapt to the new environment.
Staying in a Hotel
When staying at a hotel, the cat may take some time to adjust to the new environment. Keeping the cat in his carrier will keep the cat secure and prevent him from hiding in unfamiliar territories within the room.
If you have to allow the cat to walk freely, make sure all the windows and doors are closed. Also, a "Do Not Disturb" sign would help keep strangers or hotel staff from opening the window without your permission. Before opening the door, make sure the cat is securely locked in the carrier.
Taking the Cat to the Workplace
Some workplaces allow their staff to go to work in the company of their pets. The staff then leave their pets at a secure area before going to their work desk.
Enclosing the cat in a cat carrier will help prevent the cat from running away and also give the pet handler an easy time looking after the pets.
Emergencies
Emergencies come as a surprise, and you should be prepared to take immediate action when they occur. An emergency may be an earthquake, floods, gun attack or even fire in your building.
When an emergency occurs, you should quickly grab your cat and run to safety. Always have an available and ready-to-use cat carrier for each of your cats. You will be traumatized if you run away from danger and leave the cat behind because you were not prepared or you had not purchased the best cat carrier for nervous cats.