Ceramic Water Fountains (Do They Entice Cats To Drink?)
If you find your cat is not drinking enough, then a cat water fountain is a great way to entice your cat to drink more water.
These fountains recirculate the water, and this is beneficial to your cat for a few reasons:
Flowing water stays cooler.
Water stays fresh for longer when  flowing.
Cats are curious, they love sounds and moving objects.
Cats see moving water more easily, and love dipping their paws in it.
The taste of the water is better since it is aerated by the water movement.
While wild cats get their water or moisture from fresh-killed prey and streams, indoor cats are more dependent on satiating their dehydration from drinking water.
A normal routine is filling a water bowl and leaving it for your cat to quench their thirst.
However, cats have a low thirst drive and are picky drinkers by nature.
This can become more of an issue if your cat loves eating dry food much more than wet food, and can lead to health complications such as constipation.
Cats can be very particular where they like to drink, and what containers they will drink from.
​Want to read more articles ​about cat dehydration, constipation, and diagnosis? Check out the bottom of this post for links to some more articles.
Cat Drinking From A Fish Bowl
My cats love to drink water out of our large outdoor fish bowl, and sometimes even from some indoor plants in a water-filled planter!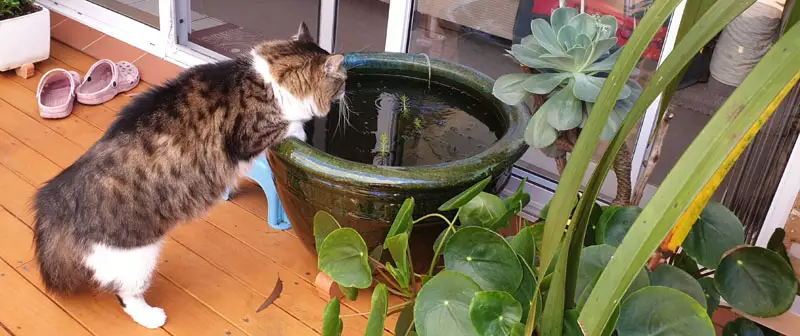 The best way to get your cat to drink more is to have many options available for them, and that way they can drink from the source most desired on that day of the week.
Can Cats See Still Water?
Cats can have difficulty seeing water in certain containers, and you may have noticed that your cat loves to drink running water from a bathroom or kitchen tap.
You may have also seen some cats stick their paw in water and lick the water off, it seems it all depends on their current mood – how unlike a cat!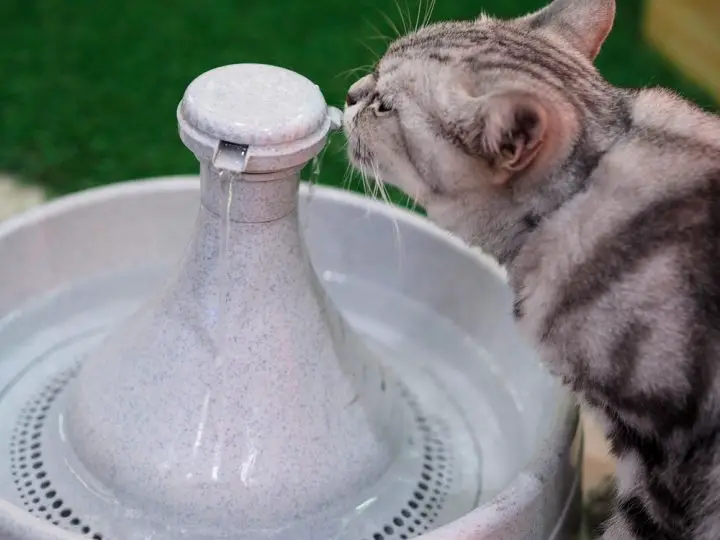 Enter the Cat Water Fountain
So how do you quench your kitty`s thirst?
Using cat water fountains sparks an interest in water even for the pickiest felines.
The sound and movement of water in the fountains captures your ​kitty's attention and piques their curiosity.
Cats seem to like running water, and this may be one reason they often play with still water before drinking it.
Their vision is quite different to us, and they don't have the ability to focus on close objects as well as we can, and this could cause them not to see stationary water in lower lighting conditions.
​If your cat loves to drink water dripping or running from a tap, then there is a very good chance they will readily take to a water fountain for their water source.
The benefit of a water fountain over a running tap is that you won't need to waste water, as the water recirculates and only needs topping up with fresh water as often as an ordinary water bowl.
See more tips on getting your cat to drink ​after the review section of this article.
Our website is reader-supported through affiliate programs. If you purchase via links on our site we may earn a small commission.
Our Top Picks
Best Ceramic Cat Water Fountains – Reviewed
1. PetSafe Drinkwell Pagoda- Editor's Choice
The PetSafe Pagoda is our top pick for the best ceramic pet water fountain, since this fountain fits perfectly in your kitchen and makes a classy complement for your décor.
Aesthetics aside, the PetSafe encourages hydration, thanks to the 2 free-falling streams of water.
They entice your cat to the running water and encourage them to drink more.
The replaceable carbon water filter in the fountain keeps the water fresh, removing bad odor, and taste.
As such, your pet will always have a flow of fresh and clean water, which is great for their health.
Like all the ceramic cat fountains, the PetSafe is dishwasher safe, easy to clean, and does not retain any odor.
Though the 70 oz capacity is by far not the largest holding capacity on our lists, it's adequate enough for multiple cats provided you add water periodically.
All good things have their limitations.
With Pagoda, you`ll have to bear with the splashing sound.
Though the motor is quiet, the trickling sound can be annoying for some people, while others find it pleasant.
If you think you can tolerate the splashy sounds, the PetSafe Pagoda might be a worthwhile investment for your pampered feline.
2. PetSafe Drinkwell Avalon 
The Drinkwell Avalon is yet another cat fountain from PetSafe with good features which will encourage hydration in your feline.
Like the Pagoda, the Avalon similarly comes with 2 streams of water, which add oxygen for freshness.
The signature feature of the Avalon is the double watering dishes on the cat fountain, and the two bowl levels increase the flexibility of this cat fountain.
The lower dish can be used by kittens, while the upper-level dish can be used by senior cats or felines suffering from arthritis.
Also, the 70 oz. Avalon uses an activated carbon filter to absorb contaminants and chlorine from tap water.
As such, your furry friend is supplied with odorless, clean, tasteless and fresh water.
And like all ceramic fountains, it`s extremely smooth, thus allowing an easy clean. Moreover, it`s heat resistant, therefore dishwasher safe.
Although the Avalon is a step up from the older Drinkwell models, it`s a shame that it does not come with a flow adjustment rate, whereas its predecessors had.
3. iPettie Tritone Ceramic Pet Drinking Fountain 
The iPettie Tritone is a high-quality cat fountain constructed from premium natural ceramic.
The ceramic is molded under high temperatures, thus improving the overall aesthetics of the fountain.
In addition to providing you with a reminiscent of fine ceramic, the Tritone is eco-friendly, non-toxic, and is not prone to mildew or mold.
Unlike the previous models, which come with dual-streams, the Tritone comes with triple free-falling design streams, which add oxygen to the fresh water, as well as attract your feline.
The dual filtration systems, which are a combination of carbon and chemical filtration is effective in cleaning a plethora of health hazards including pet hair and debris.
Similarly, it rids the water from any odor, taste, and color.
Other features that make the iPettie superior to many other cat fountains is a larger water capacity at 71 oz.
A major distinction, however, is the whisper-quiet operation, thanks to the CE certified IP68 pump.
The only reasonable drawback of the fountain is perhaps the 7.1-pound weight of the iPettie.
4. Pioneer Pet Big Max Water Fountain
The Pioneer Pet Big Max is a classy and elegant cat fountain for any room in your home.
This ceramic fountain holds approximately a gallon of water, which makes the cat fountain ideal for multiple cats.
The fountain continuously filters the water.
Rather than using a stream of water, the Pioneer Big Max circulates the water, which is naturally appealing to your pet.
The Big Max ceramic water fountain comes with a replaceable charcoal filter that delivers clean, pure and healthy water for your pet.
The ceramic material means that the bowl stays free from bacteria, and makes it easier to clean.
While the Pioneer Pet Big Max has a generous open surface for your cat to drink, and can even accommodate a small to medium-sized dog, the bowl similarly provides a large surface for fur, and other debris to fall in.
As such, you will need to clean the fountain now and then.
5. Pioneer Pet Raindrop
The Pioneer Pet Raindrop is artfully designed with a unique and attractive style, and is available in BLACK or WHITE.
 The "raindrop" style of this fountain is handy to avoid splashing, which is associated with most fountains.
The fountain promotes a convenient and enticing way for your cats to drink water.
This 60 oz. cat fountain also uses continuous circulating water to capture the attention of your feline and promote hydration.
The quiet motor pump ensures that the circulation of water and oxygenation is consistent, thus providing clean and fresh water always.
Pioneer Pet Raindrop is a dishwasher-safe unit and is easy to clean.
For clean and pure water, this cat fountain features replaceable charcoal filters, which continuously purify water to keep it clean, and odorless.
One of the major downsides of this cat fountain is the ambiguous user manual. A simple and straightforward manual would have done the trick.
Why Get A Ceramic Pet Fountain?
​A ceramic cat water fountain will not only entice your cat to drink more water, but also adds an aesthetic feeling to your home. 
The appearance of these fountains is quite appealing, and the gentle sound of running water is pleasant for you and enticing for your inquisitive cat.​
Ceramic water fountains are also resistant to bacteria, as long as they as cleaned frequently before refilling the water bowl.
If you find your cat is still not drinking from that lovely expensive cat fountain that you thought looked so nice, then experiment with placing it in different locations around you house.
Maybe kitty will discover the joys of drinking from the fountain when it is placed in some magical place in your house that only cats know about!
A few extra things to consider to help keep your little fluffball drinking are:
Cats like fresh water.
Reticulating water in ceramic fountains stays aerated, so should taste better for your cat to drink.
Try keeping water containers away from your cats food bowl.
Some cats will not drink in the place where they eat.
Keep water containers away from litter trays.
Cats have a keen sense of smell are are unlikely to drink water they think is contaminated.
Keep water bowls clean by washing with soap and water every few days.
Cats like clean food and water containers as much as we do. Be careful not to leave soap on the bowl.
Ensure your cats water bowl has enough water in it.
An almost empty water bowl is not enticing for a cat to drink from.
So make sure to leave a few drinking options around your house to help encourage your cat to drink more, and possibly now you will consider a ceramic water fountain as one of those options.
Read More About Cats & Water:
Sources:
https://www.livescience.com/40459-what-do-cats see.
htmlhttps://catbehaviorassociates.com/how-appealing-is-your-cats-water/