Indestructible Chew Toys For Pitbulls (Best Dog Toys)
​Just like any other dog, Pit Bulls have an insatiable urge to chew.
This hard-wired instinctual behavior is so strong that they expend their compulsion to chomp on any object they come across.
Choosing the best chew toys for pit bulls needs some thought, since they are not only strong animals but also have powerful jaw muscles and will power.
When choosing chew toys for your puppy, consider their sturdiness, shape, size, and texture that are enticing for your pup.
By offering your little Pitbull pup appropriate chew toys you will not only avert inappropriate chewing behaviors in the future, but also satisfy their chewing urge.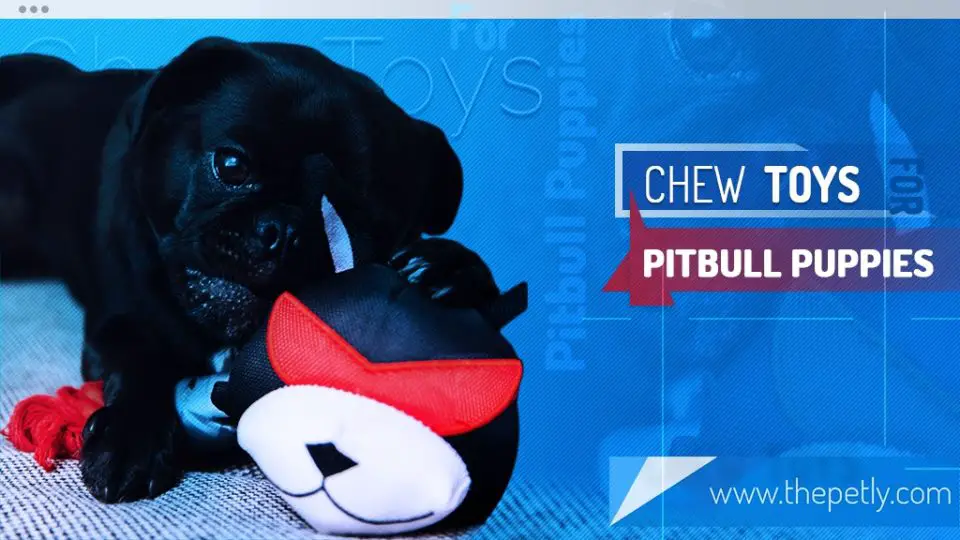 Our website is reader-supported through affiliate programs. If you purchase via links on our site we may earn a small commission.
Entertainment For Your Pup
The best chew toys for Pit Bulls are more than just tools for fun and entertainment, they help in solving an array of behavioral issues.
First, they make sure your puppy adopts stronger chewing habits.
Besides helping with teething, indestructible dog toys help your Pit puppy to develop and satisfy its chewing hunger.
Edible Dog Chew Toys
You should not substitute whole meals with edible chew toys, so ensure that your pup is well fed before playing with their favorite edible toy.
Don't let them sneak off to a remote spot and chew the edible toy, it's better to keep an eye on them to make sure no pieces get stuck in their throat.
You will not only be able to react instantly to incidents of chocking but you will also train your canine to be affectionate and friendly.
Best Chew Toys for Pit Bulls – Top 5 Picks
1. HDP Kong Dog Goodie Bone Extreme
Imitating a bone-like structure, the Kong Dog Extreme provides the perfect chewing toy for your little Pitbull's canines.
The Kong Dog Extreme is manufactured from high-quality, durable, and natural rubber to withstand your puppy's strong jaws.
Besides durability, the natural rubber is extremely bouncy making your pup's playtime even more entertaining.
Kong insists that their chew toy is all-natural made, meaning it`s safe, non-toxic, and does not pose any dental health issues to your puppies, and therefore is an excellent chew toy even for teething pups.
The chew "bone" sports dedicated holes at both ends of the toy, and the two holes are refillable with Stuff 'N Snacks treat.
Here, you can fill the toy with your puppies' favorite treat for the ultimate fun experience.
Quick Look
Durable.
Safe and non-toxic, thanks to the all-natural rubber.
Keeps puppy active. 
Fun and entertaining.
Might be a tad heavy for small puppies (below 3 weeks).
2. Aipper Dog Puppy Toys
Featuring 12 interactive toys, the Aipper Dog Puppy spoils your pup with a wide range of pitbull chew toys to play with.
The Aipper toy set includes IQ treat ball, which is perfect for "throw and fetch," chew toys to keep your puppies from your shoes and décor, flyer dog toy rope for tug of war, and a 2.4-inch bounce rubber balls for the ultimate play experience.
With this toy set, your puppies will never get bored – your rambunctious Pit puppy has the option of what to chew and what to play with.
Besides entertainment, the non-toxic Aipper toys are tailored for effective dental cleaning, gum massage, stress release, as well as redirecting bad biting behavior.
This is not to mention the toys are available in distinctive colors packed randomly, hence providing a captivating and irresistible toy for your canine.
Quick Look
Variety of toys in one package.
High quality, safe toys.
Easy to clean.
Attractive shapes for puppies.
A worthy investment.
Frisbee toy may shred.
3. Yak Snak Himalayan Dog Treats
Conventionally, chew toys are manufactured from non-consumables such as rubber, nylon, and plastic.
The Yak Snak, however, is a uniquely and intriguingly special chew treat.
It is derived from locally-bred cows, so the treat does not contain any traces of artificial flavors, additives, preservatives. Additionally, it`s gluten-free, low fat, and lactose-free.
As a result, the Yak Snak is a 100% all-natural hard cheese chew manufactured from Yak and Cow milk, alongside a pinch of salt, and lime juice.
Besides the high nutritional protein content, the Yak Snak provides an exceedingly fantastic way for your puppy to satisfy their chewing instincts as well as maintain proper dental hygiene including teeth cleaning and removal of tartar.
Though it does not match the durability of bone, antlers, or other chew toys; it`s relatively long-lasting compared to normal treats and bully sticks.
Depending on your puppy, Yak Snak treats can last from 30 minutes to 5 hours.
Interestingly, when part of the chew bar breaks, you can pick it up, pop it into your microwave, before cooling it and feeding it to your dog, again as a treat.
Quick Look
Consumable.
Highly nutritious.
All-natural.
Double up as a treat and chew toy.
Not appealing to all dogs, especially lactose intolerant types.
Needs constant supervision, as the small breakaways might choke your canine.
4. Nylabone Puppy Starter 
The Nylabone Puppy Starter is designed with your Pit's puppies` chewing needs in mind.
Sporting an array of chew toys in a single bundle, the Nylabone will keep your puppy engaged and entertained.
The puppy starter pack, featuring a chicken puppy chew, a bacon puppy treat, and a puppy teething bone all made of softer material, provides the perfect instruments during the teeth-loss period.
It offers an excellent way to ease your puppy's` discomfort during the painful and uncomfortable teething period.
Beside reprieve, the pack contains healthy edibles rich in omega-3 and DHA for supporting brain and eye development.
The natural rubber used to construct the teething pacifier and the puppy teething rings are excellent at massaging the gums, relieving teeth pain, and most importantly nurturing a healthy chewing habit from an early age.
Finally, the raised nubs and fun T-Rex shape of the Dental Dino will add to the excitement as well as reduce and relieve any teething pains.
Quick Look
Great variety.
Durable.
Great for teething.
Edible bone.
Some users claim the edible bone is indigestible.
5. Benebone Dental Dog Chew
Understandably, Pitbull puppies and dogs, in general, may have a hard time chewing toys because they don`t have thumbs.
With Benebone Dog Chew your puppy will appreciate the cleverly designed shape of the toy that will get your pup chewing in no time.
Besides the dog-friendly shape, the patented ridges on the toy trigger some good dental stimulation.
The ridged surface plus the double-shaped handles will not only promote greater health but also makes the toy a fun tug toy for your pup.
Shape aside, this chew toy features an irresistible bacon flavor that is sure to appeal to your pup`s taste buds.
While you might not smell the bacon flavor, your little puppy can.
Quick Look
Dog-friendly toy.
Made in the USA.
Promotes multi-play with the pet parent.
Real bacon flavor.
Affordable.
The barebones are inedible.