5 Best Chew Resistant Dog Bed Reviews [Indestructible] 2020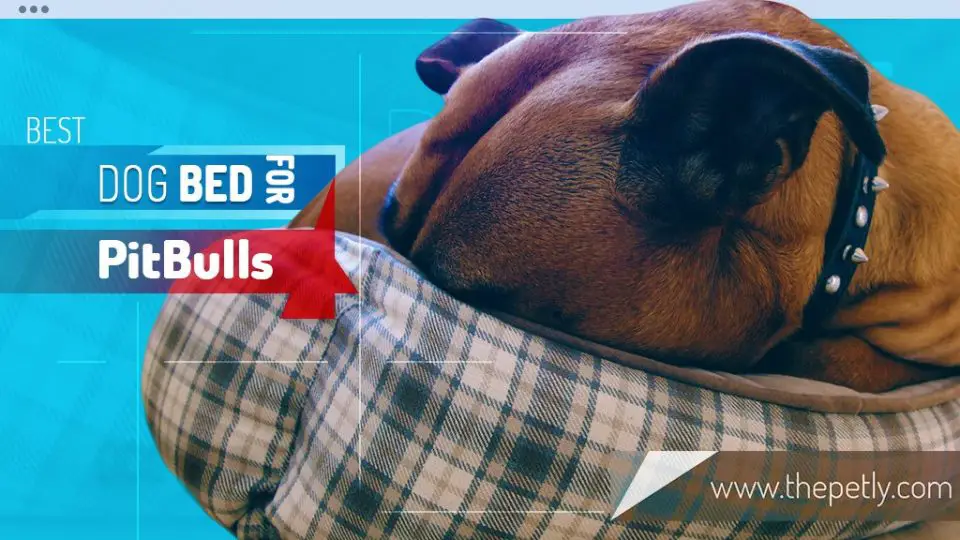 Pitbulls pack plenty of stamina and are resilient.
Nonetheless, this does not mean that they never run out of energy. And when they do, they will often look for a place where they can relax, rest, regain their breath, and even sleep.
This is one reason why every pet parent, should get their Pitbull a bed. A dog bed will provide your canine with a comfortable, cozy, and warm place to rest. 
However, not all beds will cater to the needs of your Pitbull - the best dog beds for large dogs are supportive, comfy, and chew proof.
Let us have a look at some of the best dog beds for pitbulls.
Our website is reader-supported. We research all reviewed products carefully to give you the best choices possible, and if you buy via links on our site we may earn a small commission.
Best Dog Bed for Large and Medium Dogs (Pitbulls).
1. Kuranda Aluminum Chewproof Dog Bed 
Are you tired of replacing your dog`s bed because of chewing? Then worry no more. Give your Pitbull a lift with this amazingly chew-proof Kuranda aluminum.
The Kuranda aluminum is designed for the aggressive and super-destructive chewers. The Kuranda features a heavy-duty, 40-pound solid vinyl sleeping surface, which renders it supremely durable and comfortable as well.
The vinyl material is further reinforced by a light-weight aluminum frame that can support a weight of up to 250 pounds. Weight aside, these metal frames are robust and will resist chewing and bites from your canine.
Another major highlight of this bed is the elevated design that promotes better joint health by keeping your dog`s hips and knees up, off the floor. Aside from the joint health, the elevated design also serves as a way of improving airflow, which will help in keeping your dog cool, especially during the hot summer.
2. Bully Beds Orthopedic Memory Foam Dog Bed
With a generous dimension of 52 in x 34 in x 7 in, the Bully Bed is designed with your muscular Pitbull in mind. This orthopedic bed is extremely roomy and provides your canine with ample space to lie and even roll-over.
The orthopedic memory foam on this bed is the same foam used in high-end mattresses made for humans. It provides maximum luxury, stability and joint comfort for your Pitbull, and is particularly essential for dogs with arthritis.
The exclusive orthopedic foam on this bed is durable and is specifically designed to hold a heavier weight of your PitBull without losing its structure.
Moreover, the bed is designed from a hypoallergenic, and non-toxic material that is 100% safe for use by people and pets. As such, the bed is ideal for sensitive dogs or those with allergies.
For easy and spot-in cleaning, the bed features 100% waterproof inner liner that will repel against any spills, urine, spit or vomit. Additionally, it comes with a machine washable cover.
The non-slip base "locks" the mattress in position, while the heavy-duty zipper prevents your Pitbull from chewing the bed.
3. PetFusion Ultimate Pet Bed
The PetFusion is the ideal bed for your Pitbull to enjoy a serious snooze.
For a start, this roomy dog bed is constructed from a solid 4-inch memory foam which will provide your PitBull with superior comfort, and reduce the joint pains.
For the senior Pitbulls or the arthritic types, the bed is a superb resting place for improved health, mobility, and energy.
The manifestation of comfort on this bed is further underlined by smart design. Here, the neck and head (outer pillow) are generously filled with recycled "green" polyfill which provides your PitBull with endless opportunities for resting.
The memory foam is further upholstered by a waterproof inner liner that will significantly slow the water absorption while still preventing it from making its way to the foam.
For easy spot cleaning and removing hair, the bed comes with a removable and machine washable cover. This is not to mention the cover is certified as "skin contact safe."
With regards to material, the PetFusion boasts of a luxurious fusion of premium and durable materials (35% cotton & 65% polyester). While the materials are not exactly chew-proof, they will stand up to digging, romping, and even nibbling.
For this reason, if you own a middle-aged Pitbull of which is super active on chewing activities, this may not be the best dog bed for her. But for aging and arthritic Pitbulls, this dog bed will come in handy.
4. The Dog`s Premium Orthopedic Bed
Nothing is much better than a great night sleep, and this is what the Dog`s Premium Bed offers.
The Dog`s Premium Bed is designed from luxuriously, high-quality, and highly-stable memory foam and support foam that offers utmost comfort. This deluxe combo responds to your Pitbull's heat and pressure and molds to your dog`s body evenly distributing their body weight for the perfect sleeping experience.
Like its name suggest, this mattress is an orthopedic type that will provide therapeutic comfort. The bed relieves the painful pressure points, by providing plenty of pushback rather than sinking when your canine lies down.
As such, the bed is ideal for senior dogs, or those suffering from hip dysplasia, arthritis, muscle stiffness, and aching joints.
Like all the best dog beds for Pitbull, the Dog`s Premium is convenient to use because it comes with inner cover liners that will shield against accidents and incontinent issues. Conversely, the outer cover, with a zipper allows easy spot cleaning.
Aside from easy cleaning, the outer fabric is resistant to mold, mildews, and dust mites.
5. Barker Junior - 4" Orthopedic Dog Bed
Unlike low-grade beds, this 4-inch comfort plus support foam will not flatten out even after repeated use.
What's more, the foam is designed to mold perfectly according to your dog`s body. As such, your PitBull will have the perfect weight distribution, which will ultimately soothe and relax his bones and muscles.
Ultimately, this will have the effect of relieving your Pitbull of any joint pains, including hip and elbow pains.
The outer cover of the bed is designed from 100% microfiber, which feels velvety soft, warm and luxuriously cozy. The microfiber is easily washable, does not tear or shrink.
Free of any toxins, nasty fillers and hypoallergenic, this bed is safe for use with pets as well as children.
6. Blueberry Microsuede Pet Bed (Best for Puppies)
The Blueberry is not your regular bed; designed like a sofa, this lounge space offers a cozy and soft place for your Pitbull puppy to rest and relax.
Featuring a supportive sleep surface that is accompanied by bolstered sides, the Blueberry provides the perfect place for your little furry friend to curl up and sleep.
What`s more? The Blueberry is extremely flexible as it allows you to set the angle of the head and neck to bolster for the optimal support.
In addition, the bed features a lovely neck bone pillow, set in with a squeaker, that provides ultimate comfort for your pet.
What many pet parents love about this bed is the removable and washable micro-suede cover, and the durable YKK zips that will allow you to unzip the cover and wash it.
Final Thought
Choosing one dog bed over the other can be a hectic task especially if it is for a pitbull.  
This is especially true since you will need to consider various factors such as activeness of your pitbull, design, size of the bed, chew-proof design, and health-related benefits that come with the bed.
You may also want to consider ease of cleaning the cover and assembling the bed.
Most importantly, the size of your pitbull also determines a suitable bed to go for. For instance, a middle-aged Pitbull will need a quality, chew-proof bed such as Kuranda Dog Bed.
For a senior or an ailing dog with joint-related issues, a dog bed like PetFusion Ultimate will suffice.
But when it comes to a Pitbull puppy, you'll need something smaller yet elegant like Blueberry.
In the end, all that matters is providing a quality bed to your Pitbull for resting and sleeping.