5 High Protein Low Carb Cat Foods (Best For Diabetic Cats)
With cases of feline diabetes on the rise, most cat owners are worried about dealing with diabetic cats.
Usually, diabetic cats require a special formula that helps them deal with the condition.​
While there are dozens of cat food formulas for diabetic cats on the market, it is always important to confirm that the formula you are buying is what your vet recommends.
Typically, the best diabetic cat food should be high protein and low carbohydrate.
Cats have a high need for real animal proteins to build their muscles, and a low need for carbs. Carbohydrates are known to be the major cause of diabetes and should always be kept at a minimum in cat's diets.
We researched high protein low carb cat food varieties to find the formulas most frequently recommended by veterinarians and pet parents for diabetic cats.
The brands that stood out included Purina, Hills Science, and Royal Canin diabetic cat foods.
Most of these formulas are prescription diets, meaning that you buy them on the advice of your vet.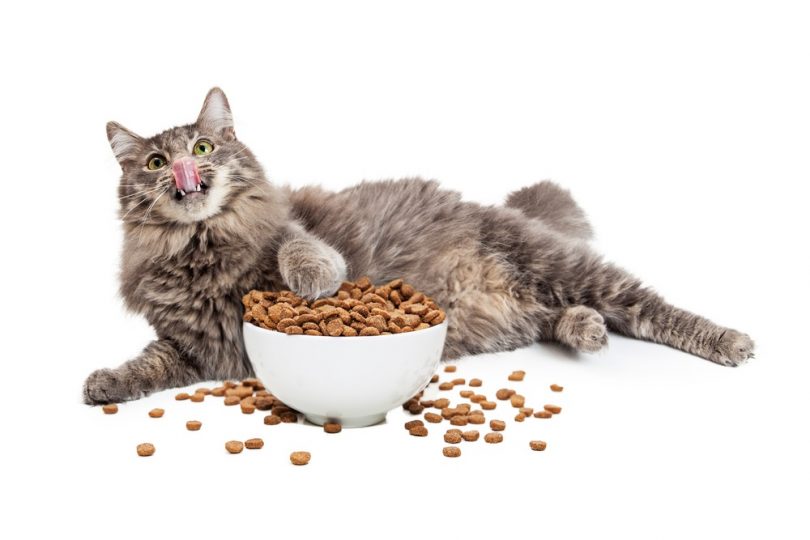 Our website is reader-supported through affiliate programs. If you purchase via links on our site we may earn a small commission.
Our Top Picks
Why Do Cats Get Diabetes?
There are a lot of unknowns in the exact cause of diabetes. However, feeding cats with high-sugar diets and processed foods has been mentioned as a possible cause of diabetes.
On several occasions, you might have taken food off the shelves without checking the food components, sugar levels, the presence of filler content, etc.
The common symptoms of a diabetic cat include loss of appetite, frequent urination and increased thirst.
Also, the high sugar content of cat urine makes the urine sticky.
Once you detect any of these signs, the best thing to do is to consult your vet immediately because diabetes is a life-threatening condition.
When buying diabetic cat food, it is important to check the guaranteed analysis to make sure that you are feeding your cat the right formula.
What Diet Is Ideal For Diabetic Cats?
Cats are carnivorous animals, and their body has a high need for proteins and fat. Therefore, the best cat food for a cat with special needs is a high protein low carb diet.
The body of a diabetic cat has difficulties in moving the sugar/glucose to the body cells.
Rather, the sugar accumulates in the cat's bloodstream, and this can be detrimental if you feed the cat more sugars.
Since food high in starch have a high sugar level, it makes sense NOT to feed your cat these foods. Instead, give your cat food that has a lot of meat and fat in it to satisfy its need for proteins.
If you want to follow a high protein low carb diet, feed your cat with wet cat food. These foods have a high protein and low carb content compared to dry cat food.
Another ideal diet for diabetic cats is a prescription diet that is prepared specially for diabetic cats, and is recommended by veterinarian . 
Prescription diets usually include ingredients that are easy to handle for diabetic cats.
High Protein Low Carb Cat Food – Top 5 Reviews
1. Purina Veterinary Diets Feline DM Dietetic Management
Purina Pro Plan Veterinary DM is a high protein low carb feline diet that is made to meet the dietary needs of a diabetic cat.
It is nutritionally balanced and loaded with antioxidants to provide your cat with optimal nutrition.
Although some cat owners say that this diabetic cat food is expensive, most of them agree that it works perfectly with their cats.
Purina Veterinary Diets DM can also be given to diabetic cats with the veterinary prescription.
If you have doubts about the right quantity, make sure to provide your vet's information or prescription when buying this cat food.
Apart from diabetic cats, vets may prescribe this diet for other conditions like enteritis, persistent hyperglycemia or chronic loose stools.
2. Hills Prescription Diet w/d Feline Low Fat 
Some cats are prone to weight gain while others are lucky to have a lean body shape, however, the food that you give your cat will largely determine their weight.
Hills Prescription Diet w/d is specially made for cats that are prone to weight gain.
It is low in fats and calories to help diabetic cats reduce weight, and also help cats that have attained their ideal weight to maintain that level.
It has moderate fiber levels to give a feeling of fullness for cats that may be tempted to overeat.
The diet also contains antioxidants like Vitamin E and C to boost the cat's immune system and control cell oxidation.
Hills Prescription Diet w/d low-fat glucose management requires veterinarian prescription.
3. Royal Canin Veterinary Diet Diabetic Morsels In Gravy 
​Royal Canin Veterinary Diet canned cat food is specially formulated to maintain healthy blood glucose levels in diabetic adult cats.
This diet is tasty and contains the appropriate nutrients such as prebiotics and dietary fiber to keep the sugar levels balanced and control glucose spikes and dips, and the fiber keeps kitty feeling full.
Royal Canin Diabetic cat food also contains Royal Canin Urinary S/O Index to prevent the formation of crystals in the cat's urinary tract and promote a healthy urinary system.
The diet is formulated for use in a veterinary-approved dietary management program. It should be administered based on your vet's evaluation of your cat.
4. Purina Dm Savory Selects Dietetic Management 
Purina DM Savory Selects canned cat food is a high protein low carbohydrate formula that is prepared to help balance the glucose levels and control diabetes.
It can also be used in other special conditions such as enteritis and persistent hyperglycemia.
It is highly palatable, and your kitty will enjoy the texture of this diet.
It has a high level of antioxidants to prevent the development of struvite and calcium oxalate crystals, with omega-3 and omega-6 promoting a healthy coat.
The majority of pet owners prefer the Savory Selects version over the pate version of this cat food brand.
This USA-made diabetic cat food requires a veterinary prescription.
5. ROYAL CANIN Feline Glycobalance Cat Food
Royal Canin Feline Glycobalance formula is formulated to balance glucose levels in cats that have been diagnosed with diabetes.
This diet also helps maintain an ideal weight in cats.
It contains balanced ingredients that provide nutritional benefits to your furbaby, and your cat should enjoy the meaty flavor.
Royal Canin Feline Glycobalance dry cat food contains a combination of soluble and insoluble fibers as well as prebiotics to control glucose fluctuations and keep your cat feeling full.
The natural cereals reduce incidences of hyperglycemia in cats while the S/O Index promotes a healthy urinary system.
This diabetic cat formula requires a veterinary prescription.
Diabetes in Cats: Questions and Answers with a Veterinarian
FAQ'S About Diabetic Cats and Best Diabetic Cat Food 
How can I know if my cat is diabetic?
The most common sign of a diabetic cat is an increase in drinking and urination (polyuria).
The change is almost immediate, and you may notice the cat drinking lots of water several times in an hour.
Want to know more about excessive cat urination and how to deal with it? Check out this article to find out more.
Other symptoms of a diabetic cat are weight loss, diarrhea, and vomiting.
Is My Diabetic Cat Doomed?
No! They are certainly not doomed. Diabetes among cats is a condition normally created by poor feeding habit, feeding the cat with the wrong type of food.
Therefore, feeding your cat with the right diabetic cat food will help remedy the condition.
You should train your cats to feed at particular times of the day.
 Also, don't leave food in the feeding bowl to an overweight cat.
Can I Feed my Cat with Other Foods Apart From Diabetic Cat Food?
Yes, you can feed your cat with other type of food as long as its a high protein and low carb cat food.
However, Avoid giving your cat human food because it can kill them.
Read this article to discover the dangers of some human foods for cats
Always make sure that you read the label to see the carb or sugar composition in the food.
Read More :
Sources
https://en.wikipedia.org/wiki/Diabetes_in_cats