5 Best Litter Box for Odor Control Reviews [End Nasty Odors] in 2020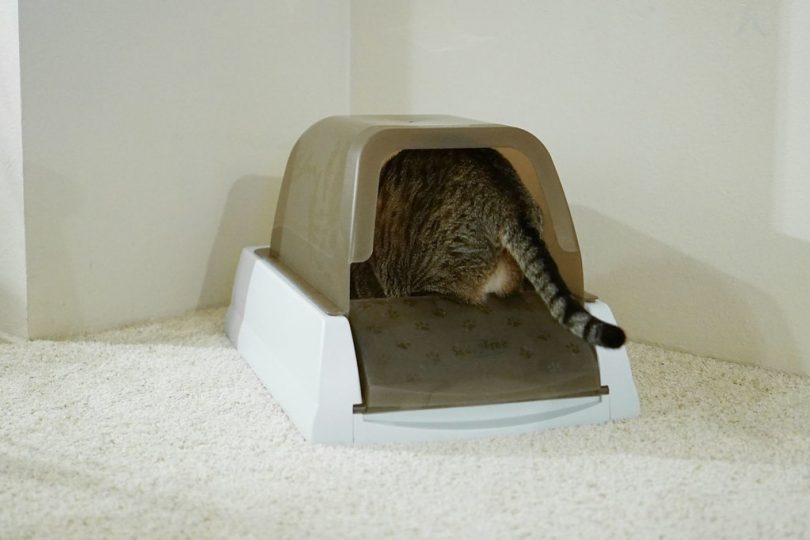 One of the biggest challenges that come with being a cat parent is the management of odor generated by the cat's litter.
It is even worse if you do not have the basic tools for cat hygiene like a proper litter box.
Investing in the best litter box for odor control will not only transform your home into a clean haven but also make the house comfortable to live in.
Most of the odor-free litter boxes employ innovative techniques such as charcoal filters and antimicrobial coating which help in containing odors coming out of the box. 
A self cleaning litter box also makes good choice of litter box if you spend most of the time away from home and you want to fresh-smelling home environment at all times. 
Our website is reader-supported. We research all reviewed products carefully to give you the best choices possible, and if you buy via links on our site we may earn a small commission.
Litter Box for Odor Control Comparison Chart
| | | | |
| --- | --- | --- | --- |
| | | | |
| | | | |
| Nature's Miracle Hooded Litter Box | | | |
Best Litter Box for Odor Control- Top 5 Picks
1. Omega Paw Litter Box (Editor's Choice)
The Omega Paw Self-Cleaning Litter Box is our top choice if you are looking for an odor-free litter box. It is made with sturdy and hard materials that make it durable. This litter box is also spacious to accommodate large cats.
This self-cleaning litter box does not require electricity for it to function. All you have to do is roll the box to the right until the top touches the floor, and then roll it back to its upright position. This light movement deposits the clumped litter into the waste stray for each disposal. 
It also has a patented grill that separates the clumped litter from mixing the clean litter. This prevents wastage since the clean litter is retained for use.
The innovative design rules out the need to buy filters, scoops and liners. This litter box is great for controlling odors and dusts coming from the box. 
The enclosed nature of the litter box can either be a blessing or a curse depending on your cat's preference, but it is a darling for cats that like privacy when doing their business inside there. 
2. Catit Jumbo Hooded Pan (Best Seller)
With Catit Jumbo Hooded Pan, you get to enjoy a nice smelling house while your cat enjoys undisturbed moments for herself with the covered hood
This litter box keeps the odor down quite well whether the removable door is on or off. The plastic removable hood locks onto the bottom pan to keep the cat's session private. This box also has a carry handle makes it easy to carry the box around the house.
The Hooded Pan features a carbon filter that helps to fight odors. However, you will need to replace the filter from time to time and also clean out the cat's litter on a regular basis if you want to keep enjoying an odor-free home.
3. Purina Tidy Cats Breeze System (All-in-one litter system)
The Purina Tidy Cats Breeze System is an easy to maintain system with a great odor control abilities that lets you enjoy a clean, fresh smelling household.
It has disposable pads that absorb urine, and keep in and outside the litter box odor-free for 7 days. The dehydrating pellets separate the urine from solid wastes, and this helps in controlling odors.
With this litter box, you get a starter kit that ensures that your feline friend gets a comfortable place to do her business and the convenience of knowing when to clean the litter box.
The hinged hood makes it easy to access the box during cleaning, while providing some form of privacy for shy cats.
This litter box is designed with a protective drawer that keeps the pads in place while keeping them away from your cat while she uses the litter box. The slide-out drawers are strategically located to facilitate replacements.
This litter box comes with one bag of pellets that lasts for 3 to 6 months depending on the number of cats and one bag of high absorbent pads.
4. Petmate Clean Step Litter 
Petmate Litter Dome features is one of the best cat litter boxes with superior odor control capabilities. It has a charcoal filter that absorbs all the litter odors efficiently. These filters can be replaced at any time.
This litter box is enclosed on all sides to promote your cat's privacy while doing her business.
The cat is hidden from the human glare, making her as comfortable as she wants. This box is also spacious and ideal for multiple cat households (measures 21" by 21").
When it comes to cleaning, this litter box for odor control will undoubtedly give you an easy time. Its hard plastic tray prevents litter caking (which would otherwise result in foul odors), and this makes it easy to clean and litter-tracking.
One unique feature that cat parents are most excited with is the grooved step entrance. The steps are designed to wipe the cat's paws as she steps out of the box. This helps prevent litter-tracking and dusting, which gives you an easy time when cleaning the area around the box.
However, as is the case with other boxes, frequent cleaning will help reduce foul odors from the litter box. Staying too long without cleaning can make the box stinky, rendering the box unusable since all cats love clean environments.
5. Nature's Miracle Hooded Litter Box (Best budget litter box)
Nature's Miracle Litter Box is a good, affordable hooded box for a happy cat parent looking for a pocket-friendly litter box that minimizes foul odors from the litter. 
The litter box is made with non- stick antimicrobial surface that helps to reduce litter caking and build-up, thereby preventing bacteria build up and easing the need to clean the box every now and them. 
 The lock-on lid has a replaceable charcoal filter that absorbs foul odors from the litter box for several weeks and months. You can replace the filter after every 2 to 3 months to give you a fresh turn of odor-free petting. 
Some cat parents, especially those living in squeezed apartments, love the corner design of this box. You can place at the corner of your home and save on lots of space in your apartment.