5 Best Litter Boxes For Odor Control (For A Fresh Home)
One of the biggest challenges that comes with being a cat parent is the management of bad odors coming from your cat's litter box.
Investing in a litter box that helps control bad odors will reduce those nasty cat smells from seeping into the living areas of your home.
Most odor-free litter boxes employ innovative techniques such as charcoal filters and antimicrobial coating, along with hooded designs. This not only helps to contain odors coming out of the box, but also stops dirty litter being tracked across your floor.
A self cleaning litter box also makes good choice of litter box if you are away from home regularly, and you want to fresh-smelling home environment to come home to.
To discover some innovative self-cleaning litterboxes and find out how they work – check out this article.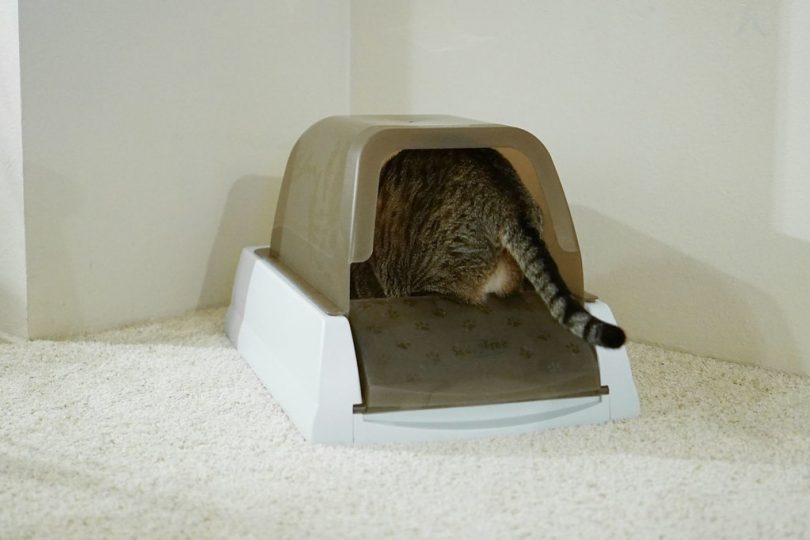 Our website is reader-supported through affiliate programs. If you purchase via links on our site we may earn a small commission.
Litter Box for Odor Control – Our Top Picks
Best Litter Boxes for Odor Control – Reviews
1. Omega Paw Self Cleaning Litter Box
The Omega Paw Self-Cleaning Litter Box is our top choice if you are looking for an odor-free litter box.
It is made with sturdy and durable materials, being spacious enough to accommodate large cats.
This self-cleaning litter box does not require electricity for it to function.
All you have to do is roll the box to the right until the top touches the floor, and then roll it back to its upright position.
This easy movement deposits the clumped litter into the waste tray for each disposal. 
It also has a patented grill that separates the clumped litter from mixing the clean litter, which prevents wastage since the clean litter is retained for use.
Being able to remove the waste quickly and easily from the rest of the litter makes it last longer, which is a great money saver over time.
The innovative design rules out the need to buy filters, scoops and liners. This litter box is great for controlling odors and dust coming from the box. 
The enclosed nature of the litter box may or may not suit your cat, so may be personality dependent. Most cats love a little privacy though, and after a brief time become accustomed to the covered design.
Pros
Tall and wide enough for large cats.
Sturdy construction makes it durable.
Self-cleaning mechanism that does not require electricity.
Suitable for multiple cat households.
The waste tray collects clumped waste only, saving clean litter.
Cons
The hood doesn't suit some cats.
Cats that pee high up can do so on the litter box's sifter.
2. Catit Jumbo Hooded Cat Litter Pan
With Catit Jumbo Hooded Pan, you will enjoy a nicer smelling house while your cat can do their business in private inside the covered hood.
This litter box keeps the odor down quite well whether the removable door is on or off.
The plastic removable hood locks onto the bottom pan to keep the cat's session private.
This box also has a carry handle makes it easy to carry the box around the house.
The Hooded Pan features a carbon filter that helps to fight odors.
You will need to replace the filter from time to time, and also clean out the cat's litter on a regular basis if you want to keep enjoying an odor-free home.
Pros
Suitable for households with large cats or multiple cats.
Easy to clean (just lift the hood).
Carry handle for easy transportation.
Available in multiple colors
A large carbon filter and hood keeps odors down.
Can buy replacement filters.
Cons
Requires a lot of litter to fill up the box.
The carbon filter at the top can be destroyed by cats.
3. Purina Tidy Cats Breeze System (Litter System)
The Purina Tidy Cats Breeze is an easy to maintain system with a great odor control abilities that lets you enjoy a clean, fresh smelling household.
It has disposable pads that absorb urine, keeping both inside and outside the litter box odor-free for 7 days.
The dehydrating pellets separate the urine from solid wastes, and this helps in controlling odors.
With this litter box, you get a starter kit that ensures that your feline friend gets a comfortable place to do their business, and the convenience of knowing when to clean the litter box.
The hinged hood makes it easy to access the box during cleaning, while providing some form of privacy for shy cats.
This litter box is designed with a protective drawer that keeps the pads in place while keeping them away from your cat while they use the litter box.
The slide-out drawers are strategically located to facilitate replacements.
This litter box comes with one bag of pellets that lasts for 3 to 6 months depending on the number of cats, and one bag of high absorbent pads.
Pros
Easy to clean.
All-in-one litter system.
Breeze litter pellets deliver up to one month of fresh filtering action.
The dehydrating pellets help minimize litter tracking.
Easy to change the disposable litter pad without removing litter or disassembling the box.
The trapped moisture drains into the absorbent odor-controlling litter pad through the grated floor.
Cons
Some users prefer using different pellets other than the ones suggested by Purina.
4. Petmate Clean Step Litter 
Petmate Litter Dome features superior odor control with a charcoal filter that absorbs all the litter odors efficiently. These filters can be replaced at any time.
This litter box is enclosed on all sides to promote your cat's privacy while doing their business.
This box is also spacious and ideal for multiple cat households (measures 21" by 21").
When it comes to cleaning, this litter boxes hard plastic tray prevents litter caking (which would otherwise result in foul odors), and this makes it easy to clean.
One unique feature that cat parents love is the grooved step entrance.
The steps are designed to wipe the cat's paws as they step out of the box. This helps prevent litter-tracking and dust, which makes cleaning the area around the box easier.
As with other litter boxes, regular cleaning and changing of litter will help reduce bad odors .
Read about our favorite anti-tracking low dust cat litter brands here.
Pros
Great odor control.
Easy to clean.
The ramp and steps are great for controlling litter scatter and tracking.
Large size to accommodate large and taller cats.
The enclosed design provides privacy to cats.
Cons
Requires special liners because of the litter's round shape.
5. Nature's Miracle Hooded Litter Box
Nature's Miracle is an affordable hooded cat litter box that helps minimize foul odors outside the box. 
The litter box is made with non-stick antimicrobial surface that helps to reduce litter caking and build-up.
This helps prevent bacteria build up, and extends the time between cleaning – making your life a little easier!
The lock-on lid has a replaceable charcoal filter that absorbs foul odors from the litter box for several months.
You can replace the filter once every 2 to 3 months to keep the area around the litter box smelling fresh.
Some cat parents, especially those living in small apartments, love the corner design of this box which is a great floor space saver.
Pros
It's large and spacious.
The convenient corner design saves floor space.
Odor-blocking technology coupled with a charcoal filter keep odors restrained.
Antimicrobial coating inhibits the growth of bacteria.
Mold and mildew resistant.
Wide entrance for large cats.
Cons
The clips holding the lid are a bit tight and can prove difficult to remove.
Some cat parents complain of urine leakage through the latch holes. However, this issue can be sorted by using heavy-duty litter box liners