5 Best Choices – Litter Boxes For Large Cats (Extra-Large)
​When choosing the best litter box for your large cat, you know you're going to need a king-size box to make sure all the smelly stuff stays inside!
A big cat needs more space to turn around, squat, enter and exit the litter box without kicking litter out on the floor.
Size is not the only factor when choosing the suitable litter box for your large cat, as they may have habits that drive to toward more enclosed designs.
Choose a litter box that fits your cat's preferences, such as a lid or hood, and the positioning of the entrance. Also, make sure that litter box you buy is easy to clean and replace the litter once it has been used for some time.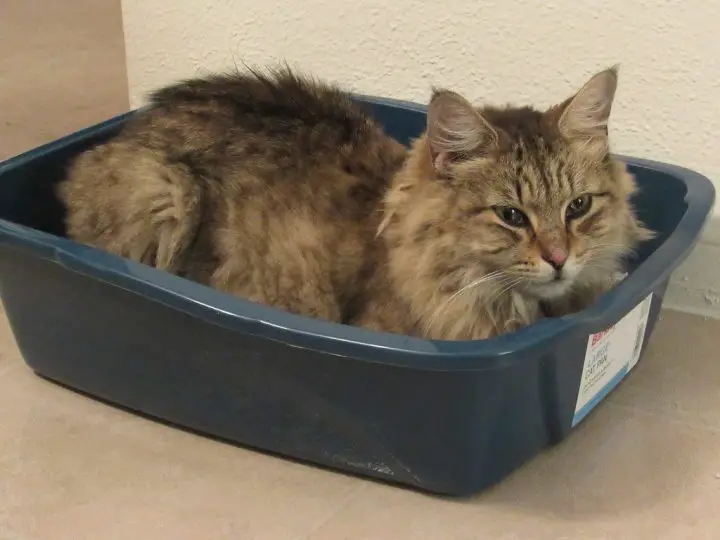 Our website is reader-supported through affiliate programs. If you purchase via links on our site we may earn a small commission.
Our Top Picks
| | |
| --- | --- |
| | Editor's Choice |
| | Great Value |
| | Best Seller |
Best Litter Boxes For Large Cats – Reviews
1. Omega Paw Self-Cleaning Litter Box
The Omega Paw self-cleaning is a sturdy litter box that accommodates the weight of large cats with ease.
It is made with a durable material that is hard to break or tip over when the cat is getting into the box to do its business.
One thing I love about this litter box is that it is easy to use and maintain.
The Omega Paw is a self-cleaning litter box, meaning that it does not require scooping since the waste are trapped by a grill and transported to a pull-out tray.
Unlike other self-cleaning litter boxes, this litter box does not require electricity to work. 
One limitation limitation about this litter box that it is enclosed.
This really depends on the nature of your cat, some cats love the privacy, others don't like being enclosed, so you need to know your cats personality.
Quick Look
Tall and wide enough to accommodate large cats.
It does not require electricity.
Strong and durable.
Self-cleans quickly, and control odors and dust effectively.
The scoop collects clumped waste only (clean litter is saved).
The enclosed nature of this litter box may scare away some cats.
2. Nature's Miracle High Sided Cat Litter Box
Natures Miracle High Sided cat litter box is tall and spacious enough to provide space for large cats to turn around inside the litter box.
The lowered front balances the 11-inch sides ensuring that the cat enters and leaves the litter box with ease.
This high-walled litter box helps hold litter inside the box, since its high enough to prevent cats from kicking litter from the litter box when covering their poop.
This helps reduce the amount of time cleaning up litter that is spilled on the floor.
The litter box has a non-stick antimicrobial surface that prevents litter caking up, helping to prevent foul smells coming out of the litter box.
The main limitation that most customers have observed with this litter box is the low level of the entryway.
However for cat owners with older arthritic cats, and disabled kitties this design is a winner – just allow for extra litter tracking from the front.
Quick Look
Built-in handles make transport easy.
Antimicrobial coating helps to minimize odor.
High sides prevent spraying and scattering.
Spacious enough for large cats.
Open litter box design makes spot cleaning easy.
The entryway is a bit low, and narrow.
If you're after a top-entry litter box, see our review of the Scoopfree Ultra Self Cleaning Litter Box
3. PetFusion BetterBox Large Non-Stick Litter Box
The PetFusion BetterBox is a great value large litterbox that will easily fit your plus-sized cat, and has an anti-microbial surface.
This is an extremely durable litter tray because it is made from high quality ABS plastic that is tougher and more flexible than the cheap plastics many other litterboxes are made from.
The BetterBox also has a non-stick, easy to clean surface that helps prevent permanent smells from seeping into the plastic over time – meaning this litterbox will last longer.
Designed with high walls, this litter pan stops most litter being kicked out on the floor, while allowing an easy entry and exit for big ole' kitty via the low front section.
This litterbox is suitable for all types of litter, and can also be fitted with a liner if desired.
Quick Look
Soft-curved open design allows easy cleaning.
Antimicrobial coating minimizes odor.
High sides (8″) with an easy entry front (5″).
Spacious enough for large cats.
Not an easy entry for cats with arthritis.
4. Petmate Giant Litter Pan
The Petmate giant litter pan is designed for easy cleaning, and also suits claustrophobic cats who refuse to use hooded litter boxes.
It has a wide profile base to accommodate large cats, and is virtually impossible to tip over.
The spacious nature of this litter box allows your cat maximum space to conduct their business.
This litter box base is broad enough to hold at least 30 pounds of litter, making it an ideal litter box for multiple cats and large cats.
One of the unique features that cat parents like about this litter box is the storage compartments.
Petmate Giant litter pan contains unique side compartments that can be used to store litter scoops, disposal bags, and other essentials to make it easy to manage the litter box.
The compartments measure 4" wide and 6" deep, while the box measures 27" by 17".
This cat litter box is eco-friendly, and it is made with a plastic containing Microban.
This component prevents the growth of bacteria, molds, and mildew that may cause stains and odors in and outside the litter box.
Quick Look
Deep wall design reduces litter spillage.
Open design is appealing to cats that hate hooded litter boxes.
Has side compartments to store extra supplies.
Has Microban antimicrobial protection, preventing stains and odor-causing bacteria.
Some cats may pee in the storage compartments.
5. Petmate Hi-Back Open Litter Pan 
It is ideal for messy cats and large cats that require enough space to do their business, and is a low maintenance cat litter that most cat parents love.
It has a high back and a lower front side. The high side walls prevent cats from creating a litter mess in the house.
The lower entrance also provides an easy full-width entry and exit.
This is more convenient than litter boxes that have a raised entrance, which result in litter scattering every time the cat is entering or exiting the box.
The Petmate Hi-Back litter pan is created with durable materials that will stand the test of time, and is also eco-friendly.
Microban antimicrobial coating is also added to the design to help fight against the growth of odor-causing bacteria and stains.
Quick Look
The antimicrobial coating keeps the box fresh, odor free and bacteria free.
Deep walls keep the litter within the box.
The open litter box design makes it easy to clean.
Can be used for multiple cat households.
Eco-friendly material.
6. Catit Smartsift Sifting Cat Litter Box
Catit Smartsift cat litter is an automatic litter sifting system that makes cleaning easy – it does all the scooping and sifting without lifting the lid.
The box cleans litter automatically by pulling the lever, which separates waste from the litter into a removable tray that you can remove, empty and clean, before returning it to its place.
The clean litter is recycled back into the pan, which help you save money by using less litter over time.
Owners of this litter box agree on the efficiency of the machine, and ease of use.
Litter is easy to replace – simply remove the access door with the 2 clips for cleaning and filling with fresh litter.
It comes with integrated carbon filters that absorb foul smells inside the litter box.
Catit Smartsift cat litter provides a lot of room to accommodate cats of all sizes, and measures 12"L by 19"W by 25"H.
Quick Look
Automatic waste sifting and scooping.
A safe, quiet and easy system that does not require electricity.
Integrated carbon filters to trap odors.
Its hooded design may scare away some cats.
Bulky.
See More Litter Boxes
Sources