5 Best Low Tracking Cat Litters (Plus Anti-Tracking Tips)
​We all love our cats with all the fluffy goodness they bring into our lives, however one of the most unpleasant things is getting home to a house with litter granules scattered all over the floor.
It's not too pleasant cleaning it up every day, not to mention hearing that crunching sound when you tread on it, or get it stuck to the bottom of your feet!
Then there's the question of cleanliness, as we know exactly where those litter granules came from!
You can find ways to deal with the litter tracking issue and in this article we will look at some low-tracking kitty litter varieties, and ways that you can further reduce the tracking.
​Many low-tracking brands also produce lower amounts of dust which helps reduce allergic reactions for both you and little miss kitty purrrfect.
Ideally the best kitty litter will also have great odor control, so we'll take a look at this alongside tracking issues.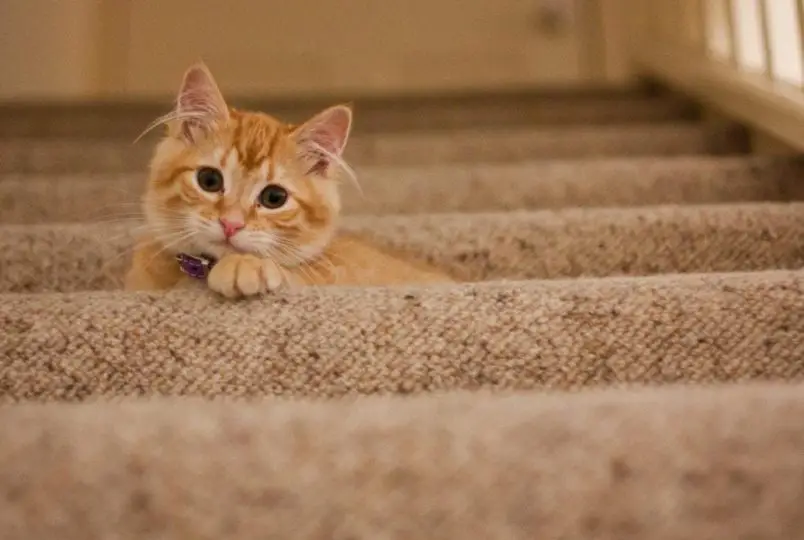 Our website is reader-supported through affiliate programs. If you purchase via links on our site we may earn a small commission.
Our Top Picks
Choosing Non Tracking Cat Litter
When your cat has finished toileting and is stepping out of the litter box, some litter granules are likely to get attached to your cat's paws.
The effect of this is that the litter particles will be scattered all over the house as the cat walks around.
There are certain things that you look out for when buying cat litter to make sure you get a high-performance litter that has little or no tracking issues.
Here are some of the factors you should consider:
​Litter Material
Buying litter that is made with high-quality materials can help reduce instances of litter tracking, and the litter ​sticking to the cat's paws and fur in between their toes..
Clay is the most common material that is used in making cat litter, but there are other awesome options that you can consider.
Some of these materials include ground coconut shells, walnuts, and wood fibers.
Size Of Litter Granules
The size of the litter granules determines if they will get attached to the cat's paws.
For example, large granules are less likely to get attached to the cat's paws, since they will fall off once the cat starts walking.
Also, if you have a litter mat, it can trap most of the granules as ​your cat is stepping out of the litter box.
Low-Tracking Litter Brands
When buying cat litter, consider buying brands that have a reputation of not tracking.
Look around, get recommendations from other pet parents to know what works for them and check out what other customers are saying about specific brands.
5 Best Low Tracking Cat Litters – Reviewed
1. Dr. Elsey's Precious Cat Ultra Multi-Cat Litter
Dr. Elsey's Precious Cat litter is currently one of the best non-tracking cat litters on the market.
Most cat owners love this product for its natural materials, and this clumping litter does not contain any plant protein, perfume, deodorant, or chemicals.
Precious Cat litter is 99.9% dust free and is hypoallergenic cat litter.
Precious cat litter has an amazing odor absorbing and tracking capacity that can last for about a week with 2 cats.
This litter is made with medium grains and heavy non-tracking granules, and is designed for use by multiple cats.
​Dr. Elsey's Ultra clumping litter absorbs all the moisture, ensuring that it does not reach the bottom.
It works well in mechanical or sifted trays.
Quick Look
Dust free.
Effective clumping and odor control.
Environmentally friendly and safe.
Hypoallergenic.
Clumping is not very cohesive.
A little pricey.
2. World's Best Cat Litter Multiple Cat Clumping Litter
The Multiple Cat Clumping Formula litter is suitable for both single and multiple cat households.
This litter is made up of plant derivatives and other natural ingredients, and it lacks the synthetics found in most litter brands in the market.
The litter contains large corn-based granules that form hard clumps, preventing litter tracking and making cleaning easier, also helping to reduce odors
The corn-based granules are biodegradable, and safe for the environment. The litter can is septic-safe and can be flushed down the toilet if your local laws allow that.
World's Best Cat Litter clumping formula is dust-free, and it is ideal if you have family members with allergy problems
Quick Look
Made with corn-based materials.
Biodegradable materials.
Suitable for multiple cats.
Odor control and dust free.
Pricey.
3. Blue Buffalo Blue Naturally Fresh Cat Litter
Blue Buffalo is popular with cat parents due to its use of natural ingredients that are friendly to the cats, humans, and the environment as well.
The same is incorporated in this clumping litter that uses biodegradable materials devoid of chemicals, toxins, grains, clay, corn, etc.
The BLUE Naturally Fresh uses walnut shells that quickly absorb odors and moisture.
It has a long-lasting absorbency such that a bag of this formula is equal to three bags of the leading clay litter, and is also dust-free.
This cat litter is low-tracking and comes in a wide range of formulas to suit your needs.
Quick Look
High absorbency walnut shell base.
Natural materials, environmentally friendly and safe for your cat.
Excellent odor control and dust- free.
Low-tracking.
A few customers had issues with the clumping ability of this litter.
A bit expensive but worth the price.
4. Feline Pine Original Cat Litter 
This cat litter uses pine wood granules as the base of the litter to prevent tracking while keeping your house tidy.
This Feline litter brand does not use any chemicals, additives, or synthetic fragrances.
Cat parents with allergies say that this litter is indeed hypoallergenic, and lives up to it's low-tracking name.
This litter has a great odor control thanks to its pine formula that absorbs ammonia odors and other noxious smells escaping from the litter box.
This litter is also dust free, and it does not use any clay-based ingredients or byproducts.
Some cats might take a while to get used to the pine granules, so this litter may need to be introduced into their box little by little until it they are used to it.
Quick Look
Great odor control mechanism.
Dust-free.
Environmental friendly.
Non-clumping cat litter.
The texture of the granules may not be appealing to some cats
5. Arm & Hammer Multi-Cat Clump And Seal Clumping Litter 
This specially formulated clumping litter is designed to seal and destroy odors coming out of the litter box.
The litter's heavy-duty odor eliminators and Arm & Hammer baking soda destroy odor on contact, however, some cats may be uncomfortable with the potent smile.
The clumping feature of the litter works perfectly well, thanks to the moisture-activated micro-granules that form a tight seal around your kitten's waste.
This reduces incidences of litter tracking, and it's easy to scoop since the litter contains plant-derived particles that create rock-solid clumps.
Arm & Hammer clumping litter is almost non-tracking, and the manufacturer guarantees a 7-day odor-free home.
This litter is dust-free, and this makes it friendly to allergy suffering family members and cats.
Quick Look
Dust free.
Great clumping that does not break while scooping.
Very low tracking.
Eliminates foul odors.
Strong scent.
How To Reduce Litter Tracking Further
​When your kitty steps in small granules of anything like litter or dirt, there will always be a small amount that sticks and gets flicked off their feet when they run.
A low-tracking litter is a great place to start dealing with the problem, and if you combine some other ideas you will cut down the tracking to an absolute minimum.
​Let's take a look at a few ways to deal with the issue further…
Get A Litter Trapping Mat
There are plenty of mats available that are designed to remove litter from your cat's paws when they walk over it.
You could place this near the litter box on the side your cat normally exist from, or if the tray is in a room just place the mat at the doorway.
Check out some litter mats at Amazon
Litter Trays That Help Prevent Tracking
One way to help with the issue is to get a hooded litter tray like the Catit Jumbo Hooded Cat Litter Pan, or just a larger litter tray with high sides.
Particularly if your cat is large, a bigger litter tray will help stop them kicking litter out around the tray when they are burying their latest business.
Having a hood on a tray of any size will have a similar effect, and ensures that kitty litter can only track out of the entrance, not on all four sides.
A Low-Sided Large Tray
Another way to reduce tracking is to build a tray larger than your cat litter box with low sides surrounding it (maybe 1 – 2 inches high).
This way when your cat leaves the tray (or runs for their life!) most of the litter kicked out will end up contained in the secondary tray, particularly if it is lined with old carpet.
This tray will also catch granules kicked out when your cat digs in the tray.
Conclusion
There are dozens of low-tracking cat litter ​brands on the market, ​and each brand has its pros and cons.
From our top five choices, you can get a non-tracking cat litter that works for you and your cat.
As a caution, always make sure to wash your hands with soap once you have poured the cat litter, as you don't want to accidentally ingest or rub any dust in your eyes.
Read More
Sources