199 Names For Your Crazy & Mischievous Black Kitty Cat
There are many misconceptions surrounding black cats, some people associate them with misfortune, bad luck, and even witchcraft.
However, contrary to these beliefs, black kitties are lovely cats who deserve all our love and affection just like all the other cats.
Aside from their color, the characters of black cats help cat owners to come up with the perfect name for their new black cat.
There are several black cat names that you and your cat are going to love, the challenge is picking one. Take your time, observe your cat and let these names help you give your furry friend a name.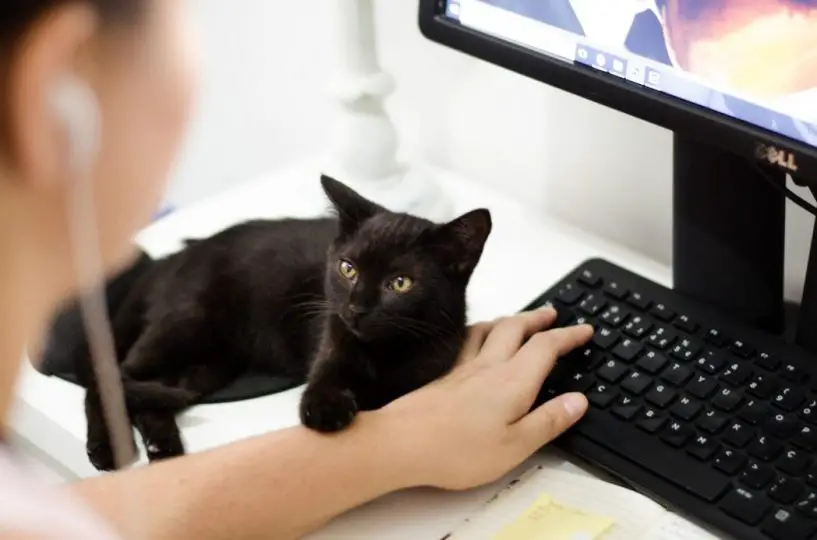 Traditional Names
There are so many traditional names for your black kitty, some are common but still great.
Abracadabra.
Alacazam.
Ashley.
Ashton.
Beelzebub.
Blackamoor.
Black Bart.
Black beauty.
Blackie.
Black Crow.
Crypt Keeper.
Darth Vader.
Diablo.
Diabolique.
Midnight Runner.
LeStat.
Jet.
Ink.
Hecate.
Hades.
Eight Ball.
Black Orchid.
Cinders.
Coal.
Hocus Pocus.
Grimalkin.
Inkwell.
Unisex Black Cat Names
Unisex names are trendy, unique and thoughtful. Here are a few suggestions:
Misty.
Shadow.
Luna- Spanish name for the moon.
Midnight.
Dracula.
Raven.
Ozzy.
Selene- it is Greek word related to the moon.
Many cat owners love giving their kitties names that start with S – how about you? Check out our unique CATegorized list of cat names starting with the letter 'S'
Funny Black Cat Names
You can never go wrong with a funny name. It makes people laugh; it is memorable and also cute.
Scratchy- perfect name if you have a black cat and a super fan of the Simpsons.
Catsanova- best for a friendly, sweet and loving cat.
Ninja- suitable for an agile cat.
Boo- it is a funny name which is closely associated with Halloween.
Snowball.
Catzilla.
We love funny cat names, so we made an inspired list of over 200 funny cat names for male and female fluffy furballs. Check it out!
Mystic Names
Tenebris – Latin name for darkness.
Nimbus – another Latin name that means dark cloud, it is suitable for black cats.
Onyx- this is a shiny, black and beautiful stone.
Fortune – this makes a good name only if you do not believe in superstitions.
Pluto – the black cat in the story Edgar Allan Poe.
Jinx.
Wicca.
Voodoo.
Mischievous Black Cats
If you have a naughty little black kitty causing mayhem, then check out this list of names – one of them is sure to suit!
A cat who likes to get into trouble, bother you, knock over your plants, sneak out of the house, climb up your shelves or even hide under your closets, behind the couch and even under beds.
Female Cat
Libby.
Belle.
Merida.
Tink.
Alana.
Alice.
Vanellope.
Male Cat
Berlioz.
Cheshire.
Thumper.
Skellington.
Rajah.
Clopin.
Meeko.
Names Based On Nature
I really enjoy being outdoors, taking nature works, breathing fresh air, and taking in all the beautiful things that nature has to offer.
If you can relate to this and you are looking for a name based on nature for your new kitty, here are some great name ideas:
Dusty.
Carbon.
Smoky.
Ember.
Cinder.
Ash.
Coal.
Ebony.
Graphite.
Opal.
Tarmac.
Shady.
Food-Related Cat Names
We all love food, some more than others. There is that one food you really enjoy so why not pass that name along to your adorable black cat?
Oreo.
Pepsi.
Coco.
Espresso.
Hershey.
Licorice.
Raisin.
Coffee.
Pepper.
Godiva.
Blackberry.
Male Black Cat Names (Cool)
We all have our own definition of cool, find the things you think make your cat cool and give it a name based on these qualities.
Bones.
Blackjack.
Blackbeard.
Beetle.
Beast.
Batman.
Baron.
Draco.
Domino.
Diesel.
Drake.
Famous Black Cat Names (Fictional)
Borrow a name from films, movies, cartoons or television. Although they are not real, you can find a great cat name from these productions.
Salem- a naughty cat from the TV show Sabrina the Teenage Witch.
Coraline- an egocentric cat from the film Coraline.
Bagheera- a character in jungle book.
Binx- an immortal cat from Hocus Pocus.
Figaro- it is a cat in the animated film Pinocchio.
Sylvester- a proud and resilient fictional cat.
Boo boo kitty- a stuffed animal in the show Laverne and Shirley.
Cole.
Names That Mean Black
Schwarz (German)
Negru (Romanian)
Nero (Italian)
Kuro (Japanese)
Svart (Icelandic)
Pango (Swahili)
Nior (French)
Siyah ( Turkish)
Pop Culture Names
Pop culture is an ocean for awesome cat names. It could be TV shows, actors, actresses, singers, sports personalities and many more. You can choose any name for your cat and to help you, here are some options for black cats.
Female
Beyonce.
Aaliyah.
Maya Angelou.
Braxton.
Minaj.
Madea.
Rihanna.
Oprah.
Mo'nique.
Miss Ross.
​Is your new kitty a cute little girl? If you're still not sure what to name her and need some more great ideas, then check out our list of over 200 cute and unique female cat names
Male
Chappelle.
Denzel.
Prince.
Pryor.
Fresh Prince.
Kanye.
Kobe.
M.J.
Ne-Yo.
Ellington.
More Name Ideas