5 Best Non Clumping Cat Litters In 2022
When cat owners in the US rate the the different types of cat litter, non-clumping cat litter does exceeding well, and there is a reason for this popularity. 
Unlike clumping cat litter, non-clumping cat litter has a high absorbency, making it one of the most preferred cat litters on the market. 
Cat parents with multiple cats often have trouble deciding the type of litter that is ideal for their furry family members.
Many cat owners who have used non-clumping litter say it is safer for kittens, who may be tempted to eat fine litter particles, and is also cheaper than other cat litter types.
First, we'll take a quick look at the common materials non-clumping litters are made from and how well they perform.
This is followed by 5 reviews of the best non-clumping cat litters, giving you an overview of what is currently available on the market.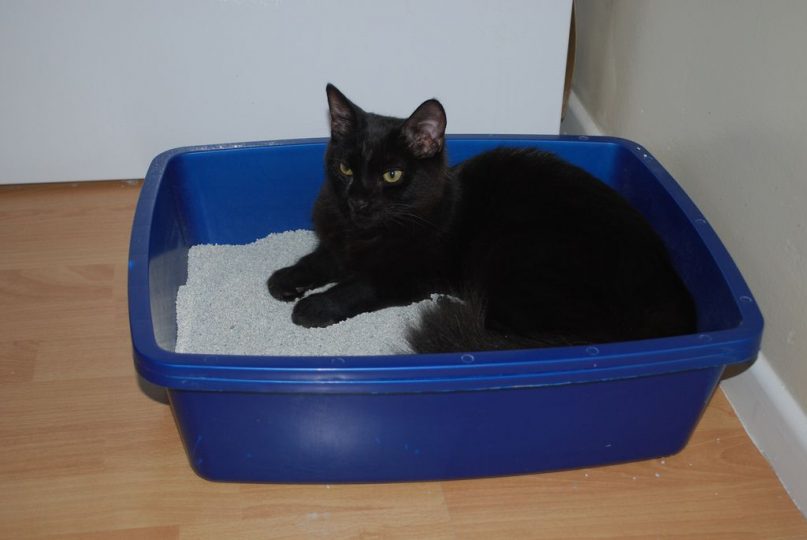 Our website is reader-supported through affiliate programs. If you purchase via links on our site we may earn a small commission.
Our Top Picks
Types Of Non Clumping Cat Litter
Clay Cat Litter
There are various types of clay used in the manufacture of non-clumping cat litter due to their high absorbency.
Clay readily retains moisture and odors, and you will hardly smell urine odors until it reaches saturation.
The only limitation with this litter is that, once it reaches full saturation, you will have to dispose of everything and refill the litter box with a new packet of litter.
Crystal Cat Litter
This type of litter is made of crystals that hold urine for longer periods without getting saturated.
You can use this litter for about 2 weeks without smelling any odors or the litter getting soaked, but this period will be shorter if you have multiple cats at home.
Before the litter reaches saturation, you will need to scoop the solid wastes out daily to keep the litterbox a hygienic environment for your cat to do their business.
Some owners say the crystals are too sharp for their cats paws, so if you find your cat toileting outside the litterbox your cat may be avoiding the box for this reason.
If you have a declawed cat, you can buy litter for declawed cats which is designed to be soft on the paws.   
Pellet Cat Litter
Pellet cat litters are also a popular option for cat parents looking for an environmentally friendly cat litter.
Some of the materials used when making pellet cat litter include recycled papers, walnut shells and wood.
These materials have a high water absorbency, and they hold moisture and odors for a longer period.
However, once they getting saturated, they need immediate replacement before they start to produce some bad smells.
If you are sensitive to cat toilet smells, check out our article: best cat litter boxes for odor control
Non-Clumping Vs Clumping Cat Litter
Cheaper
Non-clumping cat litter brands are generally cheaper than clumping cat litter brands.
This is especially so with non-clumping clay cat litter that is effective enough to get the job done, while being economical.
Safe If Kittens Eat Litter
Kittens are curious and will sometimes attempt to eat a little cat litter, especially if it's a brand new clean bag.
Non-clumping cat litter is not harmful, which makes it a great choice for kittens, just make sure they don't eat too much of it since it may cause constipation and other stomach problems.
For most pet parents, non-clumping cat litter is a lot safer than clumping cat litter, which is designed to expand as it absorbs water, forming a strong clump.
If ingested, the clumping litter expands as it gets saturated, and it may cause blockage and rupture the intestines, and this poses a health risk to your cat, especially kittens.
Great For Multiple Cats
Non-clumping litter has high moisture and odor absorbency, which keeps the litter box dry over a reasonably long period of time.
It is also ideal for controlling odors. However, when the litter gets saturated, you should replace the litter immediately with a fresh batch of cat litter.
5 Best Non Clumping Cat Litter Reviews
1. Blue Buffalo Naturally Fresh Pellet Cat Litter
Naturally Fresh non-clumping litter is a pellet-based cat litter that holds moisture well, is low-dust, and one of the best choices for cat litter that doesn't track.
This litter is made of walnut shells, and its low-dust properties make it a popular option for allergy sufferers.
Walnut shells contain a blend of fibrous material that does a great job in neutralizing urine odors, and it is more efficient compared to wheat and pine-based cat litters.
This material is environmentally safe, and the shells decompose easily when disposed of.
One of the most significant drawbacks of this cat litter is the dark brown color of walnuts, making it harder to distinguish waste from the litter when scooping, and tracked litter is quite conspicuous.
Quick Look
It does not contain chemicals or toxins.
Low-tracking.
Little to no dust.
Pellets are easy to remove with little mess.
Ideal for multi-cat households.
Environmentally friendly.
The smooth texture is appealing to cats.
Sometimes the urine makes the pellets break down into a muddy mixture, making cleaning harder.
It's difficult to differentiate the clean litter from the dirty litter.
2. Purina Yesterday's News Original Paper Pellet Cat Litter
Purina Yesterday's News Unscented Cat Litter is an eco-friendly, highly absorbent cat litter.
It is made with pellets of recycled paper which result in a smaller ecological footprint compared to traditional clay.
This environmentally friendly product is three times more absorbent than clay and 99.7% dust free, helping to reduce airborne allergens.
Purina yesterday's news is also very safe for your cat to play with, and it is safe if your cat accidentally eats the litter pellets.
However, watch out so that your cat does not eat too much of it since this may cause constipation.
Quick Look
Eco-friendly litter.
More moisture-absorbent than clay.
Economical.
Minimal tracking and dusting.
Non-Toxic (no harmful chemicals).
Soft and gentle on your cat's paws.
Litter box requires frequent changing to control odors.
3. PetSafe ScoopFree Sensitive Crystals Cat Litter
Petsafe ScoopFree Sensitive cat litter comes packed with two conveniently proportioned bags that fit perfectly into the PetSafe reusable cat litter tray, or any other cat litter tray.
This crystal-based non-clumping cat litter has great odor-control capabilities, and leaves little mess to clean up since it is low tracking, and low dust forming cat litter.
ScoopFree crystal based cat litter not only fights odors quickly, it is also free of perfume and dyes, so it is safe for sensitive cat owners and cats.
This product is great value for money, possibly due to it's plain packaging, and performs as well as other more expensive litter crystals.
Check out our Scoopfree Original Self-Cleaning Litter Box Review
Quick Look
Easy to clean.
Minimal scent.
It dries solid waste and absorbs urine quickly.
Gentle crystals that won't harm your cat's paws.
The absence of dyes and perfumes makes it ideal for sensitive cats and people.
99% dust free and low tracking.
Long lasting- use less litter compared to clay or clumping litter.
4. Fresh Step Scented Clay Cat Litter
Fresh Step Scented Cat Litter employs several technologies to help you fight nasty odors, keeping your home and the litter box smelling fresh.
It uses an antimicrobial agent that prevents the growth of odor-causing bacteria in the litter box.
Activated carbon provides around the clock odor control, while the paw-activated fragrance is released as soon as your cat steps into the litter box, emitting a pleasant scent.
Fresh Step Scented Cat Litter is designed with high quality non- clumping clay that effectively traps and absorbs liquid waste.
It is designed to fight the most overpowering and stickiest odors.
Quick Look
Superior odor control using innovative technologies.
Fragrance only activates when the cat litter is in use.
Antimicrobial agents inhibit bacterial odor formation.
Suitable for kittens.
The scent may be a deterrent to cats that are sensitive to scent. 
5. Purina Tidy Cats Instant Action Cat Litter
Purina Tidy Cats Non-Clumping Litter is designed with multiple cat households in mind, providing long lasting odor protection to ensure that your house remains fresh.
With Tidy Cats non-clumping litter, you will receive good odor protection for up to one week.
Tracking is also minimal, so you won't need to clean the floor every time your cat leaves the litter box.
This clay-based non-clumping cat litter formula is designed to absorb moisture, helping to keep the rest of the litter dry.
Quick Look
The extended-release deodorizing system that keeps bad odors at bay.
Designed with triple odor protection technology.
Suitable for multiple cat households.
Minimal dust and tracking.
Reasonably cheap.
It is scented.
See More Cat Litter Reviews