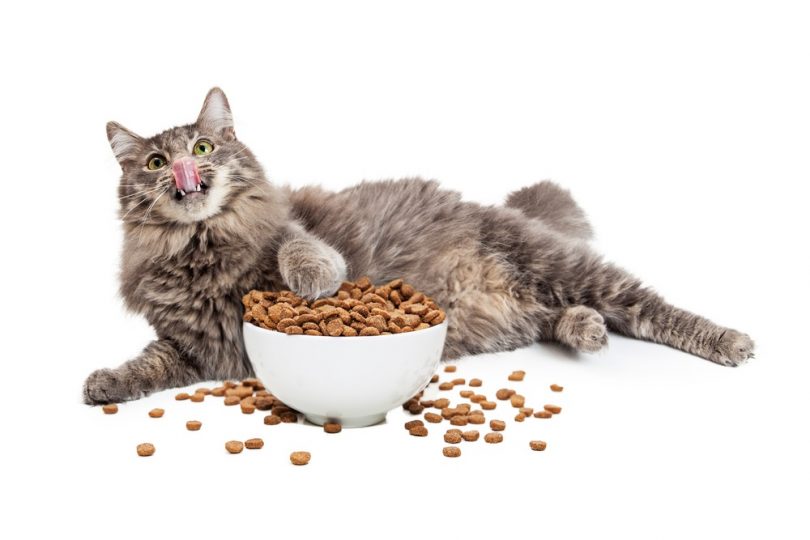 10 Best Cat Food For Weight loss| Low-Calorie Cat Food in 2020
An estimated 48% of domestic cats are overweight.
While the statistics may sound alarming, it is never too late to find an immediate solution for your obese cat.
The most common causes of weight gain in cats is overfeeding and lack of physical exercises.
The first step in helping your overweight cat lose weight is to make your home friendly to the cat's natural behavior. By nature, cats love climbing trees and jumping, providing cat trees can help increase your cat's activity levels.
From a dietary point of view, a meal rich in proteins and low on fats is the best way to help your cat shed off some weight gradually. The best cat food for weight loss is formulated with overweight cats in mind, and it is formulated by vets to help cats lose weight without bring some drastic changes.
Best Cat Food for Weight loss Comparison Chart
Purina Pro Plan Indoor Care Wet Cat Food

Editor's Pick

(Canned cat food)

Hill's Science Diet Wet Cat Food

Natural Balance Fat Cats Dry Cat Formula

Best Budget

(Dry cat food)
Best Wet Cat Food for Weight Loss
1. Pro Plan Focus Canned Cat Food
Indoor cats spend most of the time indoors, either sleeping or walking around the house.
This lifestyle accompanied by less physical activity can lead weight gain, and if not addressed early enough, it can lead to obesity and other weight-related complications.
The Pro Plan indoor care diet is a high protein, low-fat formula which helps indoor cats maintain ideal body weight. The high fiber component helps reduce the occurrence of hairballs. Its main ingredient is salmon.
This formula is our top pick for the best cat food in the canned cat food category.
It is a 100% complete and balanced diet meal containing powerful antioxidants to support your cat's immune system.Omega- 6 fatty acids are added to maintain a healthy, shiny, fluffy coat and skin.
It doesn't contain any preservatives, color, or flavors.
Feed your cat with one can per 3lbs of body weight divided into 2 or more meals every day.
For storage, keep the food in a cool and dry place and make sure you refrigerate the used portion.
A 7-10 days transition period is recommended to avoid dietary upsets.
2. Hill's Science Diet Adult Cat Food
Hill's Science Diet Adult Light Liver and Chicken Entrée Minced Cat Food is a nourishing balanced diet which helps your cat get all the nutrients s/he needs.
It helps maintain healthy body weight, lean muscles, and control hunger between meals. It helps
This wet cat food for weight loss is prepared with pork, liver, chicken liver flavor, chicken, and fiber.
We recommend this diet for adult cats between 1-6 years that require fewer calories like less active, neutered or cats prone to obesity.
Make sure you cover and refrigerate the unused portion of the food. Ensure that your cat drinks a lot of water at all times.
You should not feed this formula to pregnant, nursing cats and kittens.
3. Pro Plan Focus Healthy Metabolism Formula
The Purina Pro Plan formula is prepared in the United States, and it is formulated using chicken as the main chicken source. It is prepared using high quality ingredients to help your cat meet the required nutritional needs.
L-Carnitine is added to the recipe to help convert fat into energy efficiently. The energy produced will help keep your cat active. It also provides an optimal balance of protein and fat to help support the body composition.
Omega- 6 fatty acids help to maintain a beautiful, shiny coat and healthy skin.
This formula does not contain any added artificial colors, flavors, and preservatives
Feeding instructions
For weight maintenance, give 1 can per 2 1/2 lbs of body weight every day.
For overweight cats, feed one can per 3 lbs of body weight daily. Divide the meal into two or more meals. Keep adjusting the amounts as needed to maintain or achieve the ideal cat weight. Make sure you refrigerate the unused portion.
Calorific content: 978 kcal/kg, 83 kcal/can of calories.
4. Purina Pro Plan Focus Weight Management
The Purina Pro Plan formula is a high protein, low-calorie cat food that helps cats achieve an ideal body weight while providing all the essential nutrients. It is prepared using real turkey as the first ingredient.
The other key ingredient is rice. The optimal protein content helps strike a balance in the cat's body weight, by helping maintain lean muscles while helping her lose weight.
This formula contain essential antioxidants, which helps boost the cat's immune system to boost common illnesses. It also contains taurine, an important nutrient that helps in heart health and eyesight.
When introducing this formula to your cat, plan a gradual transition of 7-10 days to protect your cat from dietary upsets.
Feed 1 can per 3 lbs of the body divided into two or more meals daily.
Refrigerate the unused portion and store the rest in a cool, dry place.
5. AvoDerm Natural Canned Cat Food
AvoDerm's first ingredients is tuna and tuna broth. It provides plenty of proteins for your little carnivore.
It also has California-grown avocados, so this meal has plenty of vitamins, antioxidants, phytonutrients and omegas for glowing skin and coat for an overall well- being.
Using real broth as one of the cores ingredients provides the much-needed hydration which helps to support urinary health.
It is suitable for cats with sensitivities because it free of grains.
With a caloric content of 3oz Can: 824 kcal/kg; 70kcal/can and 5.5 oz Can: 824 kcal/g; 118kcal/can, this cat food is sufficient for weight loss.
Dry Cat Food For Weight Loss Reviews
---
6. Natural Balance Fat Cats Dry Cat Formula
This formula is manufactured by Natural Balance Pet Foods, one of the most trusted pet food manufacturers in the United States.
The company prepares these pet foods in its US Kitchens, using hygienically sourced ingredients from North America and Europe. The company uses real animal proteins and organically grown vegetables and fruits as part of the ingredients.
This formula has the lowest calorie content when compared to other Natural Balance cat food formulas, making it the best cat food for weight loss in the dry cat food category.
The main ingredients in this formula are chicken meal and salmon meal, which are both rich sources of real animal proteins.

This formula has a special blend of special proteins and fibers that helps your overweight cat lose weight in a gradual healthy way. It retains the same great test, but this time with fewer calories.The fiber keeps the cat feeling full, as well as helping in digestion.
Top five Ingredients: Chicken meal, salmon meal, pea protein, Garbanzo beans, and peas.
Calorific content: 3240kcals/kg; 320 kcal/cup.
7. Nature's Variety Instinct Healthy Weight
Nature's Variety Instinct Raw Boost is a product by Nature's Variety Pet Food Company.
The company prepares cat formulas in their US kitchens using high quality ingredients sourced from the US and from around the world.
Nature's Variety Instinct Raw Boost formula is made with cage-free chicken as the first ingredient.
This brand has 25% less fat and 15% fewer calories than the Instinct Raw Boost adult cat food, making it a popular choice for pet owners looking for a solution for their overweight cats.
It also has crude fibers that help in digestion, and that keep the cat feeling full for long. This formula uses fresh fruits and vegetables to provide essential vitamins and minerals.
One of the ingredients that we love about this brand is the L-Carnitine that help burn fats for a healthy metabolism.
Supplementation with L-Carnitine helps produce positive metabolic effects that help cats lose weight safely by preventing the development of hepatic lipidosis in dieting cats.
Top five ingredients: Chicken, chicken meal, chickpeas, salmon meal and menhaden fish meal.
Calorific Content: 3.709kcal/kg: 385kcal/cup.
8. Blue Buffalo Blue Weight Control Natural
Blue Buffalo has a rich past that we discussed in our blue cat food buffalo review earlier.
The Blue Line of products has two types of weight control formulas, i.e. Blue weight control chicken and brown rice, and the standard blue indoor hairball and weight formula.
Blue Buffalo weight control chicken and brown rice is made with the delicious deboned-chicken that is protein-rich to provide the real animal proteins that cats crave for.
This formula has lower calories compared to the standard blue indoor formula, making it a perfect option if you are looking for a diet that will maintain an ideal body weight. It also has wholesome whole grains and vegetables.
A unique feature that distinguishes Blue Buffalo weight control dry cat food with other brands is the anti-oxidant rich LifeSource bits, which is a blend of 7 powerful ingredients that support the cat's well being. This formula does not contain corn, wheat, soy or artificial preservatives.
This formula comes in a ziplock style resealable bag that helps maintain the freshness of your kitty's food. If you prefer buying in bulk, this bag keeps the food air-tight, preventing it from going stale within a short time.
Top five ingredients: Deboned chicken, chicken meal, oatmeal, menhaden fish meal (source of Omega 3) and brown rice.
Calorific content: 2634 kcals/kg, 379kcals/cup.
9. Nutro Weight Mng' Chicken &Whole Brown Rice
Nutro company is a United States-based company that produces holistic pet food. The company produces two lines of cat foods, i.e. the Nutro and Max cat line of holistic cat foods.
Click here to learn more about Nutro cat food.
Nutro cat foods are made for all life stages, and there are special formulas that help manage certain conditions like hairballs, seniors and sensitive stomach and vomiting.
The Nutro Weight Management Adult Chicken & Whole Brown Rice recipe is made with farm-raised chicken as the first ingredient. This formula has 28% less fat and 13% fewer calories compared to the Nutro Wholesome Essentials Turkey and Brown rice recipe.
Another addition to this diet is dietary fiber that keeps the cat feeling full for long, thus discouraging her from eating more that is necessary. Dietary fiber also helps in digestion.
This diet also comprises other essential ingredients. One of these components is antioxidants such as vitamin E that boosts the immune system and the overall cat's health. It also has calcium mineral to strengthen the joints and bones.
Nutro Weight Management Chicken and Whole Rice recipe does not contain artificial flavors, colors, and additives.
Apart from helping their cats manage weight, some customers who used this formula mentioned that their pet's coat became soft and shiny. Others cat parents also mentioned that the cat poop was less smelly compared to when they used other brands.
Top 5 Ingredients: Chicken, Chicken meal, Pea Protein, Whole Brown Rice, Dehydrated Alfalfa Meal and dried beet pulp.
Calorific Content: 3273 kcal/kg; 283 kcal/cup.
10. Hill's Science Diet Adult Perfect Weight
Hill's Science diet is produced by Hill's Pet Nutrition, Inc., a leading producer of dog and cat food in North America.
The company produces three lines of cat foods, i.e. Science diet, prescription diet and ideal balance. Prescription diets are designed to help in the management of clinical conditions such as hairball prevention, seniors, and urinary tract issues.
The Science diets are the most popular among cat parents since they use high quality ingredients and are available for all life stages.
Hill's Science Diet Cat Food for Weight Management is prepared with overweight cats in mind and is formulated to help cats achieve the ideal weight.
Hill's Pet Nutrition claims that an 2011 in-house study on the efficiency of this diet showed that 70% of cats that were given this formula shed off excess weight in just 10 weeks.
This formula is made with real chicken as the first ingredient. Chicken is a rich source of real animal proteins that cats crave for, and it helps in maintaining lean muscles. This formula has fewer calories than the other formulas.
It also contains a blend of antioxidants (vitamin C and E) that improve the immune system. Other ingredients include essential vitamins, minerals, dietary fiber, and amino acids.
The food is prepared in the company's US kitchens, and ingredients are sourced from the USA, Europe, and New Zealand.
One thing that we did not like about this diet is that it is not completely grain-free (there are certain grains like corn and gluten included in its composition)
First five ingredients: Chicken, brewers rice, corn gluten meal**, wheat gluten**, and chicken meal. Other important ingredients include flaxseed, chicken fat, taurine, vitamins, cranberries and oat fiber.
Calorific content: 3409 kcal/kg; 300kcal/cup.
Overweight Cats Statistics
A study by the Association of Pet Obesity Prevention in 2011 revealed that 53% of cats in the United States were either overweight or obese.
This means that more than 50 million cats in the US alone are struggling with weight gain, an increase from a 2007 study that showed only 19% of cats were obese.
The 2011 study sampled 133 adult cats, out of which 30% were classified as obese while 22% were found to be clinically obese.
Just as obesity causes other health complications in humans, cats are not spared either. Overweight or obese cats are subjected to other health complications such as diabetes, arthritis, high blood pressure, kidney disease, arthritis, etc.
If your cat is among the statistics, you should take quick action before the condition subjects your cat to more health complications. And the good thing is, you can help your cat lose weight in a healthy way.
Causes of Excess Weight Gain in Cats
The following are some of the known causes of weight gain and obesity in cats:
Taking in more calories than it burns
The major cause of obesity in cats is taking too many calories than it burns. While most cat parents will deny it, most cats are treated to free choice feeding where food is available all the time and the cat eats whenever she wants.
After her stomach is filled to the brim, the cat then spends most of the day lazing around waiting for a refill when the master is back. The effect? A pack on the pound and increasing in weight every…..single……day. Sounds like the typical indoor cat! Right?
Little to no exercises
Indoor cats are more likely to gain excess weight because they have little room to run up and down like their outdoor counterparts. Usually, indoor cats spend most of the time sleeping, with fewer opportunities to exercise and lose some pounds of fat.
Spayed or neutered cats
Spayed or neutered cats are also at risk of becoming obese. The effect of neutering or spaying on the physiology and behavior of your cats increases the chances of your cat being obese.
The weight gain in spayed or neutered cats is mainly caused by increased food intake. Ideally, neutered or spayed cats should consume fewer calories than cats that don't undergo the procedure.
Conclusion
Overweight cats are at risk of developing chronic diseases like arthritis, cancer, cardiac problems and diabetes, and therefore, maintaining a healthy weight for your cat ensures they lead a fulfilling, healthy life.
Giving your cat wet cat foods keeps the cat feeling full on fewer calories due to the high moisture content. Make sure to talk to your veterinarian regularly to monitor the cat's weight loss journey. A strict commitment to your cat's diet is significant in attaining the desired body weight.